September books on my radar
09:00
The Secret City
Series: The Alchemist Chronicles #2
Author: C.J. Daugherty & Carina Rozenfeld
September 1st 2016 by Atom
'Remember: Demons lie'
Locked away inside the fortified walls of Oxford's St Wilfred's College, surrounded by alchemists sworn to protect them, Taylor and Sacha are safe from the Darkness. For now.
But time is short. In seven days Sacha will turn 18, and the ancient curse that once made him invincible will kill him, unleashing unimaginable demonic horror upon the world.
There is one way to stop it.
Taylor and Sacha must go to where the curse was first cast - the medieval French city of Carcassonne - and face the demons.
The journey will be dangerous. And monsters are waiting for them.
But as Darkness descends on Oxford, their choice is stark. They must face everything that scares them, or lose everything they love.
Goodreads
My Lady Jane
Series: None
Author: Cynthia Hand, Brodi Ashton, & Jodi Meadows
September 1st 2016 by Walker Books
A comical, fantastical and witty re-imagining of the Tudor world, perfect for fans of Pride and Prejudice and Zombies. Lady Jane Grey, sixteen, is about to be married to a total stranger - and caught up in an insidious plot to rob her cousin, King Edward, of his throne. But that's the least of Jane's problems. She's about to become Queen of England. Like that could go wrong.
Goodreads
Empire of Storms
Series: Throne of Glass #5
Author: Sarah J. Maas
September 6th 2016 by Bloomsbury Childrens
The long path to the throne has only just begun for Aelin Galathynius. Loyalties have been broken and bought, friends have been lost and gained, and those who possess magic find themselves at odds with those don't.
As the kingdoms of Erilea fracture around her, enemies must become allies if Aelin is to keep those she loves from falling to the dark forces poised to claim her world. With war looming on all horizons, the only chance for salvation lies in a desperate quest that may mark the end of everything Aelin holds dear.
Aelin's journey from assassin to queen has entranced millions across the globe, and this fifth installment will leave fans breathless. Will Aelin succeed in keeping her world from splintering, or will it all come crashing down?
Goodreads
Diplomatic Immunity
Series: None
Author: Brodi Ashton
September 6th 2016 by Balzer + Bray
Aspiring reporter Piper Baird decides to write a scathing exposé on the overprivileged students at an elite Washington, DC, school, only for her life to change when she begins to fall for the story's main subject, in this new realistic contemporary romance from Brodi Ashton, the author of the Everneath trilogy.
Raucous parties, privileged attitudes, underage drinking, and diplomatic immunity...it's all part of student life on Embassy Row.
Piper Baird has always dreamed of becoming a journalist. So when she scores a scholarship to exclusive Chiswick Academy in Washington, DC, she knows it's her big opportunity. Chiswick offers the country's most competitive prize for teen journalists—the Bennington scholarship—and winning will ensure her acceptance to one of the best schools in the country.
Piper isn't at Chiswick for two days before she witnesses the intense competition in the journalism program—and the extreme privilege of the young and wealthy elite who attend her school. And Piper knows access to these untouchable students just might give her the edge she'll need to blow the lid off life at the school in a scathing and unforgettable exposé worthy of the Bennington.
The key to the whole story lies with Rafael Amador, the son of the Spanish ambassador—and the boy at the center of the most explosive secrets and scandals on Embassy Row. Rafael is big trouble—and when he drops into her bedroom window one night, asking for help, it's Piper's chance to get the full scoop. But as they spend time together, Piper discovers that despite his dark streak, Rafael is smart, kind, funny, and gorgeous—and she might have real feelings for him. How can she break the story of a lifetime if it could destroy the boy she just might love?
Goodreads
The Replacement Crush
Series: None
Author: Lisa Brown Roberts
September 6th 2016 by Entangled: Teen
True love can't be strategized.
After book blogger Vivian Galdi's longtime crush pretends their secret summer kissing sessions never happened, Vivian creates a list of safe crushes, determined to protect her heart.
But nerd-hot Dallas, the sweet new guy in town, sends the mission and Vivian's zing meter into chaos. While designing software for the bookstore where Vivian works, Dallas wages a counter-mission.
Operation Replacement Crush is in full effect. And Dallas is determined to take her heart off the shelf.
Goodreads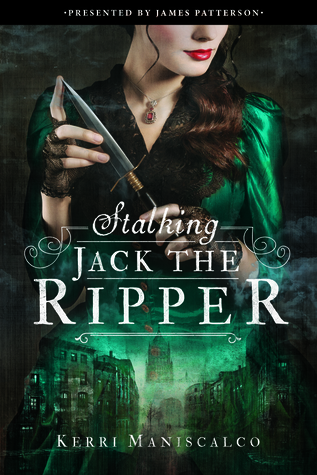 Stalking Jack the Ripper
Series: Untitled Trilogy #1
Author: Kerri Maniscalco
September 20th 2016 by Jimmy Patterson
Presented by James Patterson's new children's imprint, this deliciously creepy horror novel has a storyline inspired by the Ripper murders and an unexpected, blood-chilling conclusion...
Seventeen-year-old Audrey Rose Wadsworth was born a lord's daughter, with a life of wealth and privilege stretched out before her. But between the social teas and silk dress fittings, she leads a forbidden secret life.
Against her stern father's wishes and society's expectations, Audrey often slips away to her uncle's laboratory to study the gruesome practice of forensic medicine. When her work on a string of savagely killed corpses drags Audrey into the investigation of a serial murderer, her search for answers brings her close to her own sheltered world.
The story's shocking twists and turns, augmented with real, sinister period photos, will make this dazzling debut from author Kerri Maniscalco impossible to forget.
Goodreads
Frost Like Night
Series: Snow Like Ashes #3
Author: Sara Raasch
September 20th 2016 by Balzer + Bray
Angra is alive, his Decay is spreading—and no one is safe.
Meira will do anything to save her world. With Angra trying to break through her mental defenses, she desperately needs to learn to control her own magic—so when the leader of a mysterious Order from Paisly offers to teach her, she jumps at the chance. But the true solution to stopping the Decay lies in a labyrinth deep beneath the Season Kingdoms. To defeat Angra, Meira will have to enter the labyrinth, destroy the very magic she's learning to control—and make the biggest sacrifice of all.
Mather will do anything to save his queen. He needs to rally the Children of the Thaw, find Meira—and finally tell her how he really feels. But with a plan of attack that leaves no kingdom unscathed and a major betrayal within their ranks, winning the war—and protecting Meira—slips farther and farther out of reach.
Ceridwen will do anything to save her people. Angra had her brother killed, stole her kingdom, and made her a prisoner. But when she's freed by an unexpected ally who reveals a shocking truth behind Summer's slave trade, Ceridwen must take action to save her true love and her kingdom, even if it costs her what little she has left.
As Angra unleashes the Decay on the world, Meira, Mather, and Ceridwen must bring the kingdoms of Primoria together…or lose everything.
Goodreads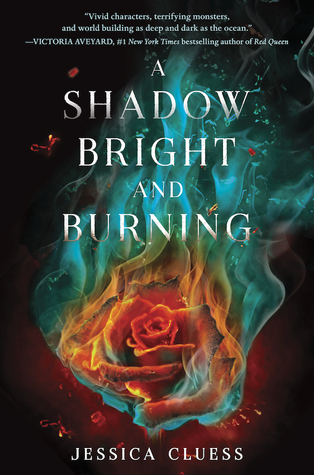 A Shadow Bright and Burning
Series: None
Author: Jessica Cluess
September 20th 2016 by Random House BFYR
Henrietta Howel can burst into flames. Forced to reveal her power to save a friend, she's shocked when instead of being executed, she's named the first female sorcerer in hundreds of years and invited to train as one of Her Majesty's royal sorcerers.
Thrust into the glamour of Victorian London, Henrietta is declared the prophesied one, the girl who will defeat the Ancients, bloodthirsty demons terrorizing humanity. She also meets her fellow sorcerer trainees, handsome young men eager to test her power and her heart. One will challenge her. One will fight for her. One will betray her.
But Henrietta doubts that she's the chosen one. As she plays a dangerous game of deception, she discovers that the sorcerers have their own secrets to protect. With battle looming, how much will she risk to save the city--and the one she loves?
Exhilarating and gripping, Jessica Cluess's spellbinding fantasy introduces Henrietta Howel, a powerful, unforgettable heroine, and an entertaining world filled with magic, monsters, and mayhem.
Goodreads
Crooked Kingdom
Series: Six of Crows #2
Author: Leigh Bardugo
September 20th 2016 by Orion Children's Books
Kaz Brekker and his crew have just pulled off a heist so daring even they didn't think they'd survive. But instead of divvying up a fat reward, they're right back to fighting for their lives. Double-crossed and left crippled by the kidnapping of a valuable team member, the crew is low on resources, allies, and hope. As powerful forces from around the world descend on Ketterdam to root out the secrets of the dangerous drug known as jurda parem, old rivals and new enemies emerge to challenge Kaz's cunning and test the team's fragile loyalties. A war will be waged on the city's dark and twisting streets―a battle for revenge and redemption that will decide the fate of magic in the Grisha world.
Goodreads
Three Dark Crowns
Series: Untitled #1
Author: Kendare Blake
September 22nd 2016 by Macmillan Children's Books
Every generation has one queen that rules the island of Fennbirn. It has been the same for hundreds of years. Imbued with the power of the goddess, every last and present queen possesses a talent that allows them to govern - alongside the powerful families who share that talent. It's traditional. It's political. It's deadly.
Three daughters are always born to the ruling monarch, but only one can take the crown when her time is come. Separated at a young age, the three sisters must hone their individual power... for when they turn sixteen they will be pitted against each other in a fight to the death.
Arsinoe is a Naturalist; she has the gift of controlling and manipulating animals and plants. In theory, anyway. Her powers have shown no sign of appearing and she, along her naturalists, are starting to panic. Arsinoe has never been one for playing the game - when she was little she tried to escape Fennbirn, but Fennbirn wouldn't let her go. Her fate is to kill her sisters, but with no tangible power she may have to resort to desperate measures to survive...
Katharine is a Poisoner, but like her sister her powers are weak, and she is introverted and anxious. A Poisoner Queen has governed Fennbirn for generations and the poisoner families will do anything in their power to keep control of The Island. Will the mercurial, gorgeous Pietyr Arron help Katharine develop her confidence - or does he have another, more dangerous agenda?
Mirabella is an Elemental - powerful, beautiful and the strongest of the triplets by far. She can manipulate the weather, control water, create fire. She is also the queen with a conscience, who remembers the night that she and her sisters were separated vividly and causes her frequent nightmares. The money is on her to end the rule of poisoners, but can she put aside her affection for her siblings in order to let fate take its inevitable course?
There is no escape and there is no compromise. There can only be one queen - and the island is waiting to crown her.
Enthralling, sexy, dark and powerfully evocation, Three Dark Crowns is the incredible new novel from Kendare Blake, the bestselling author of Anna Dress in Blood. With the burning tension, unforgettable characters, and sweeping epic drama, it will captivate readers who enjoyed Half Bad and Game of Thrones and is set to be one of the most hotly anticipated YA novel of the Autumn.
Goodreads
Like a River Glorious
Series: The Gold Seer Trilogy #2
Author: Rae Carson
September 27th 2016 by Greenwillow Books
After a harrowing journey across the country, Leah Westfall and her friends have finally arrived in California and are ready to make their fortunes in the Gold Rush. Lee has a special advantage over the other new arrivals in California—she has the ability to sense gold, a secret known only by her handsome best friend Jefferson and her murdering uncle Hiram.
Lee and her friends have the chance to be the most prosperous settlers in California, but Hiram hasn't given up trying to control Lee and her power. Sabotage and kidnapping are the least of what he'll do to make sure Lee is his own. His mine is the deepest and darkest in the territory, and there Lee learns the full extent of her magical gift, the worst of her uncle, and the true strength of her friendships. To save everyone, she vows to destroy her uncle and the empire he is building—even at the cost of her own freedom.
The second epic historical fantasy in the Gold Seer trilogy by Rae Carson, the acclaimed author of The Girl of Fire and Thorns.
Goodreads
What has caught your eye for September? Have you read any of these? Let me know :)