October books on my radar
10:00
I, Claudia
Series: None
Author: Mary McCoy
October 1st 2018 by Carolrhoda Books
Disaffected teen historian Claudia McCarthy never expected to be in charge of Imperial Day Academy, but by accident, design, or scheme, she is pulled into the tumultuous and high-profile world of the Senate and Honor Council. Suddenly, Claudia is wielding power over her fellow students that she never expected to have and isn't sure she wants.
Claudia vows to use her power to help the school. But there are forces aligned against her: shocking scandals, tyrants waiting in the wings, and political dilemmas with no easy answers. As Claudia struggles to be a force for good in the universe, she wrestles with the question: does power inevitably corrupt?
Goodreads
The Last Wish of Sasha Cade
Series: None
Author: Cheyanne Young
October 2nd 2018 by Kids Can Press
The day Raquel has been dreading for months has finally arrived. Sasha, her best friend in the whole world, has died of cancer. Overwhelmed and brokenhearted, Raquel can't even imagine life without her.
And then a letter from Sasha arrives. Has she somehow found a way to communicate from beyond the grave?
In fact, Sasha spent her final weeks planning an elaborate scavenger hunt for the friend she would have to leave behind. When Raquel follows the instructions to return to Sasha's grave, a mysterious stranger with striking eyes is waiting for her. There's a secret attached to this boy that only Sasha --- and now Raquel --- knows.
This boy, Elijah, might be just who Raquel needs to help her move on from her terrible loss. But can Raquel remain true to herself while also honoring her friend's final wish?
Cheyanne Young's compulsively readable breakout novel offers abiding friendship and forbidden romance, along with an incisive look at how class differences shape who we are and who we grow to be.
Goodreads
Grim Lovelies
Series: Grim Lovelies #1
Author: Megan Shepherd
October 2nd 2018 by HMH Books for Young Readers
Seventeen-year-old Anouk envies the human world, where people known as Pretties lavish themselves in fast cars, high fashion, and have the freedom to fall in love. But Anouk can never have those things, because she is not really human. Enchanted from animal to human girl and forbidden to venture beyond her familiar Parisian prison, Anouk is a Beastie: destined for a life surrounded by dust bunnies and cinders serving Mada Vittora, the evil witch who spelled her into existence. That is, until one day she finds her mistress murdered in a pool of blood—and Anouk is accused of the crime.
Now, the world she always dreamed of is rife with danger. Pursued through Paris by the underground magical society known as the Haute, Anouk and her fellow Beasties only have three days to find the real killer before the spell keeping them human fades away. If they fail, they will lose the only lives they've ever known…but if they succeed, they could be more powerful than anyone ever bargained for.
From New York Times bestselling author Megan Shepherd, Grim Lovelies is an epic and glittering YA fantasy. Prepare to be spellbound by the world of Grim Lovelies, where secrets have been long buried, friends can become enemies, and everything—especially humanity—comes at a price.
Goodreads
Damsel
Series: None
Author: Elana K. Arnold
October 2nd 2018 by Balzer + Bray
The rite has existed for as long as anyone can remember: when the prince-who-will-be-king comes of age, he must venture out into the gray lands, slay a fierce dragon, and rescue a damsel to be his bride. This is the way things have always been.
When Ama wakes in the arms of Prince Emory, however, she knows none of this. She has no memory of what came before she was captured by the dragon, or what horrors she has faced in its lair. She knows only this handsome prince, the story he tells of her rescue, and her destiny to sit on the throne beside him. Ama comes with Emory back to the kingdom of Harding, hailed as the new princess, welcomed to the court.
However, as soon as her first night falls, she begins to realize that not all is as it seems, that there is more to the legends of the dragons and the damsels than anyone knows–and that the greatest threats to her life may not be behind her, but here, in front of her.
Goodreads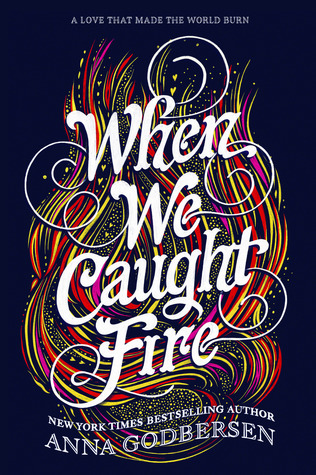 When We Caught Fire
Series: None
Author: Anna Godbersen
October 2nd 2018 by HarperTeen
It's 1871 and Emmeline Carter is poised to take Chicago's high society by storm. Between her father's sudden rise to wealth, and her recent engagement to Chicago's most eligible bachelor, Emmeline has it all. But she can't stop thinking about the life she left behind, including her childhood sweetheart, Anders Magnuson. Fiona Byrne, Emmeline's childhood best friend, is delighted by her friend's sudden rise to prominence, especially since it means Fiona is free to pursue Anders herself. But when Emmeline risks everything for one final fling with Anders, Fiona feels completely betrayed.
As the summer turns to fall, the city is at a tipping point: friendships are tested, hearts are broken, and the tiniest spark might set everything ablaze. Sweeping, soapy, and romantic, this is a story about an epic love triangle—one that will literally set the city ablaze, and change the lives of three childhood friends forever.
Goodreads
The Boneless Mercies
Series: None
Author: April Genevieve Tucholke
October 4th 2018 by Simon & Schuster Children's UK
They called us the Mercies, or sometimes the Boneless Mercies. They said we were shadows, ghosts, and if you touched our skin we dissolved into smoke ...
Frey, Ovie, Juniper, and Runa are Boneless Mercies – death-traders, hired to kill quickly, quietly and mercifully. It is a job for women, and women only. Men will not do this sad, dark work.
Frey has no family, no home, no fortune, and yet her blood sings a song of glory. So when she hears of a monster slaughtering men, women, and children in a northern jarldom, she decides this the Mercies' one chance to change their fate.
But glory comes at a price …
Goodreads
Carols and Chaos
Series: None
Author: Cindy Anstey
October 9th 2018 by Swoon Reads
A lady's maid and a valet become entangled in a yuletide counterfeiting scheme in this romantic Christmas YA adventure.
1817. The happy chaos of the Yuletide season has descended upon the country estate of Shackleford Park in full force, but lady's maid Kate Darby barely has the time to notice. Between her household duties, caring for her ailing mother, and saving up money to someday own a dress shop, her hands are quite full. Matt Harlow is also rather busy. He's performing double-duty, acting as valet for both of the Steeple brothers, two of the estate's holiday guests.
Falling in love would be a disaster for either of them. But staving off their feelings for each other becomes the least of their problems when a devious counterfeiting scheme reaches the gates of Shackleford Park, and Kate and Matt are unwittingly swept up in the intrigue. Full of sweetness, charm, and holiday shenanigans, Carols and Chaos is perfect for fans of Jane Austen and Downton Abbey.
Goodreads
A Sorrow Fierce and Falling
Series: Kingdom on Fire #3
Author: Jessica Cluess
October 16th 2018 by Random House Books for Young Readers
It's time for war.
After suffering terrible losses, Henrietta and Lord Blackwood have led their warriors to Sorrow-Fell, a vast estate where only those invited by a Blackwood may enter--and the ideal place to plan a final assault against the Ancients.
It's time for a wedding.
Henrietta nervously awaits her marriage to Blackwood, but when the ritual to become his bride reveals a dark secret, she realizes that Sorrow-Fell is not a safe haven; it's a trap. Convincing the sorcerers of this, however, is not easy. So with Maria, the true chosen one, and Magnus, the young man who once stole her heart, at her side, Henrietta plots a dangerous journey straight into the enemy's lair. Some will live. Some will die. All will be tested.
In this stunning conclusion to the Kingdom on Fire series, Henrietta must choose between the love from her past, the love from her present, and a love that could define her future. While battles rage, the fate of the kingdom rests on her decision: Will she fall or rise up to become the woman who saves the realm?
It's time for Henrietta to make her stand.
Goodreads
What If It's Us
Series: None
Author: Becky Albertalli & Adam Silvera
October 18th 2018 by Simon & Schuster Children's UK
Arthur is only in New York for the summer, but if Broadway has taught him anything, it's that the universe can deliver a showstopping romance when you least expect it.
Ben thinks the universe needs to mind its business. If the universe had his back, he wouldn't be on his way to the post office carrying a box of his ex-boyfriend's things.
But when Arthur and Ben meet-cute at the post office, what exactly does the universe have in store for them?
Maybe nothing. After all, they get separated.
Maybe everything. After all, they get reunited.
But what if they can't quite nail a first date . . . or a second first date . . . or a third?
What if Arthur tries too hard to make it work . . . and Ben doesn't try hard enough?
What if life really isn't like a Broadway play?
But what if it is?
Goodreads
Odd One Out
Series: None
Author: Nic Stone
October 18th 2018 by Simon & Schuster Children's UK
From the New York Times bestselling author of Dear Martin comes this illuminating exploration of old friendships, new crushes, and the path to self-discovery.
Courtney "Coop" Cooper
Dumped. Again. And normally I wouldn't mind. But right now, my best friend and source of solace, Jupiter Sanchez, is ignoring me to text some girl.
Rae Evelyn Chin
I assumed "new girl" would be synonymous with "pariah," but Jupiter and Courtney make me feel like I'm right where I belong. I also want to kiss him. And her. Which is . . . perplexing.
Jupiter Charity-Sanchez
The only thing worse than losing the girl you love to a boy is losing her to your boy. That means losing him, too. I have to make a move. . . .
One story.
Three sides.
No easy answers.
Goodreads
An Assassin's Guide to Love and Treason
Series: None
Author: Virginia Boecker
October 23rd 2018 by Little, Brown Books for Young Readers
When Lady Katherine's father is killed for being an illegally practicing Catholic, she discovers treason wasn't the only secret he's been hiding: he was also involved in a murder plot against the reigning Queen Elizabeth I. With nothing left to lose, Katherine disguises herself as a boy and travels to London to fulfill her father's mission, and to take it one step further--kill the queen herself.
Katherine's opportunity comes in the form of William Shakespeare's newest play, which is to be performed in front of Her Majesty. But what she doesn't know is that the play is not just a play--it's a plot to root out insurrectionists and destroy the rebellion once and for all.
The mastermind behind this ruse is Toby Ellis, a young spy for the queen with secrets of his own. When Toby and Katherine are cast opposite each other as the play's leads, they find themselves inexplicably drawn to one another. But the closer they grow, the more precarious their positions become. And soon they learn that star-crossed love, mistaken identity, and betrayal are far more dangerous off the stage than on.
Goodreads
The Confectioner's Guild
Series: The Confectioner's Chronicles #1
Author: Claire Luana
October 23rd 2018 by Live Edge Publishing
A magic cupcake. A culinary killer. The perfect recipe for murder.
Wren knew her sweet treats could work wonders, but she never knew they could work magic. She barely has time to wrap her head around the stunning revelation when the head of the prestigious Confectioner's Guild falls down dead before her. Poisoned by her cupcake.
Now facing murder charges in a magical world she doesn't understand, Wren must discover who framed her or face the headsman's axe. With the help of a handsome inspector and several new friends, Wren just might manage to learn the ropes, master her new powers, and find out who framed her. But when their search for clues leads to a deep-rooted conspiracy that goes all the way to the top, she realizes that the guild master isn't the only one at risk of death by chocolate.
If Wren can't bring the powerful culprit to justice, she and her friends will meet a bittersweet end.
The Confectioner's Guild is a delicious YA fantasy mystery. If you like spunky chefs and twisty mysteries with a drizzle of romance, then you'll love Claire Luana's scrumptious tale that's sure to satisfy your sweet tooth.
Goodreads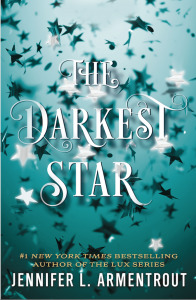 The Darkest Star
Series: Origin #1
Author: Jennifer L. Armentrout
October 30th 2018 by Tor Teen
When seventeen-year-old Evie Dasher is caught up in a raid at a notorious club known as one of the few places where humans and the surviving Luxen can mingle freely, she meets Luc, an unnaturally beautiful guy she initially assumes is a Luxen...but he is in fact something much more powerful. Her growing attraction for Luc will lead her deeper and deeper into a world she'd only heard about, a world where everything she thought she knew will be turned on its head...
#1 New York Times, USA Today, and internationally bestselling author Jennifer L. Armentrout returns to the universe of the Lux in this brand new series, featuring beloved characters both new and old.
Goodreads
What has caught your eye for October? Have you read any of these? Let me know :)