Blog Tour Discussion: The Crown's Game by Evelyn Skye (+ giveaway)
10:00
Russian History In and Out of The Crown's Game
The Crown's Game was one of my favourite debuts of 2016, and when I heard about this tour, I jumped at the chance to take part. My post is about history, and how the book remained true to the reality.
So, if you don't know anything about me, I completed my degree in History and Ancient History last summer, and am currently training to be a history teacher. During my second year at university, I did a module on Imperial Russia, and it was one of my favourites.
One of the Russian Tsars, Alexander I, is the inspiration for the Tsar in The Crown's Game, as is his real life, and fictional, tsarina, Elizabeth. However, that's where the truth and fiction split. The real life couple had two daughters, though both died as children - this means that Pasha and Yuliana are imaginings of Evelyn's, which I think allowed her the opportunity to develop the family, and relationship further.
The relationship between the imperial couple was fraught with infidelity, and Alexander I is well known for having multiple mistresses, and bringing many of them to court. As such his marriage wasn't the best, but they did reconcile towards the ends of their lives. In the book, they both died around the same time as one another. In 1825, Alexander I died of typhus whilst out in the countryside with tsarina Elizabeth. She didn't actually die until 5 months later. Because Alexander wasn't at court when he died, and his body couldn't be laid in state as usual, many believed he was living as a monk in Siberia, sick of the intrigue of court life. We have no way of really knowing if this is true, but I quite like the idea of it all.
Whereas Pasha became Tsar during The Crown's Game, Alexander's younger brothers, Nicholas, became the next Tsar of Imperial Russia. I can't wait to see how Evelyn used the basis of The Crown's Game to develop more of her own spin of Russia, and whether she'll bring in elements of Nicholas' reign.
About the Book: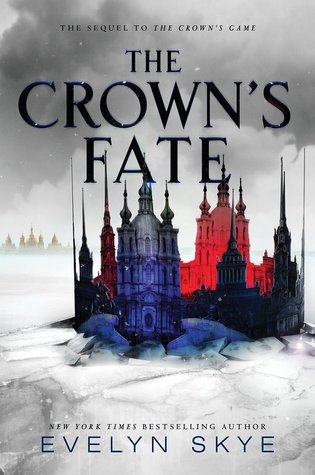 Expected publication:
May 16th, 2016 by Balzer + Bray
Formats:
Hardcover, eBook
The gorgeous and darkly compelling sequel to The Crown's Game—perfect for fans of Red Queen and Shadow and Bone.
Magic is growing, shadows are rising, and the throne is at stake…
Russia is on the brink of great change. Pasha's coronation approaches, and Vika is now the Imperial Enchanter, but the role she once coveted may be more difficult—and dangerous—than she ever expected.
Pasha is grappling with his own problems—his legitimacy is in doubt, the girl he loves loathes him, and he believes his best friend is dead. When a challenger to the throne emerges—and with the magic in Russia growing rapidly—Pasha must do whatever it takes to keep his position and protect his kingdom.
For Nikolai, the ending of the Crown's Game stung deeply. Although he just managed to escape death, Nikolai remains alone, a shadow hidden in a not-quite-real world of his own creation. But when he's given a second chance at life—tied to a dark price—Nikolai must decide just how far he's willing to go to return to the world.
With revolution on the rise, dangerous new magic rearing up, and a tsardom up for the taking, Vika, Nikolai, and Pasha must fight—or face the destruction of not only their world but also themselves.
Evelyn Skye is the New York Times bestselling author of THE CROWN'S GAME (out now!) and THE CROWN'S FATE (May 16, 2017). She was once offered a job by the C.I.A., she not-so-secretly wishes she was on "So You Think You Can Dance," and if you challenge her to a pizza-eating contest, she guarantees she will win. When Evelyn isn't writing, she can be found chasing her daughter on the playground or sitting on the couch, immersed in a good book and eating way too many cookies.