February books on my radar
10:00
Unconventional
Series: None
Author: Maggie Harcourt
February 1st 2017 by Usborne Publishing Ltd
Lexi Angelo has grown up helping her dad with his events business. She likes to stay behind the scenes, planning and organizing...until author Aidan Green - messy haired and annoyingly arrogant - arrives unannounced at the first event of the year. Then Lexi's life is thrown into disarray.
In a flurry of late-night conversations, mixed messages and butterflies, Lexi discovers that some things can't be planned. Things like falling in love...
Goodreads
Traitor to the Throne
Series: Rebel of the Sands #2
Author: Alwyn Hamilton
February 2nd 2017 by Faber & Faber
This is not about blood or love. This is about treason.
Nearly a year has passed since Amani and the rebels won their epic battle at Fahali. Amani has come into both her powers and her reputation as the Blue-Eyed Bandit, and the Rebel Prince's message has spread across the desert - and some might say out of control. But when a surprise encounter turns into a brutal kidnapping, Amani finds herself betrayed in the cruellest manner possible.
Stripped of her powers and her identity, and torn from the man she loves, Amani must return to her desert-girl's instinct for survival. For the Sultan's palace is a dangerous one, and the harem is a viper's nest of suspicion, fear and intrigue. Just the right place for a spy to thrive... But spying is a dangerous game, and when ghosts from Amani's past emerge to haunt her, she begins to wonder if she can trust her own treacherous heart.
Goodreads
Romeo & What's Her Name
Series: None
Author: Shani Petroff
February 7th 2017 by Swoon Reads
Understudies never get to perform
. . . which is why being Juliet's understudy in the school's yearly "Evening with Shakespeare" is the perfect role for Emily. She can earn some much-needed extra credit while pursuing her main goal of spending time with Wes, aka Romeo, aka the hottest, nicest guy in school (in her completely unbiased opinion). And she meant to learn her lines, really, it's just:
a) Shakespeare is HARD,
b) Amanda, aka the "real" Juliet, makes her run errands instead of lines, and
c) there's no point because Amanda would never miss the chance to be the star of the show.
Then, Amanda ends up in the hospital and Emily, as the (completely unprepared!) understudy, has to star opposite the guy of her dreams. Oops?
Goodreads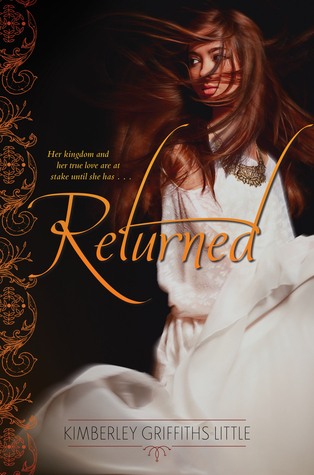 Returned
Series: Forbidden #3
Author: Kimberley Griffiths Little
February 7th 2017 by HarperCollins
After tragedy strikes on the day they were to wed, Jayden must support Kadesh as he ascends the throne and becomes king of Sariba. But with the dark priestess Aliyah conspiring to control the crown, and the arrival of Horeb, Jayden's former betrothed, Kadesh's kingdom, as well as his status as king, is at stake.
Jayden knows that the time to be merciful has come and gone, and that some enemies can only be halted by death. Now she and Kadesh must prepare to fight not only for their love, but also for their kingdom.
Goodreads
Empress of a Thousand Skies
Series: Empress of a Thousand Skies #1
Author: Rhoda Belleza
February 7th 2017 by Razorbill
CROWN PRINCESS RHIANNON TA'AN WANTS VENGEANCE.
The only surviving heir to an ancient Kalusian dynasty, RHEE has spent her life training to destroy the people who killed her family. Now, on the eve of her coronation, the time has finally come for Rhee to claim her throne - and her revenge.
ALYOSHA is a Wraetan who has risen above his war refugee origins to find fame as the dashing star of a DroneVision show. Despite his popularity, Aly struggles with anti-Wraetan prejudices and the pressure of being perfect in the public eye.
Their paths collide with one brutal act of violence: Rhee is attacked, barely escaping with her life. Aly is blamed for her presumed murder.
The princess and her accused killer are forced to go into hiding - even as a war between planets is waged in Rhee's name. But soon, Rhee and Aly discover that the assassination attempt is just one part of a sinister plot. Bound together by an evil that only they can stop, the two fugitives must join forces to save the galaxy.
In this exhilarating debut for fans of Marissa Meyer's Lunar Chronicles and Pierce Brown's Red Rising trilogy, RHODA BELLEZA crafts a powerful saga of vengeance, warfare, and the true meaning of legacy.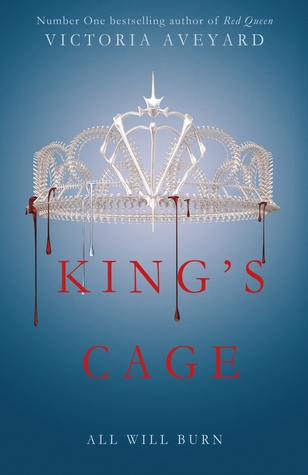 King's Cage
Series: Red Queen #3
Author: Victoria Aveyard
February 9th 2017 by Orion Publishing

In this breathless third installment to Victoria Aveyard's bestselling Red Queen series, allegiances are tested on every side. And when the Lightning Girl's spark is gone, who will light the way for the rebellion?
Mare Barrow is a prisoner, powerless without her lightning, tormented by her lethal mistakes. She lives at the mercy of a boy she once loved, a boy made of lies and betrayal. Now a king, Maven Calore continues weaving his dead mother's web in an attempt to maintain control over his country—and his prisoner.
As Mare bears the weight of Silent Stone in the palace, her once-ragtag band of newbloods and Reds continue organizing, training, and expanding. They prepare for war, no longer able to linger in the shadows. And Cal, the exiled prince with his own claim on Mare's heart, will stop at nothing to bring her back.
When blood turns on blood, and ability on ability, there may be no one left to put out the fire—leaving Norta as Mare knows it to burn all the way down.
#famous
Series: None
Author: Jilly Gagnon
February 14th 2017 by Katherine Tegen Books
In this modern-day love story, Girl likes Boy, Girl takes photo of Boy and posts it online, Boy becomes accidentally insta-famous. And what starts out as an innocent joke spirals into a whirlwind adventure that could change both their lives—and their hearts—forever. But are fame and love worth the price?
Told in alternating points of view, #famous captures the out-of-control thrill ride of falling for someone in front of everyone.
Goodreads
The Wish Granter
Series: Ravenspire #2
Author: C.J. Redwine
February 14th 2017 by Balzer + Bray
The world has turned upside down for Thad and Ari Glavan, the bastard twins of Súndraille's king. Their mother was murdered. The royal family died mysteriously. And now Thad sits on the throne of a kingdom whose streets are suddenly overrun with violence he can't stop.
Growing up ignored by the nobility, Ari never wanted to be a proper princess. And when Thad suddenly starts training Ari to take his place, she realizes that her brother's ascension to the throne wasn't fate. It was the work of a Wish Granter named Alistair Teague, who tricked Thad into wishing away both the safety of his people and his soul in exchange for the crown.
So Ari recruits the help of Thad's enigmatic new weapons master, Sebastian Vaughn, to teach her how to fight Teague. With secret ties to Teague's criminal empire, Sebastian might just hold the key to discovering Alistair's weaknesses, saving Ari's brother—and herself.
But Teague is ruthless and more than ready to destroy anyone who dares stand in his way—and now he has his sights set on the princess. And if Ari can't outwit him, she'll lose Sebastian, her brother…and her soul.
Goodreads
The Last of August
Series: Charlotte Holmes #2
Author: Brittany Cavallaro
February 14th 2017 by Katherine Tegen Books
Watson and Holmes: A match made in disaster.
Jamie Watson and Charlotte Holmes are looking for a winter-break reprieve after a fall semester that almost got them killed. But Charlotte isn't the only Holmes with secrets, and the mood at her family's Sussex estate is palpably tense. On top of everything else, Holmes and Watson could be becoming more than friends—but still, the darkness in Charlotte's past is a wall between them.
A distraction arises soon enough, because Charlotte's beloved uncle Leander goes missing from the estate—after being oddly private about his latest assignment in a German art forgery ring. The game is afoot once again, and Charlotte is single-minded in her pursuit.
Their first stop? Berlin. Their first contact? August Moriarty (formerly Charlotte's obsession, currently believed by most to be dead), whose powerful family has been ripping off famous paintings for the last hundred years. But as they follow the gritty underground scene in Berlin to glittering art houses in Prague, Holmes and Watson begin to realize that this is a much more complicated case than a disappearance. Much more dangerous, too.
What they learn might change everything they know about their families, themselves, and each other.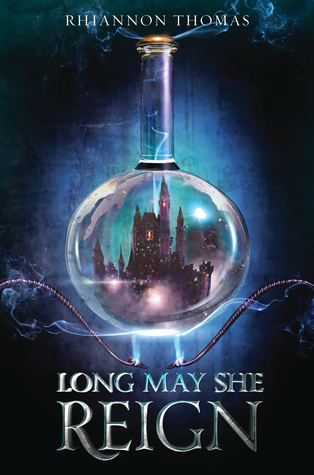 Long May She Reign
Series: None
Author: Rhiannon Thomas
February 21st 2017 by HarperTeen
The Girl of Fire and Thorns meets The Queen of the Tearling in this thrilling fantasy standalone about one girl's unexpected rise to power.
Freya was never meant be queen. Twenty third in line to the throne, she never dreamed of a life in the palace, and would much rather research in her laboratory than participate in the intrigues of court. However, when an extravagant banquet turns deadly and the king and those closest to him are poisoned, Freya suddenly finds herself on the throne.
Freya may have escaped the massacre, but she is far from safe. The nobles don't respect her, her councillors want to control her, and with the mystery of who killed the king still unsolved, Freya knows that a single mistake could cost her the kingdom – and her life.
Freya is determined to survive, and that means uncovering the murderers herself. Until then, she can't trust anyone. Not her advisors. Not the king's dashing and enigmatic illegitimate son. Not even her own father, who always wanted the best for her, but also wanted more power for himself.
As Freya's enemies close in and her loyalties are tested, she must decide if she is ready to rule and, if so, how far she is willing to go to keep the crown.
What has caught your eye for February? Have you read any of these? Let me know :)