October books on my radar
10:00
Ally
Series: Nemesis #2
Author: Anna Banks
October 3rd 2017 by Feiwel & Friends
Princess Sepora of Serubel and King Tarik of Theoria have formed an uneasy truce between their kingdoms since the deadly plague began to rip through Theoria. Since their feelings for each other are entangled in politics and power, they must use their own trusted resources to find common ground.
But when traitors with powerful allies arise from unexpected places, Tarik and Sepora face challenges that will change both of their kingdoms forever. Will they learn whom to trust—including each other—in time to save their kingdoms, their relationship and even their lives?
Goodreads
Magnus Chase and the Ship of the Dead
Series: Magnus Chase and the Gods of Asgard #3
Author: Rick Riordan
October 3rd 2017 by Puffin
Loki the trickster god is free from his chains. Now he's readying Naglfar, the Ship of the Dead, armed with a host of giants and zombies, to sail against the Norse gods and begin the final battle of Ragnarok. It's up to Magnus Chase and his friends to stop Loki's plans, but to do so they will have to sail across the oceans of Midgard, Jotunheim and Niflheim in a desperate race to reach Naglfar before it's ready to sail on Midsummer's Day.
Along the way, they will face angry sea gods, hostile giants, and an evil fire-breathing dragon who happens to be a former acquaintance. But Magnus's biggest challenge will be facing his own inner demons. To defeat Loki, Magnus will need to use words, not force. This will require finding a magical elixir so deadly that it will either make Magnus Chase powerful enough to out-talk the silver-tongued Loki, or destroy Magnus utterly.
Goodreads
That Inevitable Victorian Thing
Series: None
Author: E.K. Johnston
October 3rd 2017 by Dutton Books for Young Readers
Set in a near-future world where the British Empire was preserved, not by the cost of blood and theft but by effort of repatriation and promises kept, That Inevitable Victorian Thing is a novel of love, duty, and the small moments that can change people and the world.
Victoria-Margaret is the crown princess of the empire, a direct descendent of Victoria I, the queen who changed the course of history two centuries earlier. The imperial practice of genetically arranged matchmaking will soon guide Margaret into a politically advantageous marriage like her mother before her, but before she does her duty, she'll have one summer incognito in a far corner of empire. In Toronto, she meets Helena Marcus, daughter of one of the empire's greatest placement geneticists, and August Callaghan, the heir apparent to a powerful shipping firm currently besieged by American pirates. In a summer of high-society debutante balls, politically charged tea parties, and romantic country dances, Margaret, Helena, and August discover they share an unusual bond and maybe a one in a million chance to have what they want and to change the world in the process —just like the first Queen Victoria.
Goodreads
A Shiver of Snow and Sky
Series: Untitled #1
Author: Lisa Lueddecke
October 5th 2017 by Scholastic Children's Books
Red, red, the lights glow red
Beware the danger up ahead…
On the frozen island of Skane, the sky speaks. Beautiful lights appear on clear nights, and their colours have meaning: Green means all is well, and the Goddess is happy. Blue means a snow storm is on the way.
And then there's red. Red is rare. A warning.
Seventeen years ago, the sky turned red just as Ósa was born, unleashing a plague that claimed the lives of hundreds of villagers, including her own mother. This time, when the night sky once again bleeds crimson, she must discover how to stop the onslaught before so many lives are lost again.
Goodreads
Into the Bright Unknown
Series: The Gold Seer Trilogy #3
Author: Rae Carson
October 10th 2017 by Greenwillow Books
The stunning conclusion to Rae Carson's New York Times–bestselling Gold Seer trilogy, which Publishers Weekly in a starred review called "Simply terrific." A historical fantasy brimming with magic, romance, and adventure—perfect for fans of Leigh Bardugo, Sarah Maas, and Westworld.
Leah Westfall, her fiancé Jefferson, and her friends have become rich in the California Territory, thanks to Lee's magical ability to sense precious gold. But their fortune has made them a target, and when a dangerous billionaire sets out to destroy them, Lee and her friends decide they've had enough—they will fight back with all their power and talents. Lee's magic is continuing to strengthen and grow, but someone is on to her—someone who might have a bit of magic herself. The stakes are higher than ever as Lee and her friends hatch a daring scheme that could alter the California landscape forever. With a distinctive young heroine and a unique interpretation of American history, Into the Bright Unknown strikes a rich vein of romance, magic, and adventure, bringing the Gold Seer Trilogy to its epic conclusion.
Goodreads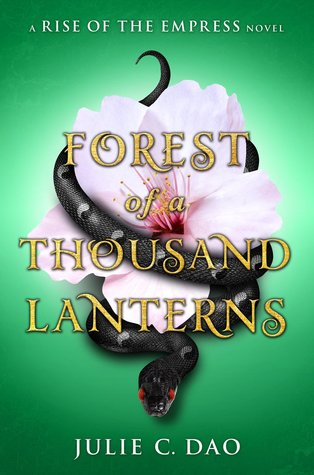 Forest of a Thousand Lanterns
Series: Rise of the Empress #1
Author: Julie C. Dao
October 10th 2017 by Philomel Books
An East Asian fantasy reimagining of The Evil Queen legend about one peasant girl's quest to become Empress--and the darkness she must unleash to achieve her destiny.
Eighteen-year-old Xifeng is beautiful. The stars say she is destined for greatness, that she is meant to be Empress of Feng Lu. But only if she embraces the darkness within her. Growing up as a peasant in a forgotten village on the edge of the map, Xifeng longs to fulfill the destiny promised to her by her cruel aunt, the witch Guma, who has read the cards and seen glimmers of Xifeng's majestic future. But is the price of the throne too high?
Because in order to achieve greatness, she must spurn the young man who loves her and exploit the callous magic that runs through her veins--sorcery fueled by eating the hearts of the recently killed. For the god who has sent her on this journey will not be satisfied until his power is absolute.
Goodreads
My New Crush Gave to Me
Series: None
Author: Shani Petroff
October 31st 2017 by Swoon Reads
Charlotte Charlie Donovan knows exactly what she wants for Christmas: Teo Ortiz. He s the school s star athlete, in the National Honor Society, invited to every party, contributes to the school paper (where Charlie is co-editor), and is about to be featured as One to Watch in a teen magazine basically, he's exactly the type of guy Charlie s meant to be with. The only problem he barely knows she exists.
But Charlie is determined to be Teo's date to the Christmas ball. And she has a plan: To rig the paper s Secret Santa so that she can win his heart with five perfect gifts. But to do that she needs help. Enter J.D. Ortiz Teo s cousin, and possibly the most annoying person on the planet. He s easy going, laid back, unorganized, spontaneous, and makes a joke out of everything the exact opposite of Charlie (and Teo). But he s willing to provide insight into what Teo wants, so she s stuck with him.
Yet, the more time Charlie spends with J.D., the more she starts to wonder: Does she really know what, or rather who, she wants for Christmas?
Goodreads
What has caught your eye for October? Have you read any of these? Let me know :)