July books on my radar
10:00
Defending Taylor
Series: Hundred Oaks #7
Author: Miranda Kenneally
July 1st 2016 by Sourcebooks Fire
Taylor's always felt pressure to be perfect. That's what happens when you are a senator's daughter. So when she's kicked out of private school for covering for her boyfriend's not-so-legal behavior, she is devastated.
Things go from bad to worse as she joins what used to be her rival soccer team at Hundred Oaks High. The only person who seems to understand all that she's going through is her older brother's best friend, Ezra. But Ezra has secrets of his own. Will Taylor repeat past mistakes, or can she score a fresh start?
Goodreads
And I Darken
Series: The Conquerors Saga #1
Author: Kiersten White
July 7th 2016 by Corgi Childrens
No one expects a princess to be brutal. And Lada Dragwyla likes it that way.
Ever since she and her brother were abandoned by their father to be raised in the Ottoman sultan's courts, Lada has known that ruthlessness is the key to survival. For the lineage that makes her and her brother special also makes them targets.
Lada hones her skills as a warrior as she nurtures plans to wreak revenge on the empire that holds her captive. Then she and Radu meet the sultan's son, Mehmed, and everything changes. Now Mehmed unwittingly stands between Lada and Radu as they transform from siblings to rivals, and the ties of love and loyalty that bind them together are stretched to breaking point.
The first of an epic new trilogy starring the ultimate anti-princess who does not have a gentle heart. Lada knows how to wield a sword, and she'll stop at nothing to keep herself and her brother alive.
Goodreads
Two Summers
Series: None
Author: Aimee Friedman
Published July 7th 2016 by Scholastic Press
This summer, Summer's saying goodbye to her best friend, her secret crush and her single mom and is off on a trip of a lifetime to visit her estranged artist father in France.
But right before she's about to board, her phone rings. Should she answer it? Either way, it's going to be a summer Summer will never forget.
The Season
Series: None
Author: Jonah Lisa Dyer
July 12th 2016 by Viking Children's
She can score a goal, do sixty box jumps in a row, bench press a hundred and fifty pounds…but can she learn to curtsey?
Megan McKnight is a soccer star with Olympic dreams, but she's not a girly girl. So when her Southern belle mother secretly enters in the 2016 Dallas debutante season, she's furious—and has no idea what she's in for. When Megan's attitude gets her on probation with the mother hen of the debs, she's got a month to prove she can ballroom dance, display impeccable manners, and curtsey like a proper Texas lady or she'll get the boot and disgrace her family. The perk of being a debutante, of course, is going to parties, and it's at one of these lavish affairs where Megan gets swept off her feet by the debonair and down-to-earth Hank Waterhouse. If only she didn't have to contend with a backstabbing blonde and her handsome but surly billionaire boyfriend, Megan thinks, being a deb might not be so bad after all. But that's before she humiliates herself in front of a room full of ten-year-olds, becomes embroiled in a media-frenzy scandal, and gets punched in the face by another girl.
The season has officially begun…but the drama is just getting started.
Goodreads
The Shadow Hour
Series: The Girl at Midnight #2
Author: Melissa Grey
July 12th 2016 by Atom
Everything in Echo's life changed in a blinding flash when she learned the startling truth: she is the firebird, the creature of light that is said to bring peace.
The firebird has come into the world, but it has not come alone. Every action has an equal and opposite reaction, and Echo can feel a great and terrible darkness rising in the distance. Cosmic forces threaten to tear the world apart.
Echo has already lost her home, her family, and her boyfriend. Now, as the firebird, her path is filled with even greater dangers than the ones she's already overcome.
She knows the Dragon Prince will not fall without a fight.
Echo must decide: can she wield the power of her true nature--or will it prove too strong for her, and burn what's left of her world to the ground?
Welcome to the shadow hour.
Smash & Grab
Series: None
Author: Amy Christine Parker
July 19th 2016 by Random House Books for Young Readers
Ocean's Eleven meets the star-crossed lovers of West Side Story. Grab some popcorn and get ready for an adrenaline-filled heist!
LEXI is a rich girl who loves a good rush. Whether it's motorcycle racing or BASE jumping off a building in downtown Los Angeles, the only times she feels alive are when she and her friends are executing one of their dares. After her father's arrest, Lexi doesn't think twice about going undercover at his bank to steal the evidence that might clear his name. She enlists her hacker brother and her daredevil friends to plan a clever heist.
CHRISTIAN is a boy from the wrong side of the tracks. The local gang has blackmailed him and his friends into robbing banks, and he is desperate for a way out. When the boss promises that one really big job will be the last he ever has to do, Christian jumps at the chance for freedom. In fact, he's just met a girl at the bank who might even prove useful...
Two heists. One score. The only thing standing in their way is each other.
Told in alternating points of view, this caper is full of romance and fast-paced fun. Hand to fans of Perfect Chemistry, The Conspiracy of Us, and Heist Society.
Goodreads
Paper and Fire
Series: The Great Library #2
Author: Rachel Caine
July 21st 2016 by Allison & Busby
In Ink and Bone, New York Times bestselling author Rachel Caine introduced a world where knowledge is power, and power corrupts absolutely. Now, she continues the story of those who dare to defy the Great Library—and rewrite history…
With an iron fist, The Great Library controls the knowledge of the world, ruthlessly stamping out all rebellion, forbidding the personal ownership of books in the name of the greater good.
Jess Brightwell has survived his introduction to the sinister, seductive world of the Library, but serving in its army is nothing like he envisioned. His life and the lives of those he cares for have been altered forever. His best friend is lost, and Morgan, the girl he loves, is locked away in the Iron Tower and doomed to a life apart.
Embarking on a mission to save one of their own, Jess and his band of allies make one wrong move and suddenly find themselves hunted by the Library's deadly automata and forced to flee Alexandria, all the way to London.
But Jess's home isn't safe anymore. The Welsh army is coming, London is burning, and soon, Jess must choose between his friends, his family, or the Library willing to sacrifice anything and anyone in the search for ultimate control…
Goodreads
P.S. I Like You
Series: None
Author:
Kasie West
July 26th 2016 by Point
What if the person you were falling for was a total mystery?
While Lily is spacing out in Chemistry one day, she picks up her pencil and scribbles a line from one of her favorite songs on the desk. The next day, someone else has written back to her on the desk! Soon enough Lily and the mystery student are exchanging notes, and lyrics, and even sharing secrets. When Lily finds out that her anonymous pen pal is a guy, she's flustered -- and kind of feels like she's falling for him. She and her best friend set out to unravel the identity of the letter writer -- but when the truth is revealed, the guy is the LAST person Lily could have ever imagined it to be. Now that Lily knows the truth, can she untangle her feelings and gather the courage to listen to her heart.
Goodreads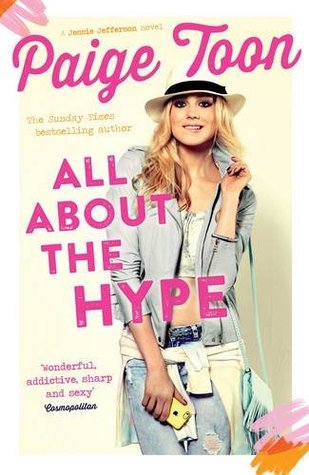 All About the Hype
Series: Jessie Jefferson #3
Author: Paige Toon
July 28th 2016 by Simon & Schuster Children's UK
The third super hot, super fun Jessie Jefferson novel from internationally bestselling author, Paige Toon.
Is the life of a famous rockstar's daughter all it's cracked up to be? And what about dating your fellow band-member just as you hit the bigtime?
Jessie is still getting used to being a celebrity, and the daughter of one of the world's biggest rock stars. With her own music career on the rise, a gorgeous love interest and a fun group of friends, it seems Jessie's glamorous LA life couldn't get any better . . . but things are about to get really complicated.
Goodreads
Harry Potter and the Cursed Child
Series:
Harry Potter
Author:
J.K. Rowling, Jack Thorne, John Tiffany
July 31st 2016 by Little Brown UK
Based on an original new story by J.K. Rowling, Jack Thorne and John Tiffany, Harry Potter and the Cursed Child, a new play by Jack Thorne, is the first official Harry Potter story to be presented on stage. It will receive its world premiere in London's West End on 30th July 2016
It was always difficult being Harry Potter and it isn't much easier now that he is an overworked employee of the Ministry of Magic, a husband, and father of three school-age children.
While Harry grapples with a past that refuses to stay where it belongs, his youngest son Albus must struggle with the weight of a family legacy he never wanted. As past and present fuse ominously, both father and son learn the uncomfortable truth: sometimes darkness comes from unexpected places.
Goodreads
What has caught your eye for July? Have you read any of these? Let me know :)