Waiting on Wednesday: Obsidio (The Illuminae Files #3) by Amie Kaufman & Jay Kristoff
10:00

Waiting On Wednesday is a weekly event, hosted by
Breaking the Spine
that spotlights upcoming releases that we're eagerly anticipating.

This week's pick is: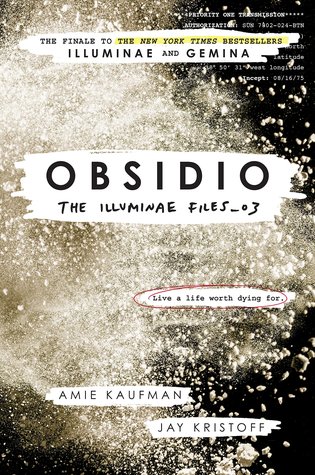 Obsidio
Series: The Illuminae Files #3
Author: Amie Kaufman & Jay Kristoff
Published March 13th 2018 by Knopf Books for Young Readers
Goodreads Summary
Kady, Ezra, Hanna, and Nik narrowly escaped with their lives from the attacks on Heimdall station and now find themselves crammed with 2,000 refugees on the container ship, Mao. With the jump station destroyed and their resources scarce, the only option is to return to Kerenza—but who knows what they'll find seven months after the invasion?
Meanwhile, Kady's cousin, Asha, survived the initial BeiTech assault and has joined Kerenza's ragtag underground resistance. When Rhys—an old flame from Asha's past—reappears on Kerenza, the two find themselves on opposite sides of the conflict.
With time running out, a final battle will be waged on land and in space, heros will fall, and hearts will be broken.
Why I'm waiting:
I loved Illuminae, and though I haven't read Gemina yet, I'll be getting around to it soon. I'm hoping Obsidio is a perfect finale.
Are you waiting for this book? Have you already read it? Let me know :)