July books on my radar
10:00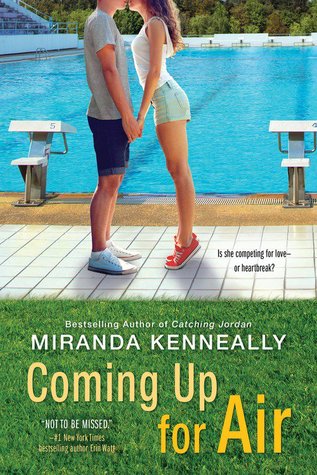 Coming Up for Air
Series: Hundred Oaks #8
Author: Miranda Kenneally
July 1st 2017 by Sourcebooks Fire
Swim. Eat. Shower. School. Snack. Swim. Swim. Swim. Dinner. Homework. Bed. Repeat.
All of Maggie's focus and free time is spent swimming. She's not only striving to earn scholarships—she's training to qualify for the Olympics. It helps that her best friend, Levi, is also on the team and cheers her on. But Levi's already earned an Olympic try out, so she feels even more pressure to succeed. And it's not until Maggie's away on a college visit that she realizes how much of the "typical" high school experience she's missed by being in the pool.
Not one to shy away from a challenge, Maggie decides to squeeze the most out of her senior year. First up? Making out with a guy. And Levi could be the perfect candidate. After all, they already spend a lot of time together. But as Maggie slowly starts to uncover new feelings for Levi, how much is she willing to lose to win?
Goodreads
The Savage Dawn
Series: The Girl at Midnight #3
Author: Melissa Grey
July 6th 2017 by Atom
The sides have been chosen and the battle lines drawn.
Echo awakened the Firebird. Now she is the only one with the power to face the darkness she unwittingly unleashed . . . right into the waiting hands of Tanith, the new Dragon Prince. Tanith has one goal in mind: destroy her enemies, raze their lands, and reign supreme in a new era where the Drakharin are almighty and the Avicen are nothing but a memory.
The war that has been brewing for centuries is finally imminent. But the scales are tipped. Echo might hold the power to face the darkness within the Dragon Prince, but she has far to go to master its overwhelming force. And now she's plagued by uncertainty. With Caius no longer by her side, she doesn't know if she can do it alone. Is she strong enough to save her home and the people she loves?
Whether Echo is ready to face this evil is not the question. The war has begun, and there is no looking back. There are only two outcomes possible: triumph or death.
Goodreads
Now I Rise
Series: The Conqueror's Saga #2
Author: Kiersten White
July 6th 2017 by Corgi Childrens
Lada Dracul has no allies. No throne. All she has is what she's always had: herself. After failing to secure the Wallachian throne, Lada is out to punish anyone who dares to cross her blood-strewn path. Filled with a white-hot rage, she storms the countryside with her men, accompanied by her childhood friend Bogdan, terrorizing the land. But brute force isn't getting Lada what she wants. And thinking of Mehmed brings little comfort to her thorny heart. There's no time to wonder whether he still thinks about her, even loves her. She left him before he could leave her.
What Lada needs is her younger brother Radu's subtlety and skill. But Mehmed has sent him to Constantinople—and it's no diplomatic mission. Mehmed wants control of the city, and Radu has earned an unwanted place as a double-crossing spy behind enemy lines. Radu longs for his sister's fierce confidence—but for the first time in his life, he rejects her unexpected plea for help. Torn between loyalties to faith, to the Ottomans, and to Mehmed, he knows he owes Lada nothing. If she dies, he could never forgive himself—but if he fails in Constantinople, will Mehmed ever forgive him?
As nations fall around them, the Dracul siblings must decide: what will they sacrifice to fulfill their destinies? Empires will topple, thrones will be won . . . and souls will be lost.
Goodreads
Hello, Sunshine
Series: None
Author: Leila Howland
July 11th 2017 by Disney-Hyperion
A Prep School Girl with a Hollywood Dream
Becca Harrington is a reject. After being rebuffed by every college on her list, she needs a fresh start, so she packs up everything and moves to LA, giving herself one year to land an acting gig or kill herself trying.
Unfortunately, not everything turns out as planned, and after a few grueling months, LA is looking like the worst idea ever. As hard as she tries, Becca can't land an agent, she's running out of cash, and her mom is hounding her to apply to more schools. In an act of desperation, Becca and her friend Marisol start posting short videos online—with the help of their adorable filmmaker neighbor, Raj—and the videos catch the attention of a TV producer. Could this be it? Her big break? Or will she have to move back home with nothing but some bad head shots and a monstrous credit-card bill?
Becca may not get the Hollywood ending she was hoping for, but perhaps she'll learn there's more than one way to achieve her dream.
Readers will love every page of this funny, romantic, aspirational, and ultimately triumphant novel about a girl who just wants to make it on her own.
Goodreads
The Ends of the World
Series: The Conspiracy of Us #3
Author: Maggie Hall
July 18th 2017 by G.P. Putnam's Sons Books for Young Readers
The Circle is hers.
But Avery West has lost everything else: her mother, the family she'd just found, and the one boy she trusted. In their place are unfathomable power, a staged relationship that makes her question every real feeling she's ever had, and a mission to find the cure to the virus that's made her own blood a weapon.
Then disaster strikes, turning Avery, Stellan, Jack, and Elodie into the most wanted people in the world. To clear their names and the growing rift between the families of the Circle before the world dissolves into World War Three, they'll have to make a desperate, dangerous final race for Alexander the Great's tomb. What they will find inside will mean the world's salvation—or destruction.
Avery will have to decide how much she's willing to sacrifice—for the world, for family, and for love—in this thrilling conclusion to the Conspiracy of Us series.
Goodreads
Wesley James Ruined My Life
Series: None
Author: Jennifer Honeybourn
July 18th 2017 by Swoon Reads
Sixteen-year-old Quinn Hardwick's having a rough summer. Her beloved grandmother has been put into a home, her dad's gambling addiction has flared back up and now her worst enemy is back in town: Wesley James, former childhood friend—until he ruined her life, that is.
So when Wesley is hired to work with her at Tudor Tymes, a medieval England themed restaurant, the last thing Quinn's going to do is forgive and forget. She's determined to remove him from her life and even the score all at once—by getting him fired.
But getting rid of Wesley isn't as easy as she'd hoped. When Quinn finds herself falling for him, she has to decide what she wants more: to get even, or to just get over it.
Goodreads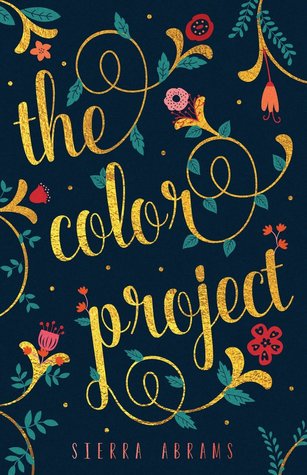 The Color Project
Series: None
Author: Sierra Abrams
July 18th 2017 by Gatekeeper Press
Bernice Aurora Wescott has one thing she doesn't want anyone to know: her name. That is, until Bee meets Levi, the local golden boy who runs a charity organization called The Color Project.
Levi is not at all shy about attempting to guess Bee's real name; his persistence is one of the many reasons why Bee falls for him. But while Levi is everything she never knew she needed, giving up her name would feel like a stamp on forever. And that terrifies her.
When unexpected news of an illness in the family drains Bee's summer of everything bright, she is pushed to the breaking point. Losing herself in The Color Project—a world of weddings, funerals, cancer patients, and hopeful families that the charity funds—is no longer enough. Bee must hold up the weight of her family, but to do that, she needs Levi. She'll have to give up her name and let him in completely or lose the best thing that's ever happened to her.
Goodreads
Changes in Latitudes
Series: None
Author: Jen Malone
July 25th 2017 by HarperTeen
Jen Malone, author of teen novels Wanderlost and Map to the Stars, will take readers to the high seas—literally—in this contemporary YA novel about a girl facing the dissolution of her parents' marriage, a new romance, and self-discovery while sailing down the Pacific coast.
After concluding that her is to blame for her parents' recent divorce, Cassandra McClure is hoping to stay as far away from her as possible. With a summer of freedom right around the corner, it shouldn't be too hard. But when a forty-foot sailboat appears in her driveway and her mom announces that Cassie and her brother Drew will be accompanying her on a four-month sailing trip down to Mexico, Cassie's plans for the summer go, quite literally, overboard.
Once the three set sail, tensions quickly rise. So meeting Jonah—a gorgeous, whip-smart deckhand—is an unexpected bright spot on an otherwise dim horizon. Though she tries to keep him at a distance—considering the upheaval of her home life—their chemistry is impossible to ignore, and Cassie soon finds herself questioning everything: Should she go for it with Jonah? Can she forgive her mom? Will home ever feel the same? With life's unpredictable tides working against her, Cassie must decide whether to swim against them, or dive right in.
Goodreads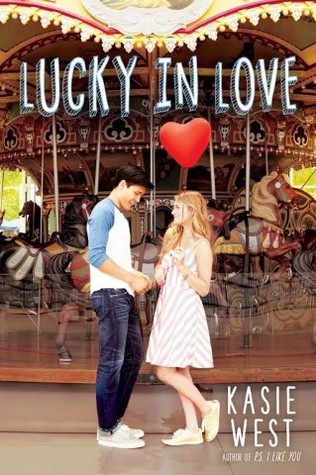 Lucky in Love
Series: None
Author: Kasie West
July 25th 2017 by Scholastic
In this new contemporary from YA star Kasie West, a girl who wins the lottery learns that money can cause more problems than it solves, especially when love comes into the picture.
Maddie doesn't believe in luck. She's all about hard work and planning ahead. But one night, on a whim, she buys a lottery ticket. And then, to her astonishment --
She wins!
In a flash, Maddie's life is unrecognizable. No more stressing about college scholarships. Suddenly, she's talking about renting a yacht. And being in the spotlight at school is fun... until rumors start flying, and random people ask her for loans. Now, Maddie isn't sure who she can trust.
Except for Seth Nguyen, her funny, charming coworker at the local zoo. Seth doesn't seem aware of Maddie's big news. And, for some reason, she doesn't want to tell him. But what will happen if he learns her secret?
With tons of humor and heart, Kasie West delivers a million-dollar tale of winning, losing, and falling in love.
Goodreads
What has caught your eye for July? Have you read any of these? Let me know :)