June books on my radar
10:00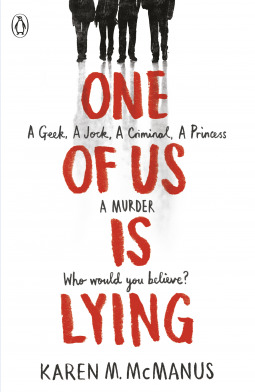 One Of Us Is Lying
Series: None
Author:
Karen M. McManus
June 1st 2017 by Penguin
One of Us Is Lying is the story of what happens when five strangers walk into detention and only four walk out alive. Everyone is a suspect, and everyone has something to hide.
Pay close attention and you might solve this.
On Monday afternoon, five students at Bayview High walk into detention.
Bronwyn, the brain, is Yale-bound and never breaks a rule.
Addy, the beauty, is the picture-perfect homecoming princess.
Nate, the criminal, is already on probation for dealing.
Cooper, the athlete, is the all-star baseball pitcher.
And Simon, the outcast, is the creator of Bayview High's notorious gossip app.
Only, Simon never makes it out of that classroom. Before the end of detention Simon's dead. And according to investigators, his death wasn't an accident. On Monday, he died. But on Tuesday, he'd planned to post juicy reveals about all four of his high-profile classmates, which makes all four of them suspects in his murder. Or are they the perfect patsies for a killer who's still on the loose?
Everyone has secrets, right? What really matters is how far you would go to protect them.
Goodreads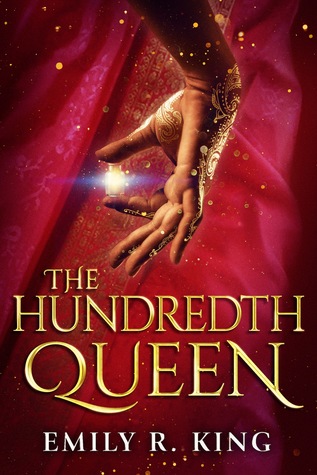 The Hundredth Queen
Series: None
Author:
Emily R. King
June 1st 2017 by Skyscape
As an orphan ward of the Sisterhood, eighteen-year-old Kalinda is destined for nothing more than a life of seclusion and prayer. Plagued by fevers, she's an unlikely candidate for even a servant's position, let alone a courtesan or wife. Her sole dream is to continue living in peace in the Sisterhood's mountain temple.
But a visit from the tyrant Rajah Tarek disrupts Kalinda's life. Within hours, she is ripped from the comfort of her home, set on a desert trek, and ordered to fight for her place among the rajah's ninety-nine wives and numerous courtesans. Her only solace comes in the company of her guard, the stoic but kind Captain Deven Naik.
Faced with the danger of a tournament to the death—and her growing affection for Deven—Kalinda's only hope for escape lies in an arcane, forbidden power that's buried within her.
In Emily R. King's thrilling fantasy debut, an orphan girl blossoms into a warrior, summoning courage and confidence in her fearless quest to upend tradition, overthrow an empire, and reclaim her life as her own.
Goodreads
Who Runs the World?
Series: None
Author:
Virginia Bergin
June 1st 2017 by Macmillan Children's Books
Welcome to the Matriarchy.
Sixty years after a virus has wiped out almost all the men on the planet, things are pretty much just as you would imagine a world run by women might be: war has ended; greed is not tolerated; the ecological needs of the planet are always put first. In two generations, the female population has grieved, pulled together and moved on, and life really is pretty good - if you're a girl. It's not so great if you're a boy, but fourteen-year-old River wouldn't know that. Until she met Mason, she thought they were extinct.
Goodreads
Dramatically Ever After
Series:
Ever After #2
Author: Isabel Bandeira
June 6th 2017 by Spencer Hill Contemporary
Senior year is not shaping up to be the picture perfect movie Em Katsaros had imagined. Her super hot leading man is five thousand miles away. Her dad just got laid off. And Em can kiss her first-pick university goodbye if she doesn't snag a scholarship.
To turn this Shakespearean tragedy into the Academy Award-winning dream Em has written for herself, she enters a speech competition and manages to cinch a spot in the US Youth Change Council national round. She gets to spend a week in Boston and her prayers might be answered if she can kick butt and win one of the national scholarships.
Everything seems to be going by the script until she finds out Kris Lambert—senior class president, stuck-up jerk, and her nemesis—is going, too. Cue the dramatic music. In Boston, Kris is different. Nice. Cute, even. But she knows his game way too well—be nice to your opponents and then throw them under the bus on your way to victory. Instead of becoming his next victim, Em decides to turn the tables by putting her acting and flirting skills to work. Unfortunately, as they get close to the final competition and judging, reality and acting start to blur.
Can Em use the drama from the stage to get the future she's been dreaming of?
Goodreads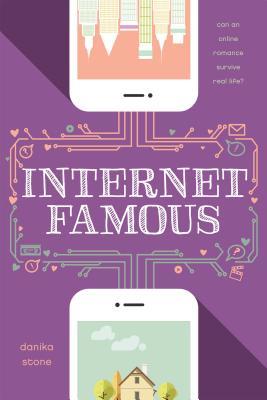 Internet Famous
Series: None
Author: Danika Stone
June 6th 2017 by Swoon Reads
High school senior and internet sensation Madison Nakama seems to have it all: a happy family, good grades, and a massive online following for her pop-culture blog. But when her mother suddenly abandons the family, Madi finds herself struggling to keep up with all of her commitments.
Fandom to the rescue! As her online fans band together to help, an online/offline flirtation sparks with Laurent, a French exchange student. Their internet romance—played out in the comments section of her MadLibs blog—attracts the attention of an internet troll who threatens the separation of Madi's real and online personas. With her carefully constructed life unraveling, Madi must uncover the hacker's identity before he can do any more damage, or risk losing the people she loves the most… Laurent included.
Liberty: The Spy Who (Kind of) Liked Me
Series: None
Author: Andrea Portes
June 6th 2017 by HarperTeen
Andrea Portes is back with a fast-paced, super-fun spy novel, told in her signature snarky, voice-driven style.
What is a hero? Paige Nolan knows.
Edward Raynes, the young man who exposed America's unconstitutional spying techniques, is a hero, even if half the dum-dums in the country think he's a traitor. Or her parents, journalists who were captured by terrorists while telling stories of the endangered and oppressed. They were heroes, too. Were. . . or are—no one has ever told Paige if they're still alive, or dead.
Not heroes? Anyone in the government who abandoned her parents, letting them rot somewhere halfway across the world. And certainly not Paige herself, who despite her fluency in five languages and mastery of several obscure martial arts (thanks, Mom!) could do nothing to save them.
Couldn't, that is, until she's approached by Madden Carter, an undercover operative who gives her a mission—fly to Russia, find Raynes, and discover what other government secrets he's stockpiled. In exchange, he'll reopen the case on her missing parents. She's given a code name and a cover as a foreign exchange student.
Who is a hero? Not Paige Nolan, but maybe, just maybe, Liberty is.
Thief's Cunning
Series: Assassin's Heart #2
Author: Sarah Ahiers
June 13th 2017 by HarperTeen
The companion novel to Assassin's Heart—a riveting fantasy that Printz Award-winning author Laura Ruby said "will keep you turning the pages all night long"—Thief's Cunning picks up eighteen years later and follows Allegra Saldana as she uncovers the secrets about the line of killers she descends from.
Allegra Saldana has always had to look over her shoulder. As the niece of the infamous assassin Lea Saldana, Allegra is used to hiding from people who want her dead. Once the strongest clipper family in the Kingdom of Lovero, the Saldanas—or what's left of them—are now the most hunted. Their number one enemy is the Da Vias, whose thirst for retaliation is almost two decades in the making.
At least that's what Lea has told Allegra her whole life, but lately Allegra's been feeling like things are being kept from her—including her parents' identity. So when Allegra finally learns the truth—I'm a Da Via—her world crumbles. Feeling betrayed by the people she trusted the most, Allegra turns to Nev, a Traveler boy whose presence makes her feel alive in ways she's only dreamed of. But getting caught up in Nev's world has consequences Allegra never saw coming.
In this dark and enthralling fantasy that fans of Sarah Maas and Leigh Bardugo will devour, one girl must decide whether she's destined to pay for the wrongs of her family's past…or if the future is hers for the taking.
Goodreads
Obsidian and Stars
Series:
Ivory and Bone #2
Author: Julie Eshbaugh
June 13th 2017 by HarperTeen
In the sequel to Ivory and Bone—the prehistoric fantasy novel that New York Times bestselling author Amie Kaufman described as a "richly crafted world of life-and-death stakes"—the story shifts to Mya's viewpoint as vengeful adversaries force her to flee the life she once knew.
After surviving the chaotic battle that erupted after Lo and the Bosha clan attacked, now Mya is looking ahead to her future with Kol. All the things that once felt so uncertain are finally falling into place. But the same night as Kol and Mya's betrothal announcement, Mya's brother Chev reveals his plan to marry his youngest sister Lees to his friend Morsk. The only way to avoid this terrible turn of events, Morsk informs Mya when he corners her later, is for Mya to take Lees' place and marry him herself.
Refusing to marry anyone other than her beloved, and in an effort to protect her sister, Mya runs away to a secret island with Lees. And though it seems like the safest place to hide until things back home blow over, Mya soon realizes she's been followed. Lurking deep in the recesses of this dangerous place are rivals from Mya's past whose thirst for revenge exceeds all reason.
With the lives of her loved ones on the line, Mya must make a move before the enemies of her past become the undoing of her future.
Goodreads
The Fallen Kingdom
Series:
The Falconer #3
Author:
Elizabeth May
June 15th 2017 by Gollancz
My name is Lady Aileana Kameron.
First the fae murdered my mother. Then they destroyed my world.
Then one of them killed me.
Now I'm fighting for more than revenge.
The long-awaited final book in the Falconer trilogy is an imaginative tour-de-force that will thrill fans of the series.
Aileana Kameron, resurrected by ancient fae magic, returns to the world she once knew with no memory of her past and with dangerous powers she struggles to control. Desperate to break the curse that pits two factions of the fae against, her only hope is hidden in an ancient book guarded by the legendary Morrigan, a faery of immense power and cruelty. To save the world and the people she loves, Aileana must learn to harness her dark new powers even as they are slowly destroying her.
Packed with immersive detail, action, romance, and fae lore, The Fallen Kingdom brings the Falconer's story to an epic and unforgettable conclusion.
Trusting You & Other Lies
Series: None
Author:
Nicole Williams
June 20th 2017 by Crown Books for Young Readers
USA Today and New York Times bestselling author Nicole Williams delivers a seductive summer romance worth swooning over. Perfect for fans of Sarah Dessen and Stephanie Perkins.
Phoenix can't imagine anything worse than being shipped off to family summer camp. Her parents have been fighting for the past two years—do they seriously think being crammed in a cabin with Phoenix and her little brother, Harry, will make things better?
On top of that, Phoenix is stuck training with Callum—the head counselor who is seriously cute but a complete know-it-all. His hot-cold attitude means he's impossible to figure out—and even harder to rely on. But despite her better judgment, Phoenix is attracted to Callum. And he's promising Phoenix a summer she'll never forget. Can she trust him? Or is this just another lie?
Goodreads
Reign of Serpents
Series:
Blood of Gods and Royals #3
Author:
Eleanor Herman
June 27th 2017 by Harlequin Teen
New York Times bestselling author Eleanor Herman entwines the real scandals of history with epic fantasy in this action-packed follow-up to EMPIRE OF DUST.
In REIGN OF SERPENTS, the ancient power of Snake Blood threatens the known world. While Prince Alexander struggles with a very deadly inner demon, his betrothed, Zofia, is on her way to him, to unite their kingdoms…even as she begins to realize where her true allegiance lies. The fierce Cynane meets her match-not in her future husband, the deranged king of Illyria, but in her great-great-grandfather, Talus, possessor of Smoke Blood, who will teach her the true meaning of betrayal. And marooned together on an island in the Mediterranean, romantic tension blooms between Katerina and Hephaestion as they learn of lost civilizations and discover a device that could help them do the impossible: kill the last living god.
Goodreads
If Birds Fly Back
Series: None
Author:
Carlie Sorosiak
June 29th 2017 by Macmillan Children's Books
Linny has been living life in black and white since her sister Grace ran away, and she's scared that Grace might never come back. When Linny witnesses the return to Miami of a cult movie star long presumed dead, she is certain it's a sign. Surely Álvaro Herrera, of all people, can tell her why people come back - and how to bring her sister home?
Sebastian has come to Miami seeking his father, a man whose name he's only just learned. An aspiring astrophysicist, he can tell Linny how many galaxies there are, how much plutonium weighs and how likely she is to be struck by a meteorite. But none of the theories he knows are enough to answer his own questions about why his father abandoned him, and why it left him in pieces.
As Sebastian and Linny converge around the mystery of Álvaro's disappearance - and return - their planets start to collide. Linny's life is about to become technicolor, but finding the answers to her questions might mean losing everything that matters.
Goodreads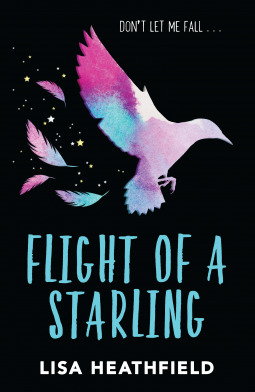 Flight of a Starling
Series: None
Author: Lisa Heathfield
June 29th 2017 by Electric Monkey
The stunning new novel from award-shortlisted Lisa Heathfield, author of Seed and Paper Butterflies. Perfect for fans of Jennifer Niven's All the Bright Places, Lisa Williamson, Sarah Crossan and Sara Barnard.
Rita and Lo, sisters and best friends, have spent their lives on the wing – flying through the air in their trapeze act, never staying in one place for long. Behind the greasepaint and the glitter, they know that the true magic is the family they travel with.
Until Lo meets a boy. Suddenly, she wants nothing more than to stay still. And as secrets start to tear apart the close-knit circus community, how far will Lo go to keep her feet on the ground?
Flight of a Starling is a heartbreaking read with an important message.
Goodreads
What has caught your eye for June? Have you read any of these? Let me know :)