May books on my radar
10:00
The Dark Prophecy
Series: The Trials of Apollo #2
Author: Rick Riordan
May 2nd 2017 by Puffin
The god Apollo, cast down to earth and trapped in the form of a gawky teenage boy as punishment, must set off on the second of his harrowing (and hilarious) trials.
He and his companions seek the ancient oracles - restoring them is the only way for Apollo to reclaim his place on Mount Olympus - but this is easier said than done.
Somewhere in the American Midwest is a haunted cave that may hold answers for Apollo in his quest to become a god again . . . if it doesn't kill him or drive him insane first. Standing in Apollo's way is the second member of the evil Triumvirate - a Roman emperor whose love of bloodshed and spectacle makes even Nero look tame.
To survive the encounter, Apollo will need the help of a now-mortal goddess, a bronze dragon, and some familiar demigod faces from Camp Half-Blood. With them by his side, can Apollo face down the greatest challenge of his four thousand years of existence?
Goodreads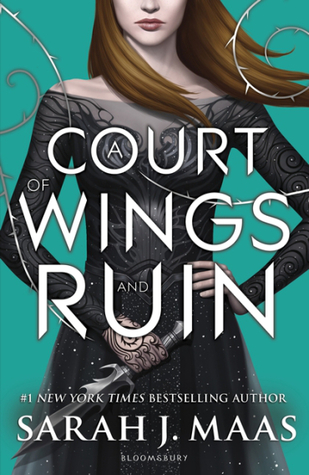 A Court of Wings and Ruin
Series: A Court of Thorns and Roses #3
Author: Sarah J. Maas
May 2nd 2017 by Bloomsbury Childrens Books
Looming war threatens all Feyre holds dear in the third volume of the #1 New York Times bestselling A Court of Thorns and Roses series.
Feyre has returned to the Spring Court, determined to gather information on Tamlin's maneuverings and the invading king threatening to bring Prythian to its knees. But to do so she must play a deadly game of deceit-and one slip may spell doom not only for Feyre, but for her world as well.
As war bears down upon them all, Feyre must decide who to trust amongst the dazzling and lethal High Lords-and hunt for allies in unexpected places.
In this thrilling third book in the #1 New York Times bestselling series from Sarah J. Maas, the earth will be painted red as mighty armies grapple for power over the one thing that could destroy them all.
Goodreads
Always and Forever, Lara Jean
Series: To All the Boys I've Loved Before #3
Author: Jenny Han
May 2nd 2017 by Scholastic
Lara Jean's letter-writing days aren't over in this surprise follow-up to the New York Times bestselling To All the Boys I've Loved Before and P.S. I Still Love You.
Lara Jean is having the best senior year a girl could ever hope for. She is head over heels in love with her boyfriend, Peter; her dad's finally getting remarried to their next door neighbor, Ms. Rothschild; and Margot's coming home for the summer just in time for the wedding.
But change is looming on the horizon. And while Lara Jean is having fun and keeping busy helping plan her father's wedding, she can't ignore the big life decisions she has to make. Most pressingly, where she wants to go to college and what that means for her relationship with Peter. She watched her sister Margot go through these growing pains. Now Lara Jean's the one who'll be graduating high school and leaving for college and leaving her family—and possibly the boy she loves—behind.
When your heart and your head are saying two different things, which one should you listen to?
Goodreads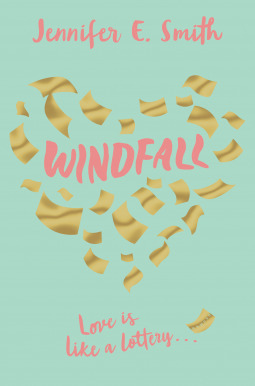 Windfall
Series: None
Author: Jennifer E. Smith
May 4th 2017 by Pan Macmillan
Alice doesn't believe in luck—at least, not the good kind. But she does believe in love, and for some time now, she's been pining for her best friend, Teddy. On his eighteenth birthday—just when it seems they might be on the brink of something—she buys him a lottery ticket on a lark. To their astonishment, he wins $140 million, and in an instant, everything changes.
At first, it seems like a dream come true, especially since the two of them are no strangers to misfortune. As a kid, Alice won the worst kind of lottery possible when her parents died just over a year apart from each other. And Teddy's father abandoned his family not long after that, leaving them to grapple with his gambling debts. Through it all, Teddy and Alice have leaned on each other. But now, as they negotiate the ripple effects of Teddy's newfound wealth, a gulf opens between them. And soon, the money starts to feel like more of a curse than a windfall.
As they try to find their way back to each other, Alice learns more about herself than she ever could have imagined . . . and about the unexpected ways in which luck and love sometimes intersect.
Goodreads
Becoming Bonnie
Series: None
Author: Jenni L. Walsh
May 9th 2017 by Forge Books
From debut historical novelist Jenni L. Walsh, Becoming Bonnie is the untold story of how wholesome Bonnelyn Parker became half of the infamous Bonnie and Clyde duo!
The summer of 1927 might be the height of the Roaring Twenties, but Bonnelyn Parker is more likely to belt out a church hymn than sling drinks at an illicit juice joint. She's a sharp girl with plans to overcome her family's poverty, provide for herself, and maybe someday marry her boyfriend, Roy Thornton. But when Roy springs a proposal on her and financial woes jeopardize her ambitions, Bonnelyn finds salvation in an unlikely place: Dallas's newest speakeasy, Doc's.
Living the life of a moll at night, Bonnie remains a wholesome girl by day, engaged to Roy, attending school and working toward a steady future. When Roy discovers her secret life, and embraces it—perhaps too much, especially when it comes to booze and gambling—Bonnie tries to make the pieces fit. Maybe she can have it all: the American Dream, the husband, and the intoxicating allure of jazz music. What she doesn't know is that her life—like her country—is headed for a crash.
She's about to meet Clyde Barrow.
Few details are known about Bonnie's life prior to meeting her infamous partner. In Becoming Bonnie, Jenni L. Walsh shows a young woman promised the American dream and given the Great Depression, and offers a compelling account of why she fell so hard for a convicted felon—and turned to crime herself.
The Traitor's Kiss
Series: Traitor's Trilogy #1
Author: Erin Beaty
May 9th 2017 by Imprint
An obstinate girl who will not be married.
A soldier desperate to prove himself.
A kingdom on the brink of war.
With a sharp tongue and an unruly temper, Sage Fowler is not what they'd call a lady―which is perfectly fine with her. Deemed unfit for marriage, Sage is apprenticed to a matchmaker and tasked with wrangling other young ladies to be married off for political alliances. She spies on the girls―and on the soldiers escorting them.
As the girls' military escort senses a political uprising, Sage is recruited by a handsome soldier to infiltrate the enemy ranks. The more she discovers as a spy, the less certain she becomes about whom to trust―and Sage becomes caught in a dangerous balancing act that will determine the fate of her kingdom.
The Crown's Fate
Series: The Crown's Game #2
Author: Evelyn Skye
May 16th 2017 by Balzer + Bray
Perfect for fans of Shadow and Bone and Red Queen, The Crown's Fate is the thrilling sequel to the New York Times bestselling The Crown's Game, an atmospheric historical fantasy set in Imperial Russia.
Russia is on the brink of great change. Pasha's coronation approaches, and Vika is now the Imperial Enchanter, but the role she once coveted may be more difficult—and dangerous—than she ever expected.
Pasha is grappling with his own problems—his legitimacy is in doubt, the girl he loves loathes him, and he believes his best friend is dead. When a challenger to the throne emerges—and with the magic in Russia growing rapidly—Pasha must do whatever it takes to keep his position and protect his kingdom.
For Nikolai, the ending of the Crown's Game stung deeply. Although he just managed to escape death, Nikolai remains alone, a shadow hidden in a not-quite-real world of his own creation. But when he's given a second chance at life—tied to a dark price—Nikolai must decide just how far he's willing to go to return to the world.
With revolution on the rise, dangerous new magic rearing up, and a tsardom up for the taking, Vika, Nikolai, and Pasha must fight—or face the destruction of not only their world but also themselves.
Goodreads
The Love Interest
Series: None
Author: Cale Dietrich
May 16th 2017 by Feiwel & Friends
There is a secret organization that cultivates teenage spies. The agents are called Love Interests because getting close to people destined for great power means getting valuable secrets.
Caden is a Nice: The boy next door, sculpted to physical perfection. Dylan is a Bad: The brooding, dark-souled guy, and dangerously handsome. The girl they are competing for is important to the organization, and each boy will pursue her. Will she choose a Nice or the Bad?
Both Caden and Dylan are living in the outside world for the first time. They are well-trained and at the top of their games. They have to be – whoever the girl doesn't choose will die.
What the boys don't expect are feelings that are outside of their training. Feelings that could kill them both.
Goodreads
Seeking Mansfield
Series: None
Author: Kate Watson
May 16th 2017 by Flux
Sixteen-year-old Finley Price has perfected two things: how to direct a world-class production, and how to fly way, way under the radar. The only person who ever seems to notice Finley is her best friend and godparents' son, Oliver Bertram. Since Finley moved in with her godparents after the death of her father, she and Oliver have grown close. If Finley could just take Oliver's constant encouragement to heart and step out of the shadows, she'd finally chase her dream of joining the prestigious Mansfield Theater. But when teen movie stars Emma and Harlan Crawford move across the street from the Bertram's, they shake up Finley and Oliver's stable friendship. As Emma and Oliver grow closer, Finley realizes that Harlan Os attention is shifting to her. She discovers she might have feelings for him too. Or, is she only interested in Harlan because Oliver is taken? Finley doesn't want to be won, and she doesn't want to see Oliver with anyone else. To claim Oliver's heart -and keep her own- she'll have to find the courage to do what she fears most: step into the spotlight.
Flame in the Mist
Series: Flame in the Mist #1
Author: Renee Ahdieh
May 18th 2017 by Hodder & Stoughton
The daughter of a prominent samurai, Mariko has long known her place—she may be an accomplished alchemist, whose cunning rivals that of her brother Kenshin, but because she is not a boy, her future has always been out of her hands. At just seventeen years old, Mariko is promised to Minamoto Raiden, the son of the emperor's favorite consort—a political marriage that will elevate her family's standing. But en route to the imperial city of Inako, Mariko narrowly escapes a bloody ambush by a dangerous gang of bandits known as the Black Clan, who she learns has been hired to kill her before she reaches the palace.
Dressed as a peasant boy, Mariko sets out to infiltrate the ranks of the Black Clan, determined to track down the person responsible for the target on her back. But she's quickly captured and taken to the Black Clan's secret hideout, where she meets their leader, the rebel ronin Takeda Ranmaru, and his second-in-command, his best friend Okami. Still believing her to be a boy, Ranmaru and Okami eventually warm to Mariko, impressed by her intellect and ingenuity. As Mariko gets closer to the Black Clan, she uncovers a dark history of secrets, of betrayal and murder, which will force her to question everything she's ever known.
Goodreads
Romancing the Throne
Series: None
Author: Nadine Jolie Courtney
May 30th 2017 by Katherine Tegen Books
Scandal, secrets, and heartbreak abound in this juicy, modern girl-meets-prince story—perfect for fans of Stephanie Perkins and Jennifer E. Smith.
For the first time ever, the Weston sisters are at the same boarding school. After an administration scandal at Libby's all-girls school threatens her chances at a top university, she decides to join Charlotte at posh and picturesque Sussex Park. Social-climbing Charlotte considers it her sisterly duty to bring Libby into her circle: Britain's young elites, glamorous teens who vacation in Hong Kong and the South of France and are just as comfortable at a polo match as they are at a party.
It's a social circle that just so happens to include handsome seventeen-year-old Prince Edward, heir to Britain's throne.
If there are any rules of sisterhood, "Don't fall for the same guy" should be one of them. But sometimes chemistry—even love—grows where you least expect it. In the end, there may be a price to pay for romancing the throne...and more than one path to happily ever after.
Goodreads
I Believe in a Thing Called Love
Series: None
Author: Maurene Goo
May 30th 2017 by Farrar, Straus and Giroux (BYR)
Desi Lee knows how carburetors work. She learned CPR at the age of five. As a high school senior, she has never missed a day of school and has never had a B in her entire life. She's for sure going to Stanford. But—she's never had a boyfriend. In fact, she's a disaster in romance, a clumsy, stammering humiliation-magnet whose botched attempts at flirting have become legendary with her friends. So when the hottest human specimen to have ever lived walks into her life one day, Desi decides to tackle her flirting failures with the same zest she's applied to everything else in her life. She finds her answer in the Korean dramas her father has been obsessively watching for years—where the hapless heroine always seems to end up in the arms of her true love by episode ten. It's a simple formula, and Desi is a quick study. Armed with her "K Drama Rules for True Love," Desi goes after the moody, elusive artist Luca Drakos—and boat rescues, love triangles, and fake car crashes ensue. But when the fun and games turn to true feels, Desi finds out that real love is about way more than just drama.
Goodreads
What has caught your eye for May? Have you read any of these? Let me know :)