April books on my radar
11:00
Alex, Approximately
Series: None
Author:
Jenn Bennett
April 1st 2017 by Simon & Schuster Children's UK
Bailey "Mink" Rydell has met the boy of her dreams. They share a love of films and talk all day – Alex is perfect. Well, apart from the fact that they've never actually met . . . and neither of them knows the other's real name.
When Bailey moves to sunny California to live with her dad, who happens to live in the same town as Alex, she decides to track him down. But finding someone based on online conversations alone proves harder than Bailey thought, and with her irritating but charismatic (and potentially attractive?) colleague Porter Roth distracting her at every turn, will she ever get to meet the mysterious Alex?
From the author of Night Owls comes a story of summer, first love and hidden identities ...
Goodreads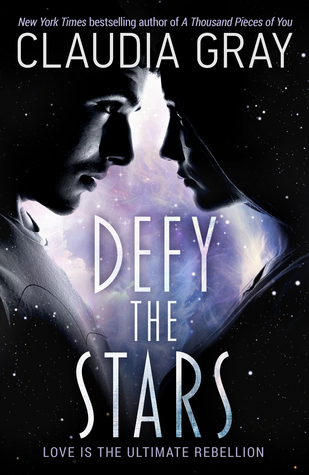 Defy the Stars
Series: Untitled #1
Author: Claudia Gray
April 1st 2017 by Hot Key Books
Noemi is a young and fearless soldier of Genesis, a colony planet of a dying Earth. But the citizens of Genesis are rising up - they know that Earth's settlers will only destroy this planet the way they destroyed their own. And so a terrible war has begun.
When Noemi meets Abel, one of Earth's robotic mech warriors, she realizes that Abel himself may provide the key to Genesis' salvation. Abel is bound by his programming to obey her - even though her plan could result in his destruction. But Abel is no ordinary mech. He's a unique prototype, one with greater intelligence, skill and strength than any other. More than that, he has begun to develop emotions, a personality and even dreams. Noemi begins to realise that if Abel is less than human, he is more than a machine. If she destroys him, is it murder? And can a cold-blooded murder be redeemed by the protection of a world?
Stranded together in space, they go on a whirlwind adventure through Earth's various colony worlds, alongside the countless Vagabonds who have given up planetary life altogether and sail forever between the stars. Each step brings them closer - both to each other and to the terrible decision Noemi will have to make about her world's fate, and Abel's.
Goodreads
Geekerella: A Fangirl Fairy Tale
Series: None
Author: Ashley Poston
April 4th 2017 by Quirk Books
Cinderella goes to the con in this fandom-fueled twist on the classic fairy tale.
Geek girl Elle Wittimer lives and breathes Starfield, the classic sci-fi series she grew up watching with her late father. So when she sees a cosplay contest for a new Starfield movie, she has to enter. The prize? An invitation to the ExcelsiCon Cosplay Ball, and a meet-and-greet with the actor slated to play Federation Prince Carmindor in the reboot. With savings from her gig at the Magic Pumpkin food truck (and her dad's old costume), Elle's determined to win unless her stepsisters get there first.
Teen actor Darien Freeman used to live for cons before he was famous. Now they re nothing but autographs and awkward meet-and-greets. Playing Carmindor is all he's ever wanted, but the Starfieldfandom has written him off as just another dumb heartthrob. As ExcelsiCon draws near, Darien feels more and more like a fake until he meets a girl who shows him otherwise.
Part romance, part love letter to nerd culture, and all totally adorbs, Geekerella is a fairy tale for anyone who believes in the magic of fandom."
Goodreads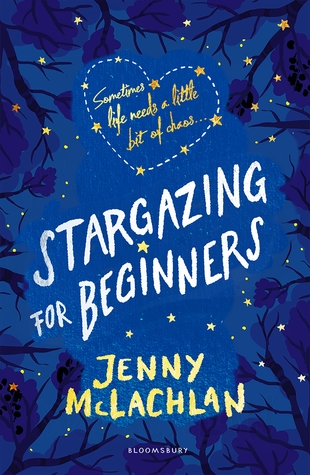 Stargazing For Beginners
Series: None
Author: Jenny McLachlan
April 6th 2017 by Bloomsbury Publishing PLC
Science geek Meg is left to look after her little sister for ten days after her free-spirited mum leaves suddenly to follow up yet another of her Big Important Causes. But while Meg may understand how the universe was formed, baby Elsa is a complete mystery to her.
And Mum's disappearance has come at the worst time: Meg is desperate to win a competition to get the chance to visit NASA headquarters, but to do this she has to beat close rival Ed. Can Meg pull off this double life of caring for Elsa and following her own dreams? She'll need a miracle of cosmic proportions …
Fans fell in love with the warmth, wit, romance and fierce friendships in Flirty Dancing, Love Bomb, Sunkissed and Star Struck, and Stargazing for Beginners has all that and galaxies more. This is the best kind of real-life fiction – with big themes and irresistible characters, it goes straight to your heart.
Goodreads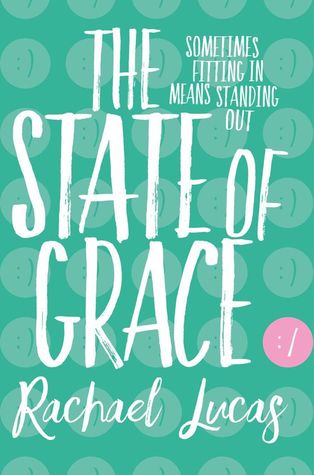 The State of Grace
Series: None
Author: Rachael Lucas
April 6th 2017 by Macmillan Children's Books
Sometimes I feel like everyone else was handed a copy of the rules for life and mine got lost.
Grace has Asperger's and her own way of looking at the world. She's got a horse and a best friend who understand her, and that's pretty much all she needs. But when Grace kisses Gabe and things start to change at home, the world doesn't make much sense to her any more.
Suddenly everything threatens to fall apart, and it's up to Grace to fix it on her own.
Whip-smart, hilarious and unapologetically honest, The State of Grace by Rachael Lucas is a heart-warming story of one girl trying to work out where she fits in, and whether she even wants to.
Duels and Deception
Series: None
Author: Cindy Anstey
April 11th 2017 by Swoon Reads
Miss Lydia Whitfield, heiress to the family fortune, has her future entirely planned out. She will run the family estate until she marries the man of her late father's choosing, and then she will spend the rest of her days as a devoted wife. Confident in those arrangements, Lydia has tasked her young law clerk, Mr. Robert Newton, to begin drawing up the marriage contracts. Everything is going according to plan.
Until Lydia—and Robert along with her—is kidnapped. Someone is after her fortune and won't hesitate to destroy her reputation to get it. With Robert's help, Lydia strives to keep her family's good name intact and expose whoever is behind the devious plot. But as their investigation delves deeper and their affections for each other grow, Lydia starts to wonder whether her carefully planned future is in fact what she truly wants…
The Freemason's Daughter
Series: None
Author: Shelley Sackier
April 11th 2017 by HarperTeen
The Outlander series for the YA audience—a debut, full of romance and intrigue, set in early eighteenth-century Scotland.
Saying good-bye to Scotland is the hardest thing that Jenna MacDuff has had to do—until she meets Lord Pembroke. Jenna's small clan has risked their lives traveling the countryside as masons, secretly drumming up support and arms for the exiled King James Stuart to retake the British throne. But their next job brings them into enemy territory: England.
Jenna's father repeatedly warns her to trust no one, but when the Duke of Keswick hires the clan to build a garrison on his estate, it seems she cannot hide her capable mind from the duke's inquisitive son, Lord Alex Pembroke—nor mask her growing attraction to him. But there's a covert plan behind the building of the garrison, and soon Jenna must struggle not only to keep her newfound friendship with Alex from her father, but also to keep her father's treason from Alex.
Will Jenna decide to keep her family's mutinous secrets and assist her clan's cause, or protect the life of the young noble she's falling for?
In Shelley Sackier's lush, vivid historical debut, someone will pay a deadly price no matter which choice Jenna makes.
Goodreads
Blacksouls
Series: Blackhearts #2
Author: Nicole CastromanM/span>
April 11th 2017 by Simon Pulse
Nicole Castroman brings the dangerous pirate ports of the Caribbean to life in this vibrant sequel to Blackhearts—the reimagined origin story of history's most infamous pirate, Blackbeard.
Edward "Teach" Drummond is setting sail to the Caribbean as first mate on the most celebrated merchant ship in the British fleet—until he rebels against his captain. Mutiny is a capital offense and Teach knows it could cost him his life, but he believes it worth the risk in order to save his crew from the attacking Spanish ships.
Sailing on the same blue waters, Anne barely avoids the Spanish attack, making it safely to Nassau. But lawless criminals, corrupt politics, and dangerous intentions fill the crowded streets of this Caribbean port. Soon, Anne discovers that the man entrusted to keep the peace is quite possibly the most treacherous of them all—and he just happens to hold Teach's fate in his terrifying hands.
Life and death hang in the balance when Teach and Anne are given a dangerous mission. It's a mission that will test their love, loyalty and devotion, forcing them down a path neither one could have ever imagined.
Goodreads

Alex and Eliza: A Love Story
Series: None
Author: Melissa de la Cruz
April 11th 2017 by G.P. Putnam's Sons Books for Young Readers
From the #1 New York Times bestselling author of The Witches of East End and The Descendants comes the love story of young Alexander Hamilton and Eliza Schuyler.
1777. Albany, New York.
As battle cries of the American Revolution echo in the distance, servants flutter about preparing for one of New York society's biggest events: the Schuylers' grand ball. Descended from two of the oldest and most distinguished bloodlines in New York, the Schuylers are proud to be one of their fledgling country's founding families, and even prouder still of their three daughters—Angelica, with her razor-sharp wit; Peggy, with her dazzling looks; and Eliza, whose beauty and charm rival that of both her sisters, though she'd rather be aiding the colonists' cause than dressing up for some silly ball.
Still, she can barely contain her excitement when she hears of the arrival of one Alexander Hamilton, a mysterious, rakish young colonel and General George Washington's right-hand man. Though Alex has arrived as the bearer of bad news for the Schuylers, he can't believe his luck—as an orphan, and a bastard one at that—to be in such esteemed company. And when Alex and Eliza meet that fateful night, so begins an epic love story that would forever change the course of American history.
In the pages of Alex and Eliza, #1 New York Times bestselling author Melissa de la Cruz brings to life the romance of young Alexander Hamilton and Elizabeth Schuyler.
What has caught your eye for April? Have you read any of these? Let me know :)