March books on my radar
11:00
The Hate U Give
Series: None
Author: Angie Thomas
March 1st 2017 by Walker Books
Sixteen-year-old Starr lives in two worlds: the poor neighbourhood where she was born and raised and her posh high school in the suburbs. The uneasy balance between them is shattered when Starr is the only witness to the fatal shooting of her unarmed best friend, Khalil, by a police officer. Now what Starr says could destroy her community. It could also get her killed.
Inspired by the Black Lives Matter movement, this is a powerful and gripping YA novel about one girl's struggle for justice.
Goodreads
The Great Pursuit
Series: Eurona Duology #2
Author: Wendy Higgins
March 7th 2017 by HarperTeen
In The Great Pursuit, the dramatic sequel to the New York Times bestselling The Great Hunt, Wendy Higgins delivers another thrilling fantasy filled with dangerous enemies, political intrigue, searing romance, and a princess who is willing to do everything to protect her kingdom.
One hunt has ended, but the pursuit for love and justice continues.
The kingdom of Lochlanach has traded the great beast that once terrorized the realm of Eurona for something far more dangerous: the ire of powerful Lashed woman Rosaria Rocato. Rosaria demands that Eurona overturn the laws prohibiting magic, or an innocent will be killed each day.
Despite the king's resistance, Princess Aerity believes they must make peace with the Lashed, and though she's accepted a betrothal to the man who took down the beast, she cannot help thinking about Paxton, the Lashed man who stole her heart and disappeared.
Aerity soon discovers that Paxton has joined Rosaria's army in the war against her family. Though her feelings for him are still strong, her duty to her kingdom and her family is stronger—especially when her parents are kidnapped and she has to step up to the throne and once again put aside what's best for her in order to do what's best for her people. Paxton and Princess Aerity must fight to see what is more powerful: their love or the impending war between the magical Lashed and the non-magic humans.
Goodreads
The Ship Beyond Time
Series: The Girl from Everywhere #2
Author: Heidi Heilig
March 9th 2017 by Hot Key Books
The breathtaking sequel to the acclaimed The Girl from Everywhere. Nix has escaped her past, but when the person she loves most is at risk, even the daughter of a time traveler may not be able to outrun her fate—no matter where she goes. Fans of Rae Carson, Alexandra Bracken, and Outlander will fall hard for Heidi Heilig's sweeping fantasy.
Nix has spent her whole life journeying to places both real and imagined aboard her time-traveling father's ship. And now it's finally time for her to take the helm. Her father has given up his obsession to save her mother—and possibly erase Nix's existence—and Nix's future lies bright before her. Until she learns that she is destined to lose the one she loves. But her relationship with Kash—best friend, thief, charmer extraordinaire—is only just beginning. How can she bear to lose him? How can she bear to become as adrift and alone as her father?
Desperate to change her fate, Nix takes her crew to a mythical utopia to meet another Navigator who promises to teach her how to manipulate time. But everything in this utopia is constantly changing, and nothing is what it seems—not even her relationship with Kash. Nix must grapple with whether anyone can escape her destiny, her history, her choices. Heidi Heilig weaves fantasy, history, and romance together to tackle questions of free will, fate, and what it means to love another person. But at the center of this adventure are the extraordinary, multifaceted, and multicultural characters that leap off the page, and an intricate, recognizable world that has no bounds. The sequel—and conclusion—to the indie darling The Girl from Everywhere will be devoured by fans of Rachel Hartman and Maggie Stiefvater. Includes black-and-white maps.
Goodreads
Forever Geek
Series: Geek Girl #6
Author:Holly Smale
March 9th 2017 by Harper Collins Children's Books
My name is Harriet Manners and I'll be a geek forever…
Harriet Manners knows almost every fact there is.
Modelling isn't a sure-fire route to popularity. Neither is making endless lists. The people you love don't expect you to transform into someone else. Statistically, you are more likely to not meet your Australian ex-boyfriend in Australia than bump into him there.
So on the trip of a lifetime Down Under Harriet's to-do lists are gone and it's Nat's time to shine! Yet with nearly-not-quite-boyfriend Jasper back home, Harriet's completely unprepared to see supermodel ex Nick. Is the fashion world about to turn ugly for GEEK GIRL?
It's time for Harriet to face the future. Time to work out where her heart lies. To learn how to let go…
Goodreads
These Ruthless Deeds
Series: These Vicious Masks #2
Author: Tarun Shanker & Kelly Zekas
March 14th 2017 by St Martin's Press
England, 1883. Still recovering from a devastating loss, Evelyn is determined to use her powers to save other gifted people from those who would harm them. But when her rescue of a young telekinetic girl goes terribly wrong, Evelyn finds herself indebted to a secret society devoted to recruiting and protecting people like Evelyn and her friends.
As she follows the Society's orders, healing the sick and embarking on perilous recruitment missions, Evelyn sees her problems disappear. Her reputation is repaired, her friends are provided for, and her parents are newly wealthy. She reunites with the dashing Mr. Kent and recovers the reclusive Mr. Braddock (who has much less to brood over now that the Society can help him to control his dangerous power). But Evelyn can't help fearing the Society is more sinister than it appears...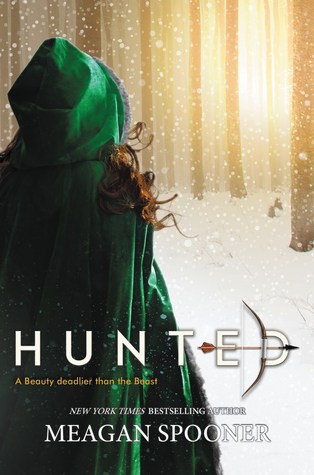 Hunted
Series: None
Author: Meagan Spooner
March 14th 2017 by HarperTeen
Beauty knows the Beast's forest in her bones—and in her blood. Though she grew up with the city's highest aristocrats, far from her father's old lodge, she knows that the forest holds secrets and that her father is the only hunter who's ever come close to discovering them.
So when her father loses his fortune and moves Yeva and her sisters back to the outskirts of town, Yeva is secretly relieved. Out in the wilderness, there's no pressure to make idle chatter with vapid baronessas…or to submit to marrying a wealthy gentleman. But Yeva's father's misfortune may have cost him his mind, and when he goes missing in the woods, Yeva sets her sights on one prey: the creature he'd been obsessively tracking just before his disappearance.
Deaf to her sisters' protests, Yeva hunts this strange Beast back into his own territory—a cursed valley, a ruined castle, and a world of creatures that Yeva's only heard about in fairy tales. A world that can bring her ruin or salvation. Who will survive: the Beauty, or the Beast?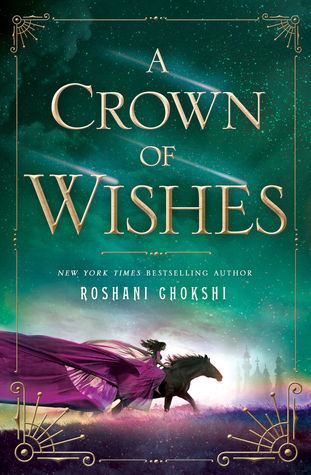 A Crown of Wishes
Series: The Star-Touched Queen #2
Author: Roshani Chokshi
March 28th 2017 by St. Martin's Griffin
Gauri, the princess of Bharata, has been taken as a prisoner of war by her kingdom's enemies. Faced with a future of exile and scorn, Gauri has nothing left to lose. Hope unexpectedly comes in the form of Vikram, the cunning prince of a neighboring land and her sworn enemy kingdom. Unsatisfied with becoming a mere puppet king, Vikram offers Gauri a chance to win back her kingdom in exchange for her battle prowess. Together, they'll have to set aside their differences and team up to win the Tournament of Wishes—a competition held in a mythical city where the Lord of Wealth promises a wish to the victor.
Reaching the tournament is just the beginning. Once they arrive, danger takes on new shapes: poisonous courtesans and mischievous story birds, a feast of fears and twisted fairy revels.
Every which way they turn new trials will test their wit and strength. But what Gauri and Vikram will soon discover is that there's nothing more dangerous than what they most desire.
Goodreads
Blood Rose Rebellion
Series: Blood Rose Rebellion #1
Author: Rosalyn Eves
March 28th 2017 by Knopf Books for Young Readers
The thrilling first book in a YA fantasy trilogy for fans of Red Queen. In a world where social prestige derives from a trifecta of blood, money, and magic, one girl has the ability to break the spell that holds the social order in place. Sixteen-year-old Anna Arden is barred from society by a defect of blood. Though her family is part of the Luminate, powerful users of magic, she is Barren, unable to perform the simplest spells. Anna would do anything to belong. But her fate takes another course when, after inadvertently breaking her sister's debutante spell—an important chance for a highborn young woman to show her prowess with magic—Anna finds herself exiled to her family's once powerful but now crumbling native Hungary.
Her life might well be over.
In Hungary, Anna discovers that nothing is quite as it seems. Not the people around her, from her aloof cousin Noémi to the fierce and handsome Romani Gábor. Not the society she's known all her life, for discontent with the Luminate is sweeping the land. And not her lack of magic. Isolated from the only world she cares about, Anna still can't seem to stop herself from breaking spells.
As rebellion spreads across the region, Anna's unique ability becomes the catalyst everyone is seeking. In the company of nobles, revolutionaries, and Romanies, Anna must choose: deny her unique power and cling to the life she's always wanted, or embrace her ability and change that world forever.
Goodreads
What has caught your eye for March? Have you read any of these? Let me know :)