December books on my radar
10:00
Series: Trouble #2
Author: Stephanie Tromly
Published December 1st 2016 by Hot Key Books
A whip-smart, screwball noir mystery—with snappy prose, wry humor, and breakneck dialogue—this sequel to Trouble Is a Friend of Mine is perfect for fans of Veronica Mars, Sherlock, John Hughes, and Carl Hiassen.
After a fall semester of fiascos: getting arrested, then kidnapped, then blown up in an explosion (all thanks to the weird but brilliant Philip Digby), Zoe Webster is looking forward to a quiet spring. Now that Digby has left town, she's finally built a regular high school life for herself. She's dating Miles, the alternate QB; she knows girls she considers friends; she's learning to enjoy being normal and semi-popular. Which of course is when Digby comes back: He's got a new lead on his missing sister and he needs Zoe's help.
Suddenly Zoe is tussling with a billionaire arch-villain, locking horns with armed goons, and digging into what makes the Digby family tick, even as she tries to navigate the confusing and emotionally fraught world of high school politics and locker-room drama. After all, it's hard to explain Digby to a boy like Miles, especially when Zoe isn't sure how she feels about Digby herself—or how he feels about her.
Now that Digby's back, get ready for another hilarious whodunit filled with razor-sharp dialogue, ridiculously funny action, and the most charismatic, dynamic duo you've ever met. And just try to stay out of trouble.
We dare you.
Goodreads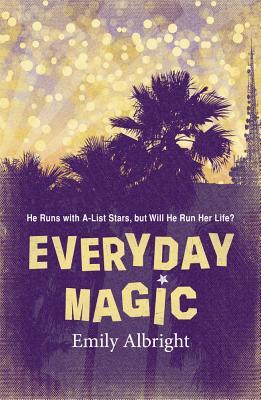 Everyday Magic
Series: Untitled #2)
Author: Emily Albright
December 2nd 2016 by Merit Press
For once, Maggie McKendrick just wants to control her own life. Her overbearing Hollywood director father has it all planned out for her: UCLA, law school, then working as an entertainment lawyer, preferably for him. But Maggie has other, more creative-spirit friendly, plans. Namely, Thrippletons School of Fashion and Design in England, and then onto becoming a designer, preferably a wildly successful one. The big snag in her plan? Getting it past her dad.
A movie shoot takes the family to the Scottish Highlands for the summer, and closer to Maggie's dream school. While there, she runs into the charming Preston Browne. Maggie is intrigued and decides to bend her no guys rule—instituted after her ex used her to get close to her dad. Forced to keep secrets from Preston in order to protect the future plans she's made, Maggie finds herself falling for the tall Brit. And for once in her life she knows that he's interested in her, not her Hollywood connections. When Maggie's father blackmails her into dating his lead actor, she isn't left with a choice. The biggest problem isn't having to date hunky, mega-hottie, Ben Chambers. No, it's praying she doesn't lose Preston in the process.
Excelling at her dream school, Maggie's personal life is a tangled mess. She needs to decide if living a lie is worth losing Preston or chance going against her father and facing his wrath. When the tabloids expose the truth of her fake relationship with Ben, Maggie's world is thrown into a tailspin. Ultimately, Maggie must find the courage to take risks and forge ahead on her own path.
Mind Games
Series: Lock & Mori #2
Author: Heather W. Petty
December 6th 2016 by Simon & Schuster Books for Young Readers
Sherlock Holmes and Miss James "Mori" Moriarty may have closed their first case, but the mystery is far from over in the thrilling sequel to Lock & Mori, perfect for fans of Maureen Johnson and Sherlock.
You know their names. Now discover their beginnings.
Mori's abusive father is behind bars…and she has never felt less safe. Threatening letters have started appearing on her doorstep, and the police are receiving anonymous tips suggesting that Mori—not her father—is the Regent's Park killer. To make matters worse, the police are beginning to believe them.
Through it all, Lock—frustrating, brilliant, gorgeous Lock—is by her side. The two of them set out to discover who is framing Mori, but in a city full of suspects, the task is easier said than done. With the clock ticking, Mori will discover just how far she is willing to go to make sure that justice is served, and no one—not even Lock—will be able to stop her.
Ever the Hunted
Series: Clash of Kingdoms #1
Author: Erin Summerill
December 27th 2016 by Harcourt Childrens Books
Seventeen year-old Britta Flannery is at ease only in the woods with her dagger and bow. She spends her days tracking criminals alongside her father, the legendary bounty hunter for the King of Malam—that is, until her father is murdered. Now outcast and alone and having no rights to her father's land or inheritance, she seeks refuge where she feels most safe: the Ever Woods. When Britta is caught poaching by the royal guard, instead of facing the noose she is offered a deal: her freedom in exchange for her father's killer.
However, it's not so simple.
The alleged killer is none other than Cohen McKay, her father's former apprentice. The only friend she's ever known. The boy she once loved who broke her heart. She must go on a dangerous quest in a world of warring kingdoms, mad kings, and dark magic to find the real killer. But Britta wields more power than she knows. And soon she will learn what has always made her different will make her a daunting and dangerous force.
Goodreads
What has caught your eye for December? Have you read any of these? Let me know :)