October books on my radar
10:00
Series: Magnus Chase and the Gods of Asgard #2
Author: Rick Riordan
October 4th 2016 by Puffin
Thor's hammer is missing again. The thunder god has a disturbing habit of misplacing his weapon - the mightiest force in the Nine Worlds. But this time the hammer isn't just lost, it has fallen into enemy hands. If Magnus Chase and his friends can't retrieve the hammer quickly, the mortal worlds will be defenseless against an onslaught of giants. Ragnarok will begin. The Nine Worlds will burn. Unfortunately, the only person who can broker a deal for the hammer's return is the gods' worst enemy, Loki - and the price he wants is very high.
Goodreads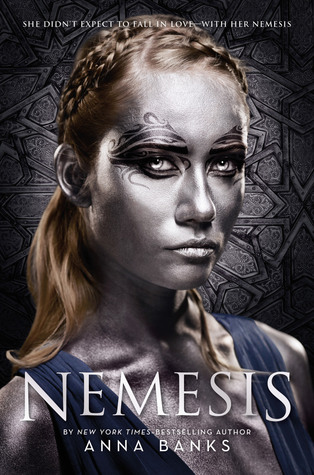 Nemesis
Series: Nemesis #1
Author: Anna Banks
October 4th 2016 by Feiwel & Friends
The princess didn't expect to fall in love--with her nemesis.
Princess Sepora of Serubel is the last Forger in all the five kingdoms. The spectorium she creates provides energy for all, but now her father has found a way to weaponize it, and his intentions to incite war force her to flee from his grasp. She escapes across enemy lines into the kingdom of Theoria, but her plans to hide are thwarted when she is captured and placed in the young king's servitude.
Tarik has just taken over rulership of Theoria, and must now face a new plague sweeping through his kingdom and killing his citizens. The last thing he needs is a troublesome servant vying for his attention. But mistress Sepora will not be ignored. When the two finally meet face-to-face, they form an unlikely bond that complicates life in ways neither of them could have imagined.
Sepora's gift could save Tarik's kingdom from the Quiet Plague. But should she trust her growing feelings for her nemesis, or should she hide her gifts at all costs?
The Lovely Reckless
Series: None
Author: Kami Garcia
October 4th 2016 by Imprint
I've become an expert at avoiding things that could hurt me—which means I will figure out how to stay away from Marco Leone.
Seventeen-year-old Frankie Devereux would do anything to forget the past. Haunted by the memory of her boyfriend's death, she lives her life by one dangerous rule: Nothing matters. At least, that's what Frankie tells herself after a reckless mistake forces her to leave her privileged life in the Heights to move in with her dad—an undercover cop. She transfers to a public high school in the Downs, where fistfights don't faze anyone and illegal street racing is more popular than football.
Marco Leone is the fastest street racer in the Downs. Tough, sexy, and hypnotic, he makes it impossible for Frankie to ignore him—and how he makes her feel. But the risks Marco takes for his family could have devastating consequences for them both. When Frankie discovers his secret, she has to make a choice. Will she let the pain of the past determine her future? Or will she risk what little she has left to follow her heart?
Holding Up the Universe
Series: None
Author: Jennifer Niven
October 6th 2016 by Penguin
From the author of the New York Times bestseller All the Bright Places comes a heart-wrenching story about what it means to see someone - and love someone - for who they truly are.
Everyone thinks they know Libby Strout, the girl once dubbed 'America's Fattest Teen'. But no one's taken the time to look past her weight to get to see who she really is. Since her mum's death, she's been picking up the pieces in the privacy of her home, dealing with her heartbroken father and her own grief. Now, Libby's ready: for high school, for new friends, for love, and for EVERY POSSIBILITY LIFE HAS TO OFFER. I know the part I want to play here at MVB High. I want to be the girl who can do anything.
Everyone thinks they know Jack Masselin too. Yes, he's got swagger, but he's also mastered the art of fitting in. What no one knows is that Jack has a secret: he can't recognize faces. Even his own brothers are strangers to him. He's the guy who can re-engineer and rebuild anything, but he can't understand what's going on with the inner workings of his own brain. So he tells himself to play it cool: Be charming. Be hilarious. Don't get too close to anyone.
Until he meets Libby. When the two get tangled up in a cruel high school game which lands them in group counseling, Libby and Jack are both angry, and then surprised. Because the more time they spend together, the less alone they feel. Because sometimes when you meet someone, it changes the world - theirs and yours.
Replica
Series: Replica #1
Author: Lauren Oliver
October 6th 2016 by Hodder & Stoughton
Gemma has been in and out of hospitals since she was born. 'A sickly child', her lonely life to date has revolved around her home, school and one best friend, Alice. But when she discovers her father's connection to the top secret Haven research facility, currently hitting the headlines and under siege by religious fanatics, Gemma decides to leave the sanctuary she's always known to find the institute and determine what is going on there and why her father's name seems inextricably linked to it.
Amidst the frenzy outside the institute's walls, Lyra - or number 24 as she is known as at Haven - and a fellow experimental subject known only as 72, manage to escape. Encountering a world they never knew existed outside the walls of their secluded upbringing , they meet Gemma and, as they try to understand Haven's purpose together, they uncover some earth-shattering secrets that will change the lives of both girls forever...
Iron Cast
Series: None
Author: Destiny Soria
October 11th 2016 by Amulet Books
It's Boston, 1919, and the Cast Iron club is packed. On stage, hemopaths—whose "afflicted" blood gives them the ability to create illusions through art—captivate their audience. Corinne and Ada have been best friends ever since infamous gangster Johnny Dervish recruited them into his circle. By night they perform for Johnny's crowds, and by day they con Boston's elite. When a job goes wrong and Ada is imprisoned, they realize how precarious their position is. After she escapes, two of the Cast Iron's hires are shot, and Johnny disappears. With the law closing in, Corinne and Ada are forced to hunt for answers, even as betrayal faces them at every turn.
Goodreads
Gemina
Series: The Illuminae Files #2
Author: Amie Kaufman and Jay Kristoff
October 13th 2016 by Rock the Boat
Hanna Donnelly is the station captain's pampered daughter and Nik Malikov is the reluctant member of a notorious crime family. Together they struggle with the realities of life aboard the galaxy's most boring space station, blissfully unaware that Kady Grant and the Hypatia are headed right toward Heimdall with news of the Kerenza invasion.
Picking up about five minutes after Illuminae ends, Gemina is the electrifying sequel to the hottest YA novel of 2015.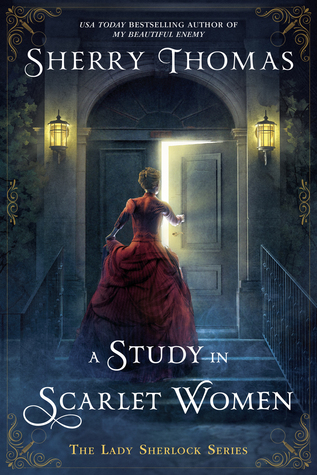 A Study in Scarlet Women
Series: Lady Sherlock #1
Author: Sherry Thomas
October 18th 2016 by Berkley
USA Today bestselling author Sherry Thomas turns the story of the renowned Sherlock Holmes upside down…
With her inquisitive mind, Charlotte Holmes has never felt comfortable with the demureness expected of the fairer sex in upper class society. But even she never thought that she would become a social pariah, an outcast fending for herself on the mean streets of London.
When the city is struck by a trio of unexpected deaths and suspicion falls on her sister and her father, Charlotte is desperate to find the true culprits and clear the family name. She'll have help from friends new and old—a kind-hearted widow, a police inspector, and a man who has long loved her. But in the end, it will be up to Charlotte, under the assumed name Sherlock Holmes, to challenge society's expectations and match wits against an unseen mastermind.
Goodreads
What has caught your eye for October? Have you read any of these? Let me know :)