August books on my radar
10:00
What's a Girl Gotta Do?
Series: Normal #3
Author: Holly Bourne
August 1st 2016 by Usborne Publishing
HOW TO START A FEMINIST REVOLUTION:
1. Call out anything that is unfair on one gender
2. Don't call out the same thing twice (so you can sleep and breathe)
3. Always try to keep it funny
4. Don't let anything slide. Even when you start to break...
Lottie's determined to change the world with her #Vagilante vlog. Shame the trolls have other ideas...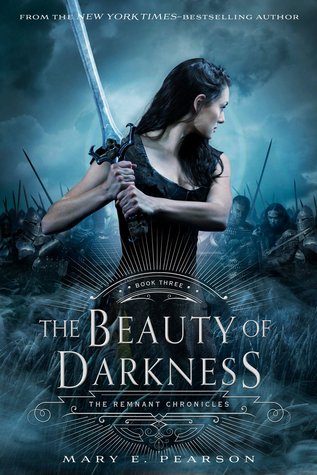 The Beauty of Darkness
Series: The Remnant Chronicles #3
Author: Mary E. Pearson
August 2nd 2016 by Henry Holt and Co. (BYR)
Lia and Rafe have escaped Venda and the path before them is winding and dangerous - what will happen now? This third and final book in The Remnant Chronicles is not to be missed.
Bestselling author Mary E. Pearson's combination of intrigue, suspense, romance and action make this a riveting page turner for teens.
Goodreads
A Week of Mondays
Series: None
Author: Jessica Brody
August 2nd 2016 by Farrar, Straus and Giroux (BYR)
When I made the wish, I just wanted a do-over. Another chance to make things right. I never, in a million years, thought it might actually come true...
Sixteen-year-old Ellison Sparks is having a serious case of the Mondays. She gets a ticket for running a red light, she manages to take the world's worst school picture, she bombs softball try-outs and her class election speech (note to self: never trust a cheerleader when she swears there are no nuts in her bake-sale banana bread), and to top it all off, Tristan, her gorgeous rocker boyfriend suddenly dumps her. For no good reason!
As far as Mondays go, it doesn't get much worse than this. And Ellie is positive that if she could just do it all over again, she would get it right. So when she wakes up the next morning to find she's reliving the exact same day, she knows what she has to do: stop her boyfriend from breaking up with her. But it seems no matter how many do-overs she gets or how hard Ellie tries to repair her relationship, Tristan always seems bent set on ending it. Will Ellie ever figure out how to fix this broken day? Or will she be stuck in this nightmare of a Monday forever?
The Gilded Cage
Series: None
Author: Lucinda Gray
August 2nd 2016 by Henry Holt and Co. (BYR)
After growing up on a farm in Virginia, Walthingham Hall in England seems like another world to sixteen-year-old Katherine Randolph. Her new life, filled with the splendor of upper-class England in the 1820s, is shattered when her brother mysteriously drowns. Katherine is expected to observe the mourning customs and get on with her life, but she can't accept that her brother's death was an accident.
A bitter poacher prowls the estate, and strange visitors threaten the occupants of the house. There's a rumor, too, that a wild animal stalks the woods of Walthingham. Can Katherine retain her sanity long enough to find out the truth? Or will her brother's killer claim her life, too?
Royal Tour
Series: Potion #2
Author: Amy Alward
August 11th 2016 by Simon & Schuster Children's UK
Stolen memories, a lost diary and a race against time...
Having saved Princess Evelyn (and become her new BFF) Sam must accompany Evelyn on a world tour, so she can keep the princess (and everyone around her) safe with a power-binding potion. But Sam also has another reason to scour the globe. Someone has tampered with her grandad's mind, and Sam is the only one who can unlock his memories to save him and the family business. And that's not all that's at stake. The stolen memories contain the recipe to a potion which many would kill to get hold of. With the post powerful people in the world desperate for the recipe, Sam must save her grandad in order to save everyone else...
The Flame Never Dies
Series:
The Stars Never Rise #2
Author:
Rachel Vincent
August 16th 2016 by MIRA Ink
ONE SPARK WILL RISE. Nina Kane was born to be an exorcist. And since uncovering the horrifying truth—that the war against demons is far from over—seventeen-year-old Nina and her pregnant younger sister, Mellie, have been on the run, incinerating the remains of the demon horde as they go.
In the badlands, Nina, Mellie, and Finn, the fugitive and rogue exorcist who saved her life, find allies in a group of freedom fighters. They also face a new threat: Pandemonia, a city full of demons. But this fresh new hell is the least of Nina's worries. The well of souls ran dry more than a century ago, drained by the demons secretly living among humans, and without a donor soul, Mellie's child will die within hours of its birth.
Nina isn't about to let that happen . . . even if it means she has to make the ultimate sacrifice.
A Torch Against the Night
Series:
An Ember in the Ashes #2
Author:
Sabaa Tahir
August 30th 2016 by HarperVoyager
A Torch Against the Night takes readers into the heart of the Empire as Laia and Elias fight their way north to liberate Laia's brother from the horrors of Kauf Prison. Hunted by Empire soldiers, manipulated by the Commandant, and haunted by their pasts, Laia and Elias must outfox their enemies and confront the treacherousness of their own hearts.
In the city of Serra, Helene Aquilla finds herself bound to the will of the Empire's twisted new leader, Marcus. When her loyalty is questioned, Helene finds herself taking on a mission to prove herself—a mission that might destroy her, instead.
Goodreads
The Thousandth Floor
Series:
The Thousandth Floor #1
Author:
Katharine McGee
August 30th 2016 by Harper Collins Children's Books
New York City as you've never seen it before. A thousand-story tower stretching into the sky. A glittering vision of the future, where anything is possible—if you want it enough.
Welcome to Manhattan, 2118.
A hundred years in the future, New York is a city of innovation and dreams. But people never change: everyone here wants something…and everyone has something to lose.
Leda Cole's flawless exterior belies a secret addiction—to a drug she never should have tried and a boy she never should have touched.
Eris Dodd-Radson's beautiful, carefree life falls to pieces when a heartbreaking betrayal tears her family apart.
Rylin Myers's job on one of the highest floors sweeps her into a world—and a romance—she never imagined…but will her new life cost Rylin her old one?
Watt Bakradi is a tech genius with a secret: he knows everything about everyone. But when he's hired to spy by an upper-floor girl, he finds himself caught up in a complicated web of lies.
And living above everyone else on the thousandth floor is Avery Fuller, the girl genetically designed to be perfect. The girl who seems to have it all—yet is tormented by the one thing she can never have.
What has caught your eye for August? Have you read any of these? Let me know :)