May books on my radar
10:00
Traitor Angels
Series: None
Author: Anne Blankman
May 3rd 2016 by Balzer+Bray
Six years have passed since England's King Charles II returned from exile to reclaim the throne, ushering in a new era of stability for his subjects.
Except for Elizabeth Milton. The daughter of notorious poet John Milton, Elizabeth has never known her place in this shifting world—except by her father's side. By day she helps transcribe his latest masterpiece, the epic poem Paradise Lost, and by night she learns languages and sword fighting. Although she does not dare object, she suspects that he's training her for a mission whose purpose she cannot fathom.
Until one night the reason becomes clear: the king's man arrive at her family's country home to arrest her father. Determined to save him, Elizabeth follows his one cryptic clue and journeys to Oxford, accompanied by her father's mysterious young houseguest, Antonio Vivani, a darkly handsome Italian scientist who surprises her at every turn. Funny, brilliant, and passionate, Antonio seems just as determined to protect her father as she is—but can she trust him with her heart?
When the two discover that Milton has planted an explosive secret in the half-finished Paradise Lost—a secret the king and his aristocratic supporters are desperate to conceal—Elizabeth is faced with a devastating choice: cling to the shelter of her old life or risk cracking the code, unleashing a secret that could save her father…and tear apart the very fabric of society.
Goodreads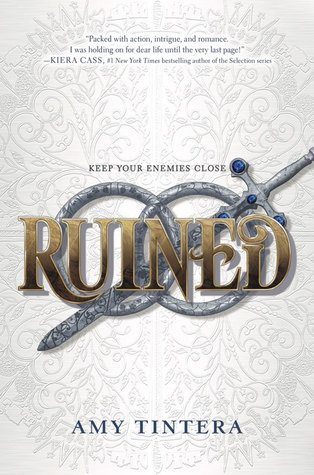 Ruined
Series:
Untitled #1
Author: Amy Tintera
May 3rd 2016 by HarperTeen
Emelina Flores has nothing. Her home in Ruina has been ravaged by war. She lacks the powers of her fellow Ruined. Worst of all, she witnessed her parents' brutal murders and watched helplessly as her sister, Olivia, was kidnapped.
But because Em has nothing, she has nothing to lose. Driven by a blind desire for revenge, Em sets off on a dangerous journey to the enemy kingdom of Lera. Somewhere within Lera's borders, Em hopes to find Olivia. But in order to find her, Em must infiltrate the royal family.
In a brilliant, elaborate plan of deception and murder, Em marries Prince Casimir, next in line to take Lera's throne. If anyone in Lera discovers Em is not Casimir's true betrothed, Em will be executed on the spot. But it's the only way to salvage Em's kingdom and what is left of her family.
Em is determined to succeed, but the closer she gets to the prince, the more she questions her mission. Em's rage-filled heart begins to soften. But with her life—and her family—on the line, love could be Em's deadliest mistake.
Goodreads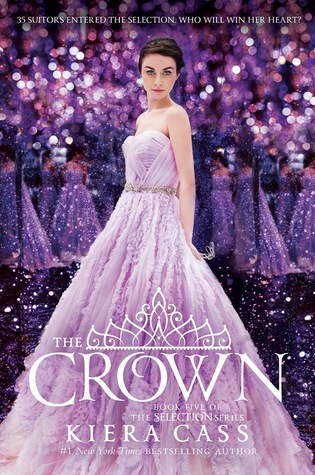 The Crown
Series:
The Selection #5
Author:
Kiera Cass
May 3rd 2016 by HarperCollins Publishers
Kiera Cass's #1 New York Times bestselling Selection series has captured the hearts of readers from its very first page. Now the end of the journey is here. Prepare to be swept off your feet by The Crown—the eagerly awaited, wonderfully romantic fifth and final book in the Selection series.
In The Heir, a new era dawned in the world of The Selection. Twenty years have passed since America Singer and Prince Maxon fell in love, and their daughter is the first princess to hold a Selection of her own.
Eadlyn didn't think she would find a real partner among the Selection's thirty-five suitors, let alone true love. But sometimes the heart has a way of surprising you…and now Eadlyn must make a choice that feels more difficult—and more important—than she ever expected.
Shuffle, Repeat
Series: None
Author: Jen Klein
May 3rd 2016 by Random House Books for Young Readers
When Harry Met Sally for YA romance readers. This opposites-attract love story is perfect for fans of Huntley Fitzpatrick, Stephanie Perkins, and Jenny Han.
June wants high school to end and real life to begin. Oliver is soaking up senior year's glory days. They could have coasted through high school, knowing about—but not really knowing—each other.
Except that their moms have arranged for Oliver to drive June to school. Every. Single. Day.
Suddenly these two opposites are fighting about music, life . . . pretty much everything. But love is unpredictable. When promises—and hearts—get broken, Oliver and June must figure out what really matters. And then fight for it.
Goodreads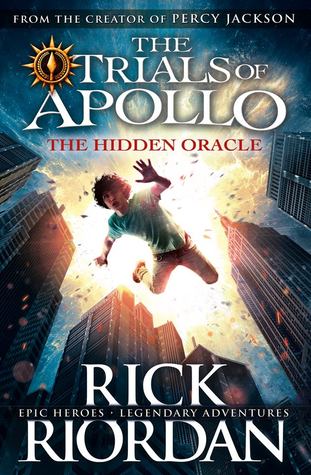 The Hidden Oracle
Series: The Trials of Apollo #1
Author: Rick Riordan
May 3rd 2016 by Puffin
How do you punish an immortal?
By making him human.
After angering his father Zeus, the god Apollo is cast down from Olympus. Weak and disorientated, he lands in New York City as a regular teenage boy. Now, without his godly powers, the four-thousand-year-old deity must learn to survive in the modern world until he can somehow find a way to regain Zeus's favour.
But Apollo has many enemies - gods, monsters and mortals who would love to see the former Olympian permanently destroyed. Apollo needs help, and he can think of only one place to go . . . an enclave of modern demigods known as Camp Half-Blood.
A Court of Mist and Fury
Series: A Court of Thorns and Roses #2
Author: Sarah J. Maas
May 5th 2016 by Bloomsbury Childrens Books
Feyre survived Amarantha's clutches to return to the Spring Court--but at a steep cost. Though she now has the powers of the High Fae, her heart remains human, and it can't forget the terrible deeds she performed to save Tamlin's people.
Nor has Feyre forgotten her bargain with Rhysand, High Lord of the feared Night Court. As Feyre navigates its dark web of politics, passion, and dazzling power, a greater evil looms--and she might be key to stopping it. But only if she can harness her harrowing gifts, heal her fractured soul, and decide how she wishes to shape her future--and the future of a world cleaved in two.
Goodreads
Queen of Hearts
Series: Queen of Hearts Saga #1
Author: Colleen Oakes
May 5th 2016 by HarperCollinsChildren'sBooks
As Princess of Wonderland Palace and the future Queen of Hearts, Dinah's days are an endless monotony of tea, tarts, and a stream of vicious humiliations at the hands of her father, the King of Hearts. The only highlight of her days is visiting Wardley, her childhood best friend, the future Knave of Hearts — and the love of her life.
When an enchanting stranger arrives at the Palace, Dinah watches as everything she's ever wanted threatens to crumble. As her coronation date approaches, a series of suspicious and bloody events suggests that something sinister stirs in the whimsical halls of Wonderland. It's up to Dinah to unravel the mysteries that lurk both inside and under the Palace before she loses her own head to a clever and faceless foe.
Part epic fantasy, part twisted fairy tale, this dazzling saga will have readers shivering as Dinahs furious nature sweeps Wonderland up in the maelstrom of her wrath.
Familiar characters such as Cheshire, the White Rabbit, and the Mad Hatter make their appearance, enchanting readers with this new, dark take on Alice's Adventures in Wonderland.
The Unexpected Everything
Series: None
Author: Morgan Matson
May 5th 2016 by Simon & Schuster
Andie has a plan. And she always sticks to her plan.
Future? A top-tier medical school.
Dad? Avoid him as much as possible (which isn't that hard considering he's a Congressman and he's never around).
Friends? Palmer, Bri, and Toby—pretty much the most awesome people on the planet, who needs anyone else?
Relationships? No one's worth more than three weeks.
So it's no surprise that Andie's got her summer all planned out too.
Until a political scandal costs Andie her summer pre-med internship, and lands both she and Dad back in the same house together for the first time in years. Suddenly she's doing things that aren't Andie at all—working as a dog walker, doing an epic scavenger hunt with her dad, and maybe, just maybe, letting the super cute Clark get closer than she expected. Palmer, Bri, and Toby tell her to embrace all the chaos, but can she really let go of her control?
The Square Root of Summer
Series: None
Author: Harriet Reuter Hapgood
May 5th 2016 by Macmillan Children's Books
My heart is a kaleidoscope, and when we kiss it makes my world unravel...
Last summer, Gottie's life fell apart. Her beloved grandfather Grey died and Jason left her – the boy to whom she lost her virginity (and her heart) – and he wouldn't even hold her hand at the funeral! This summer, still reeling from twin heartbreaks, Gottie is lost and alone and burying herself in equations. Until, after five years absence, Thomas comes home: former boy next door. Former best friend. Former everything. And as life turns upside down again she starts to experience strange blips in time – back to last summer, back to what she should have seen then...
During one long, hazy summer, Gottie navigates grief, world-stopping kisses and rips in the space-time continuum, as she tries to reconcile her first heartbreak with her last.
Goodreads
Summer of Supernovas
Series: None
Author: Darcy Woods
May 10th 2016 by Crown BFYR
As the daughter of an expert astrologer, Wilamena Carlisle knows that the truth lies within the stars. So when she discovers a rare planetary alignment, she is forced to tackle her worst astrological fear – The Fifth House of Relationships and Love. But Wil must decide whether a cosmically doomed love is worth rejecting her mother's legacy, when she falls for a sensitive guitar player hailing from the wrong side of the chart.
Debut author Darcy Woods explores love in all its complexities and how to best honor the loved ones who have passed before us, in a novel packed with both humor and heart.
Goodreads
Love Blind
Series: None
Author: Christa Desir & Jolene Perry
May 10th 2016 by Simon Pulse
It starts with a list of fears. Stupid things really. Things that Hailey shouldn't worry about, wouldn't worry about if she didn't wake up every morning with the world a little more blurry. Unable to see her two moms clearly. Unable to read the music for her guitar. One step closer to losing the things she cares about the most.
For a while, the only thing that keeps Hailey moving forward is the feeling she gets when she crosses something off the list.
Then she meets Kyle. He mumbles—when he talks at all—and listens to music to drown out his thoughts. He's loaded down with fears, too. So Hailey talks him into making his own list.
Together, they stumble into an odd friendship, helping each other tackle one after another of their biggest fears. But fate and timing can change everything. And sometimes facing your worst fear makes you realize you had nothing to lose after all.
Goodreads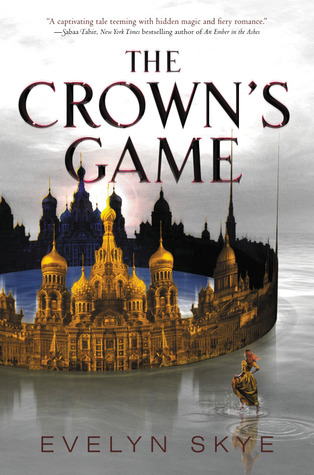 The Crown's Game
Series: The Crown's Game #1
Author:
Evelyn Skye
May 17th 2016 by Balzer + Bray
Vika Andreyeva can summon the snow and turn ash into gold. Nikolai Karimov can see through walls and conjure bridges out of thin air. They are enchanters—the only two in Russia—and with the Ottoman Empire and the Kazakhs threatening, the Tsar needs a powerful enchanter by his side.
And so he initiates the Crown's Game, an ancient duel of magical skill—the greatest test an enchanter will ever know. The victor becomes the Imperial Enchanter and the Tsar's most respected adviser. The defeated is sentenced to death.
Raised on tiny Ovchinin Island her whole life, Vika is eager for the chance to show off her talent in the grand capital of Saint Petersburg. But can she kill another enchanter—even when his magic calls to her like nothing else ever has?
For Nikolai, an orphan, the Crown's Game is the chance of a lifetime. But his deadly opponent is a force to be reckoned with—beautiful, whip smart, imaginative—and he can't stop thinking about her.
And when Pasha, Nikolai's best friend and heir to the throne, also starts to fall for the mysterious enchantress, Nikolai must defeat the girl they both love . . . or be killed himself.
As long-buried secrets emerge, threatening the future of the empire, it becomes dangerously clear . . . the Crown's Game is not one to lose.
Goodreads
The Only Thing Worse Than Me Is You
Series: None
Author:
Lily Anderson
May 17th 2016 by St. Martin's Griffin
Trixie Watson has two very important goals for senior year: to finally save enough to buy the set of Doctor Who figurines at the local comic books store, and to place third in her class and knock Ben West--and his horrendous new mustache that he spent all summer growing--down to number four.
Trixie will do anything to get her name ranked over Ben's, including give up sleep and comic books--well, maybe not comic books--but definitely sleep. After all, the war of Watson v. West is as vicious as the Doctor v. Daleks and Browncoats v. Alliance combined, and it goes all the way back to the infamous monkey bars incident in the first grade. Over a decade later, it's time to declare a champion once and for all.
The war is Trixie's for the winning, until her best friend starts dating Ben's best friend and the two are unceremoniously dumped together and told to play nice. Finding common ground is odious and tooth-pullingly-painful, but Trixie and Ben's cautious truce slowly transforms into a fandom-based tentative friendship. When Trixie's best friend gets expelled for cheating and Trixie cries foul play, however, they have to choose who to believe and which side they're on--and they might not pick the same side.
Goodreads
What has caught your eye for May? Have you read any of these? Let me know :)