April books on my radar
10:00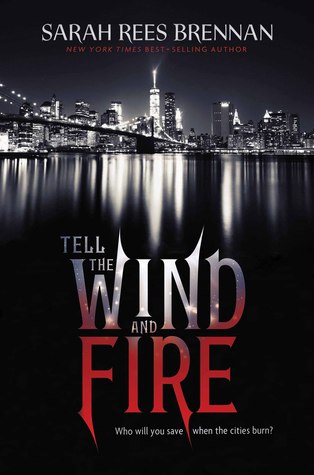 Tell the Wind and Fire
Series: None
Author: Sarah Rees Brennan
April 5th 2016 by Clarion Books
Tell the Wind & Fire is about a young girl called Lucie who lives in a New York very different from the New York we know: the city is torn between two very different kinds of magic, and Lucie's own family was torn apart years ago by that conflict. Lucie wears magic rings and carries a burden of guilt she can't share with anyone.
The light in her life is her sweetheart boyfriend Ethan, but it turns out Ethan has a secret too: a soulless doppelganger created by dark magic, who has to conceal the face identical to Ethan's with a hood fastened by a collar nobody but a Light magician with magical rings can take off… and who introduces himself to both of them by, for reasons nobody can understand, saving Ethan's life…
Goodreads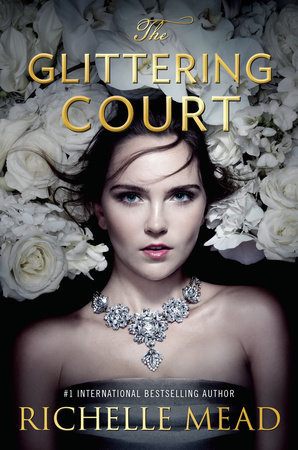 The Glittering Court
Series: The Glittering Court #1
Author: Richelle Mead
April 5th 2016 by Razorbill
Big and sweeping, spanning the refined palaces of Osfrid to the gold dust and untamed forests of Adoria, The Glittering Court tells the story of Adelaide, an Osfridian countess who poses as her servant to escape an arranged marriage and start a new life in Adoria, the New World. But to do that, she must join the Glittering Court.
Both a school and a business venture, the Glittering Court is designed to transform impoverished girls into upper-class ladies capable of arranging powerful and wealthy marriages in the New World. Adelaide naturally excels in her training and even makes a few friends: the fiery former laundress Tamsin and the beautiful Sirminican refugee Mira. She manages to keep her true identity hidden from all but one: the intriguing Cedric Thorn, son of the wealthy proprietor of the Glittering Court.
When Adelaide discovers that Cedric is hiding a dangerous secret of his own, together, they hatch a scheme to make the best of Adelaide's deception. Complications soon arise—first, as they cross the treacherous seas from Osfrid to Adoria, and later, when Adelaide catches the attention of a powerful governor.
But no complication will prove quite as daunting as the potent attraction simmering between Adelaide and Cedric. An attraction that, if acted on, would scandalize the Glittering Court and make them both outcasts in wild, vastly uncharted lands...
Goodreads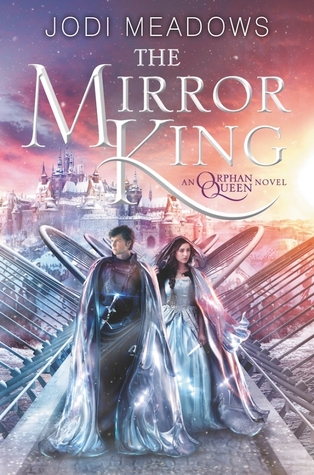 The Mirror King
Series: The Orphan Queen #2
Author: Jodi Meadows
April 5th 2016 by Katherine Tegen Books
Wilhelmina has a hundred enemies.
HER FRIENDS HAVE TURNED. After her identity is revealed during the Inundation, Princess Wilhelmina is kept prisoner by the Indigo Kingdom, with the Ospreys lost somewhere in the devastated city. When the Ospreys' leader emerges at the worst possible moment, leaving Wil's biggest ally on his deathbed, she must become Black Knife to set things right.
HER MAGIC IS UNCONTROLLABLE. Wil's power is to animate, not to give true life, but in the wraithland she commanded a cloud of wraith mist to save herself, and later ordered it solid. Now there is a living boy made of wraith—destructive and deadly, and willing to do anything for her.
HER HEART IS TORN. Though she's ready for her crown, declaring herself queen means war. Caught between what she wants and what is right, Wilhelmina realizes the throne might not even matter. Everyone thought the wraith was years off, but already it's destroying Indigo Kingdom villages. If she can't protect both kingdoms, soon there won't be a land to rule.
In this stunning conclusion to THE ORPHAN QUEEN, Jodi Meadows follows Wilhelmina's breathtaking and brave journey from orphaned criminal on the streets to magic-wielding queen.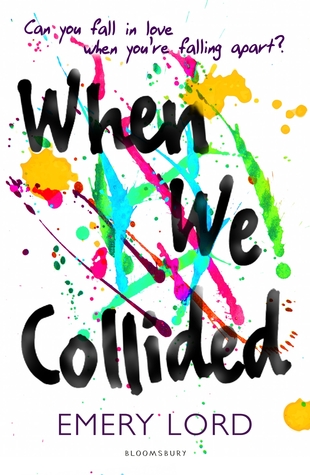 When We Collided
Series: None
Author:
Emery Lord
April 7th 2016 by Bloomsbury Children's
Meet Vivi and Jonah: A girl and a boy whose love has the power save or destroy them.
Vivi and Jonah couldn't be more different. Vivi craves anything joyful or beautiful that life can offer. Jonah has been burdened by responsibility for his family ever since his father died. As summer begins, Jonah resigns himself to another season of getting by. Then Vivi arrives, and suddenly life seems brighter and better. Jonah is the perfect project for Vivi, and things finally feel right for Jonah. Their love is the answer to everything. But soon Vivi's zest for life falters, as her adventurousness becomes true danger-seeking. Jonah tries to keep her safe, but there's something important Vivi hasn't told him.
Perfect for fans of E. Lockhart and Jandy Nelson, When We Collided is a powerful story of two teens whose love is put to the test by forces beyond their control.
Passenger
Series: Passenger #1
Author: Alexandra Bracken
April 7th 2016 by Quercus Children's Books
In one devastating night, Etta Spencer loses everything she knows and loves. Thrust into an unfamiliar world by a stranger with a dangerous agenda, Etta is certain of only one thing: she has travelled not just miles but years from home.
Nicholas Carter is content with his life at sea, free from the Ironwoods - a powerful family in the Colonies - and the servitude he's known at their hands. But with the arrival of an unusual passenger on his ship comes the insistent pull of the past that he can't escape and the family that won't let him go. Now the Ironwoods are searching for a stolen object of untold value, one they believe only Etta, his passenger, can find.
Together, Etta and Nicholas embark on a perilous journey across centuries and continents, piecing together clues left behind by the traveller who will do anything to keep the object out of the Ironwoods' grasp. But as they get closer to their target, treacherous forces threaten to separate Etta not only from Nicholas but from her path home forever.
Goodreads
Head Over Heels
Series:
Geek Girl #5
Author:
Holly Smale
April 7th 2016 by HarperCollins Children's Books
"My name is Harriet Manners, and I will always be a geek."
The fifth book in the bestselling, award-winning GEEK GIRL series.
Harriet Manners knows almost every fact there is.
She knows duck-billed platypuses don't have stomachs.
She knows that fourteen squirrels were once detained as spies.
She knows only one flag in the world features a building.
And for once, Harriet knows exactly how her life should go. She's got it ALL planned out. So when love is in the air, Harriet is determined to Make Things Happen!
If only everyone else would stick to the script…
Has GEEK GIRL overstepped the mark, and is following the rules going to break hearts all over again?
No Love Allowed
Series: None
Author: Kate Evangelista
April 19th 2016 by Swoon Reads
It's all fun and parties until someone falls in love in this modern fairy tale from author Kate Evangelista.
Caleb desperately needs a fake girlfriend. Either he attends a series of parties for his father's law firm with a pretty girl on his arm, or he gets shipped off to Yale to start a future he's not ready for and isn't sure he wants. And sadly, the last unattached girl in his social circle has just made the grievous mistake of falling in love with him. Fortunately, Didi, recently fired waitress and aspiring painter, is open to new experiences. As the summer ticks by in a whirl of lavish parties, there's only one rule: They must not fall in love!
Goodreads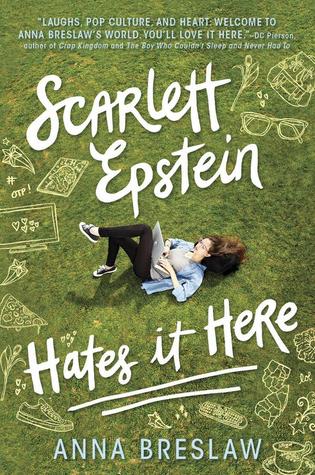 Scarlett Epstein Hates It Here
Series: None
Author: Anna Breslaw
April 19th 2016 by Razorbill
Meet Scarlett Epstein, BNF (Big Name Fan) in her online community of fanfiction writers, world-class nobody at Melville High. Her best (read: only) IRL friends are Avery, a painfully shy and annoyingly attractive bookworm, and Ruth, her pot-smoking, possibly insane seventy-three-year-old neighbor.
When Scarlett's beloved TV show is canceled and her longtime crush, Gideon, is sucked out of her orbit and into the dark and distant world of Populars, Scarlett turns to the fanfic message boards for comfort. This time, though, her subjects aren't the swoon-worthy stars of her fave series—they're the real-life kids from her high school. Scarlett never considers what might happen if they were to find out what she truly thinks about them...until a dramatic series of events exposes a very different reality than Scarlett's stories, forever transforming her approach to relationships—both online and off.
Goodreads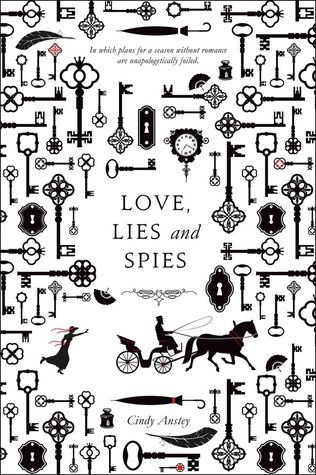 Love, Lies and Spies
Series: None
Author: Cindy Anstey
April 19th 2016 by Swoon Reads
Juliana Telford is not your average nineteenth-century young lady. She's much more interested in researching ladybugs than marriage, fashionable dresses, or dances. So when her father sends her to London for a season, she's determined not to form any attachments. Instead, she plans to secretly publish their research.
Spencer Northam is not the average young gentleman of leisure he appears. He is actually a spy for the War Office, and is more focused on acing his first mission than meeting eligible ladies. Fortunately, Juliana feels the same, and they agree to pretend to fall for each other. Spencer can finally focus, until he is tasked with observing Juliana's traveling companions . . . and Juliana herself.
Bridesmaid-in-Training
Series: From the Notebooks of a Middle School Princess #2
Author: Meg Cabot
April 21st 2016 by Macmillan Children's Books
Olivia Grace Clarisse Mignonette Harrison still finds it hard to believe that she's a princess! Not only does she get to live in an actual palace with her newly discovered family and two fabulous poodles, but she also gets her very own pony!
Of course, not everything is going exactly as she imagined . . . her half-sister, Mia, is very busy learning how to run the country while trying to plan a wedding, and her father is getting remarried himself - to Mia's mother! - and spends most of his time 'renovating' the summer palace, although Grandmère says he is just hiding from the wedding madness. Olivia hardly gets to see either of them.
Fortunately Grandmère has her own plans for Mia's wedding, and needs Olivia's help to pull them off. Just when Olivia starts to think that things are going to work out after all, the palace is invaded by a host of new cousins and other royals who all seem to be angry at Olivia (although Grandmère says they are just jealous).
As the day of the wedding gets closer and closer, Olivia becomes more and more worried. For such a carefully planned event, it seems as if a LOT of things are going wrong . . . Can Olivia keep this royal wedding from becoming a royal disaster?
Goodreads
Heir to the Sky
Series: None
Author: Amanda Sun
April 26th 2016 by Harlequin TEEN
As heir to a kingdom of floating continents, Kali has spent her life bound by limits—by her duties as a member of the royal family; by a forced betrothal to the son of a nobleman; and by the edge of the only world she's ever known—a small island hovering above a monster-ridden earth, long since uninhabited by humans. She is the Eternal Flame of Hope for what's left of mankind, the wick and the wax burning in service for her people, and for their revered Phoenix, whose magic keeps them aloft.
When Kali falls off the edge of her kingdom and miraculously survives, she is shocked to discover there are still humans on the earth. Determined to get home, Kali entrusts a rugged monster-hunter named Griffin to guide her across a world overrun by chimera, storm dragons, basilisks, and other terrifying beasts. But the more time she spends on earth, the more dark truths she begins to uncover about her home in the sky, and the more resolute she is to start burning for herself.
The Raven King
Series: The Raven Cycle #4
Author: Maggie Steifvater
April 26th 2016 by Scholastic Press
The fourth and final installment in the spellbinding series from the irrepressible, #1 New York Times bestselling author Maggie Stiefvater.
All her life, Blue has been warned that she will cause her true love's death. She doesn't believe in true love and never thought this would be a problem, but as her life becomes caught up in the strange and sinister world of the Raven Boys, she's not so sure anymore.
Goodreads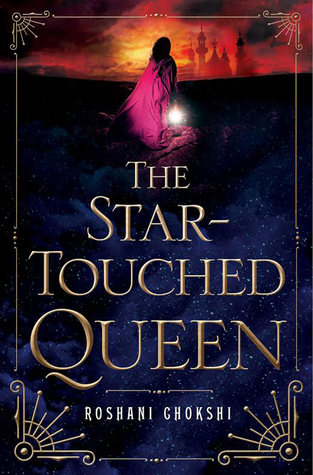 The Star-Touched Queen
Series: None
Author: Roshani Chokshi
April 26th 2016 by St. Martin's Griffin
Cursed with a horoscope that promises a marriage of Death and Destruction, sixteen-year-old Maya has only earned the scorn and fear of her father's kingdom. Content to follow more scholarly pursuits, her world is upheaved when her father, the Raja, arranges a wedding of political convenience to quell outside rebellions. But when her wedding takes a fatal turn, Maya becomes the queen of Akaran and wife of Amar. Yet neither roles are what she expected. As Akaran's queen, she finds her voice and power. As Amar's wife, she finds friendship and warmth.
But Akaran has its own secrets - thousands of locked doors, gardens of glass, and a tree that bears memories instead of fruit. Beneath Akaran's magic, Maya begins to suspect her life is in danger. When she ignores Amar's plea for patience, her discoveries put more than new love at risk - it threatens the balance of all realms, human and Otherworldly.
Now, Maya must confront a secret that spans reincarnated lives and fight her way through the dangerous underbelly of the Otherworld if she wants to protect the people she loves.
Goodreads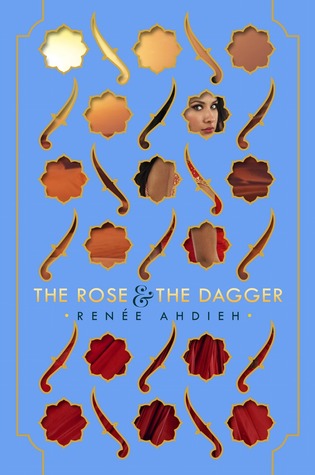 The Rose and the Dagger
Series:
The Wrath and the Dawn #2
Author: Renee Ahdieh
April 26th 2016 by Putnam Juvenile
I am surrounded on all sides by a desert. A guest, in a prison of sand and sun. My family is here. And I do not know whom I can trust.
In a land on the brink of war, Shahrzad has been torn from the love of her husband Khalid, the Caliph of Khorasan. She once believed him a monster, but his secrets revealed a man tormented by guilt and a powerful curse—one that might keep them apart forever. Reunited with her family, who have taken refuge with enemies of Khalid, and Tariq, her childhood sweetheart, she should be happy. But Tariq now commands forces set on destroying Khalid's empire. Shahrzad is almost a prisoner caught between loyalties to people she loves. But she refuses to be a pawn and devises a plan.
While her father, Jahandar, continues to play with magical forces he doesn't yet understand, Shahrzad tries to uncover powers that may lie dormant within her. With the help of a tattered old carpet and a tempestuous but sage young man, Shahrzad will attempt to break the curse and reunite with her one true love.
Goodreads
What has caught your eye for April? Have you read any of these? Let me know :)