February books on my radar
10:00
How Hard Can Love Be?
Series: Normal #2
Author: Holly Bourne
February 1st 2016 by Usborne Publishing Ltd
All Amber wants is a little bit of love. Her mum has never been the caring type, even before she moved to California, got remarried and had a personality transplant. But Amber's hoping that spending the summer with her can change all that.
And then there's prom king Kyle, the guy all the girls want. Can he really be interested in anti-cheerleader Amber? Even with best friends Evie and Lottie's advice, there's no escaping the fact: love is hard.
Goodreads
Remembrance
Series: The Mediator #7
Author: Meg Cabot
February 2nd 2016 by William Morrow
In REMEMBRANCE, the seventh installment of the Mediator series, all Susannah Simon wants is to make a good impression at her first job since graduating from college (and becoming engaged to Dr. Jesse de Silva).
But when she stumbles across an ancient murder, old ghosts—and ex-boyfriends—aren't all that come back to haunt her.
REMEMBRANCE will be the first ever adult installment of the Mediator, published by William Morrow, the adult division of HarperCollins, the company that brought you the YA books in the series.
Goodreads
Blackhearts
Series: None
Author: Nicole Castroman
February 9th 2016 by Simon Pulse
Blackbeard the pirate was known for striking fear in the hearts of the bravest of sailors. But once he was just a young man who dreamed of leaving his rigid life behind to chase adventure in faraway lands. Nothing could stop him—until he met the one girl who would change everything.
Edward "Teach" Drummond, son of one of Bristol's richest merchants, has just returned from a year-long journey on the high seas to find his life in shambles. Betrothed to a girl he doesn't love and sick of the high society he was born into, Teach dreams only of returning to the vast ocean he'd begun to call home. There's just one problem: convincing his father to let him leave and never come back.
Following her parents' deaths, Anne Barrett is left penniless and soon to be homeless. Though she's barely worked a day in her life, Anne is forced to take a job as a maid in the home of Master Drummond. Lonely days stretch into weeks, and Anne longs for escape. How will she ever realize her dream of sailing to Curaçao—where her mother was born—when she's stuck in England?
From the moment Teach and Anne meet, they set the world ablaze. Drawn to each other, they're trapped by society and their own circumstances. Faced with an impossible choice, they must decide to chase their dreams and go, or follow their hearts and stay.
Goodreads
Author: Tarun Shanker & Kelly Zekas
February 9th 2016 by Swoon Reads
Jane Austen meets X-­Men in this gripping and adventure-­filled paranormal romance set in Victorian London.
England, 1882. Evelyn is bored with society and its expectations. So when her beloved sister, Rose, mysteriously vanishes, she ignores her parents and travels to London to find her, accompanied by the dashing Mr. Kent. But they're not the only ones looking for Rose. The reclusive, young gentleman Sebastian Braddock is also searching for her, claiming that both sisters have special healing powers. Evelyn is convinced that Sebastian must be mad, until she discovers that his strange tales of extraordinary people are true—and that her sister is in graver danger than she feared.
Glass Sword
Series: Red Queen #2
Author: Victoria Aveyard
February 11th 2016 by Orion
If there's one thing Mare Barrow knows, it's that she's different.
Mare's blood is red - the colour of common folk - but her Silver ability, the power to control lightning, has turned her into a weapon that the royal court tries to control.
The crown calls her an impossibility, a fake, but as she makes her escape from the prince and friend who betrayed her, Mare uncovers something startling: she is not the only one of her kind.
Pursued by the Silver king, Mare sets out to find and recruit other Red and Silver fighters to join in the struggle against her oppressors.
But Mare finds herself on a deadly path, at risk of becoming exactly the kind of monster she is trying to defeat. Will she shatter under the weight of the lives that are the cost of rebellion? Or have treachery and betrayal hardened her forever?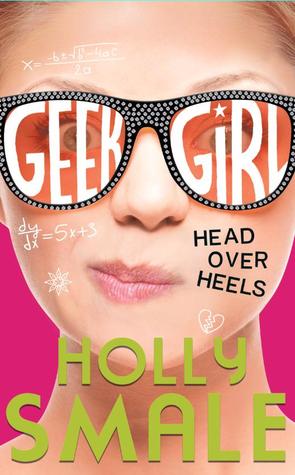 Head Over Heels
Series: Geek Girl #5
Author: Holly Smale
February 25th 2016 by HarperCollins Children's Books
"My name is Harriet Manners, and I will always be a geek."
The fifth book in the bestselling, award-winning GEEK GIRL series.
Harriet Manners knows almost every fact there is.
She knows duck-billed platypuses don't have stomachs.
She knows that fourteen squirrels were once detained as spies.
She knows only one flag in the world features a building.
And for once, Harriet knows exactly how her life should go. She's got it ALL planned out. So when love is in the air, Harriet is determined to Make Things Happen!
If only everyone else would stick to the script…
Has GEEK GIRL overstepped the mark, and is following the rules going to break hearts all over again?
What has caught your eye for February? Have you read any of these? Let me know :)