January books on my radar
11:00
Truthwitch
Series: The Witchlands #1
Author: Susan Dennard
Published January 5th 2016 by Tor Teen
On a continent ruled by three empires, some are born with a "witchery", a magical skill that sets them apart from others.
In the Witchlands, there are almost as many types of magic as there are ways to get in trouble—as two desperate young women know all too well.
Safiya is a Truthwitch, able to discern truth from lie. It's a powerful magic that many would kill to have on their side, especially amongst the nobility to which Safi was born. So Safi must keep her gift hidden, lest she be used as a pawn in the struggle between empires.
Iseult, a Threadwitch, can see the invisible ties that bind and entangle the lives around her—but she cannot see the bonds that touch her own heart. Her unlikely friendship with Safi has taken her from life as an outcast into one of reckless adventure, where she is a cool, wary balance to Safi's hotheaded impulsiveness.
Safi and Iseult just want to be free to live their own lives, but war is coming to the Witchlands. With the help of the cunning Prince Merik (a Windwitch and ship's captain) and the hindrance of a Bloodwitch bent on revenge, the friends must fight emperors, princes, and mercenaries alike, who will stop at nothing to get their hands on a Truthwitch.
Goodreads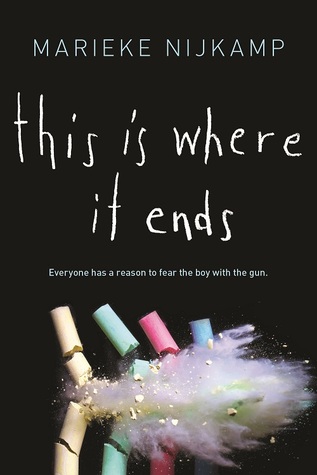 This Is Where It Ends
Series: None
Author: Marieke Nijkamp
Published January 5th 2016 by Sourcebooks Fire
10:00 a.m.
The principal of Opportunity, Alabama's high school finishes her speech, welcoming the entire student body to a new semester and encouraging them to excel and achieve.
10:02 a.m.
The students get up to leave the auditorium for their next class.
10:03
The auditorium doors won't open.
10:05
Someone starts shooting.
Told over the span of 54 harrowing minutes from four different perspectives, terror reigns as one student's calculated revenge turns into the ultimate game of survival.
Firsts
Series: None
Author: Laurie Elizabeth Flynn
Published January 5th 2016 by St. Martin's Griffin
Seventeen-year-old Mercedes Ayres has an open-door policy when it comes to her bedroom, but only if the guy fulfills a specific criteria: he has to be a virgin. Mercedes lets the boys get their awkward, fumbling first times over with, and all she asks in return is that they give their girlfriends the perfect first time- the kind Mercedes never had herself.
Keeping what goes on in her bedroom a secret has been easy- so far. Her absentee mother isn't home nearly enough to know about Mercedes' extracurricular activities, and her uber-religious best friend, Angela, won't even say the word "sex" until she gets married. But Mercedes doesn't bank on Angela's boyfriend finding out about her services and wanting a turn- or on Zach, who likes her for who she is instead of what she can do in bed.
When Mercedes' perfect system falls apart, she has to find a way to salvage her reputation and figure out where her heart really belongs in the process. Funny, smart, and true-to-life, FIRSTS is a one-of-a-kind young adult novel about growing up.
Goodreads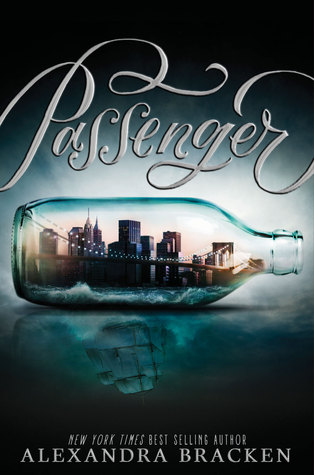 Passenger
Series:
Passenger #1
Author: Alexandra Bracken
Published January 5th 201
6 by Disney-Hyperion
Violin prodigy Etta Spencer had big plans for her future, but a tragedy has put her once-bright career at risk. Closely tied to her musical skill, however, is a mysterious power she doesn't even know she has. When her two talents collide during a stressful performance, Etta is drawn back hundreds of years through time.
Etta wakes, confused and terrified, in 1776, in the midst a fierce sea battle. Nicholas Carter, the handsome young prize master of a privateering ship, has been hired to retrieve Etta and deliver her unharmed to the Ironwoods, a powerful family in the Colonies--the very same one that orchestrated her jump back, and one Nicholas himself has ties to. But discovering she can time travel is nothing compared to the shock of discovering the true reason the Ironwoods have ensnared her in their web.
Another traveler has stolen an object of untold value from them, and, if Etta can find it, they will return her to her own time. Out of options, Etta and Nicholas embark on a perilous journey across centuries and continents, piecing together clues left behind by the mysterious traveler. But as they draw closer to each other and the end of their search, the true nature of the object, and the dangerous game the Ironwoods are playing, comes to light - threatening to separate her not only from Nicholas, but her path home... forever.
The Impostor Queen
Series:
Untitled #1
Author: Sarah Fine
Published
January 5th 2016 by Margaret K. McElderry Books
Sixteen-year-old Elli was a small child when the Elders of Kupari chose her to succeed the Valtia, the queen who wields infinitely powerful ice and fire magic. Since then, Elli has lived in the temple, surrounded by luxury and tutored by magical priests, as she prepares for the day when the Valtia perishes and the magic finds a new home in her. Elli is destined to be the most powerful Valtia to ever rule.
But when the queen dies defending the kingdom from invading warriors, the magic doesn't enter Elli. It's nowhere to be found.
Disgraced, Elli flees to the outlands, the home of banished criminals—some who would love to see the temple burn with all its priests inside. As she finds her footing in this new world, Elli uncovers devastating new information about the Kupari magic, those who wield it, and the prophecy that foretold her destiny. Torn between the love she has for her people and her growing loyalty to the banished, Elli struggles to understand the true role she was meant to play. But as war looms, she must align with the right side—before the kingdom and its magic are completely destroyed.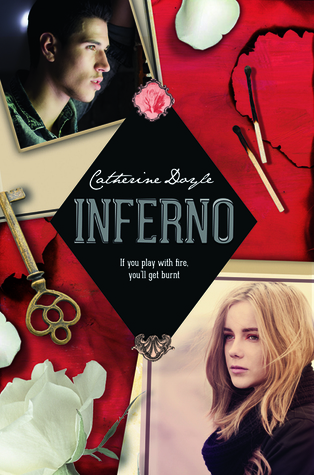 Inferno
Series: Blood for Blood #2
Author: Catherine Doyle
Published January 7th 2016 by Chicken House
Romeo and Juliet meets The Godfather in the second installment of Catherine Doyle's Blood for Blood series.
Sophie's life has been turned upside-down, and she's determined to set things right. But Nic, the Falcone brother who represents everything she's trying to forget, won't give up on their love - and it's Luca's knife she clutches for comfort. Soon another mafia clan spoils the fragile peace - and with her heart drawn in one direction and her blood in another, Sophie's in deeper than ever.
Goodreads
Bookishly Ever After
Series: Ever After #1
Author: Isabel Bandeira
Published January 12th 2016 by Spencer Hill Contemporary
In a perfect world, sixteen-year-old Phoebe Martins' life would be a book. Preferably a YA novel with magic and a hot paranormal love interest. Unfortunately, her life probably wouldn't even qualify for a quiet contemporary. But when Phoebe finds out that Dev, the hottest guy in the clarinet section, might actually have a crush on her, she turns to her favorite books for advice. Phoebe overhauls her personality to become as awesome as her favorite heroines and win Dev's heart. But if her plan fails, can she go back to her happy world of fictional boys after falling for the real thing?
Goodreads
Zero Day
Series: None
Author: Jan Gangsei
Published January 12th 2016 by Disney-Hyperion
Eight years ago, Addie Webster was the victim of the most notorious kidnapping case of the decade. Addie vanished—and her high-profile parents were forced to move on.
Mark Webster is now president of the United States, fighting to keep the oval office after a tumultuous first term. Then, the unthinkable happens: the president's daughter resurfaces. Addie is brought back into her family's fold, but who is this sixteen-year-old girl with a quiet, burning intelligence now living in the White House? There are those in the president's political circle who find her timely return suspicious.
When the NSA approaches Darrow Fergusson, Addie's childhood best friend and the son of the president's chief of staff, he doesn't know what to think. How could this slip of a girl be a threat to national security? But at the risk of having his own secrets exposed by the powerful government agency, Darrow agrees to spy on Addie.
It soon becomes apparent that Addie is much more than the traumatized victim of a sick political fringe group. Addie has come with a mission. Will she choose to complete it? And what will happen if she does?
See How They Run
Series: Embassy Row #2
Author: Ally Carter
Published January 14th 2016 by Orchard Books
The second thrilling book in the EMBASSY ROW series.
Grace thought finding her mother's killer would bring her peace. But the truth has only made her a target. on Embassy Row, trust is a luxury. Death is a very real threat. And a girl like Grace should be very careful about which secrets she brings to light...
The Dark Days Club
Series: Lady Helen #1
Author: Alison Goodman
Published January 21st 2016 by Walker Books
London, April 1812. Eighteen-year-old Lady Helen Wrexhall is on the eve of her debut presentation to the Queen. Her life should be about gowns and dancing, and securing a suitable marriage. Instead, when one of her family's housemaids goes missing, Lady Helen is drawn to the shadows of Regency London.
There, she finds William, the Earl of Carlston. He has noticed the disappearance, too, and is one of the few who can stop the perpetrators: a cabal of powerful demons that has infiltrated every level of society. But Lady Helen's curiosity is the last thing Carlston wants—especially when he sees the searching intelligence behind her fluttering fan. Should Helen trust a man whose reputation is almost as black as his lingering eyes? And will her headstrong sense of justice lead them both into a death trap?
In The Dark Days Club, internationally best-selling author Alison Goodman introduces readers to a heroine who is just as remarkable as Eona—and yet again reinvents an establlished literary genre, making it her own.
Goodreads
The Siren
Series: None
Author: Kiera Cass
Published January 26th 2016 by HarperTeen
From Kiera Cass, #1 New York Times bestselling author of the Selection series, comes a sweeping stand-alone fantasy romance.
A girl with a secret.
The boy of her dreams.
An Ocean between them.
Years ago, Kahlen was rescued from drowning by the Ocean. To repay her debt, she has served as a Siren ever since, using her voice to lure countless strangers to their deaths. Though a single word from Kahlen can kill, she can't resist spending her days on land, watching ordinary people and longing for the day when she will be able to speak and laugh and live freely among them again.
Kahlen is resigned to finishing her sentence in solitude...until she meets Akinli. Handsome, caring, and kind, Akinli is everything Kahlen ever dreamed of.
Falling in love with a human breaks the Ocean's rules. But for the first time in a lifetime of following the rules, Kahlen is determined to follow her heart.
Goodreads
Series: None
Author: Melissa Gorzelanczyk
Published January 26th 2016 by Delacorte Press
A modern cupid story set in present-day Wisconsin combining the fantastical elements of Greek mythology with the contemporary drama of MTV's Teen Mom.
People don't understand love. If they did, they'd get why dance prodigy Karma Clark just can't say goodbye to her boyfriend, Danny. No matter what he says or does or how he hurts her, she can't stay angry with him . . . and can't stop loving him. But there's a reason why Karma is helpless to break things off: she's been shot with a love arrow.
Aaryn, son of Cupid, was supposed to shoot both Karma and Danny but found out too late that the other arrow in his pack was useless. And with that, Karma's life changed forever. One pregnancy confirmed. One ballet scholarship lost. And dream after dream tossed to the wind.
A clueless Karma doesn't know that her toxic relationship is Aaryn's fault . . . but he's going to get a chance to make things right. He's here to convince Danny to man up and be there for Karma. But what if this god from Mount Olympus finds himself falling in love with a beautiful dancer from Wisconsin who can never love him in return?
This fast-paced debut novel explores the internal & external conflicts of a girl who finds herself inexplicably drawn to a boy who seemingly doesn't reciprocate her feelings, touching on the issues of love, sex and responsibility, with a heroine struggling to control her destiny--perfect for fans of Katie McGarry's novels and MTV's 16 and Pregnant
.
Goodreads
The Love That Split the World
Series: None
Author: Emily Henry
Published January 26th 2016 by Razorbill
Natalie Cleary must risk her future and leap blindly into a vast unknown for the chance to build a new world with the boy she loves.
Natalie's last summer in her small Kentucky hometown is off to a magical start…until she starts seeing the "wrong things." They're just momentary glimpses at first—her front door is red instead of its usual green, there's a pre-school where the garden store should be. But then her whole town disappears for hours, fading away into rolling hills and grazing buffalo, and Nat knows something isn't right.
That's when she gets a visit from the kind but mysterious apparition she calls "Grandmother," who tells her: "You have three months to save him." The next night, under the stadium lights of the high school football field, she meets a beautiful boy named Beau, and it's as if time just stops and nothing exists. Nothing, except Natalie and Beau.
Emily Henry's stunning debut novel is Friday Night Lights meets The Time Traveler's Wife, and perfectly captures those bittersweet months after high school, when we dream not only of the future, but of all the roads and paths we've left untaken.
Goodreads
All the Rage
Series: None
Author: Courtney Summers
Published January 28th 2016 by Macmillan Children's Books
Kellan Turner is not the golden boy everyone thinks he is and Romy Grey knows that for a fact. But when she speaks up, she is branded a liar. Telling the truth has cost her everything, because no one wants to believe a girl from the wrong side of town.
But when news of Kellan assaulting another girl gets out, the cost of staying silent might be more than Romy can bear.
All The Rage examines the shame and silence inflicted upon young women in a culture that refuses to protect them.
Goodreads
What has caught your eye for January? Have you read any of these? Let me know :)