December books on my radar
10:00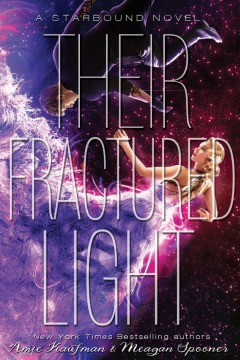 Their Fractured Light
Series: Starbound #3
Author: Amie Kaufman & Meagan Spooner
December 1st 2015 by Disney-Hyperion
A year ago, Flynn Cormac and Jubilee Chase made the now infamous Avon Broadcast, calling on the galaxy to witness for their planet, and protect them from destruction. Some say Flynn's a madman, others whisper about conspiracies. Nobody knows the truth. A year before that, Tarver Merendsen and Lilac LaRoux were rescued from a terrible shipwreck—now, they live a public life in front of the cameras, and a secret life away from the world's gaze.
Now, in the center of the universe on the planet of Corinth, all four are about to collide with two new players, who will bring the fight against LaRoux Industries to a head. Gideon Marchant is an eighteen-year-old computer hacker—a whiz kid and an urban warrior. He'll climb, abseil and worm his way past the best security measures to pull off onsite hacks that others don't dare touch.
Sofia Quinn has a killer smile, and by the time you're done noticing it, she's got you offering up your wallet, your car, and anything else she desires. She holds LaRoux Industries responsible for the mysterious death of her father and is out for revenge at any cost.
When a LaRoux Industries security breach interrupts Gideon and Sofia's separate attempts to infiltrate their headquarters, they're forced to work together to escape. Each of them has their own reason for wanting to take down LaRoux Industries, and neither trusts the other. But working together might be the best chance they have to expose the secrets LRI is so desperate to hide.
Goodreads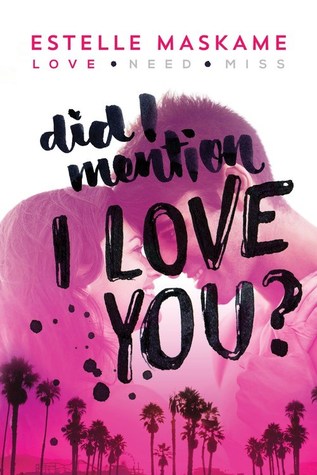 Did I Mention I Love You?
Series: The DIMILY Trilogy #1
Author: Estelle Maskame
December 1st 2015 by Sourcebooks Fire
When sixteen-year-old Eden Munro agrees to spend the summer with her estranged father in the beachfront city of Santa Monica, California, she has no idea what she's letting herself in for. Eden's parents are divorced and have gone their separate ways, and now her father has a brand new family. For Eden, this means she's about to meet three new step-brothers. The eldest of the three is Tyler Bruce, a troubled teenager with a short temper and a huge ego. Complete polar opposites, Eden quickly finds herself thrust into a world full of new experiences as Tyler's group of friends take her under their wing. But the one thing she just can't understand is Tyler, and the more she presses to figure out the truth about him, the more she finds herself falling for the one person she shouldn't – her step-brother.
Throw in Tyler's clingy girlfriend and a guy who has his eyes set on Eden, and there's secrets, lies and a whole lot of drama. But how can Eden keep her feelings under control? And can she ever work out the truth about Tyler?
Did I Mention I Love You is the first book in the phenomenal DIMILY trilogy, following the lives of Eden Munro and Tyler Bruce as they try to find their way in an increasingly confusing world.
The Trouble with Destiny
Series: None
Author: Lauren Morrill
December 8th 2015 by Delacorte
It's not about the destination, it's about the journey...
With her trusty baton and six insanely organized clipboards, drum major Liza Sanders is about to take Destiny by storm—the boat, that is. When Liza discovered that her beloved band was losing funding, she found Destiny, a luxury cruise ship complete with pools, midnight chocolate buffets, and a $25,000 spring break talent show prize.
Liza can't imagine senior year without the band, and nothing will distract her from achieving victory. She's therefore not interested when her old camp crush, Lenny, shows up on board, looking shockingly hipster-hot. And she's especially not interested in Russ, the probably-as-dumb-as-he-is-cute prankster jock whose ex, Demi, happens be Liza's ex–best friend and leader of the Athenas, a show choir that's the band's greatest competition.
But it's not going to be smooth sailing. After the Destiny breaks down, all of Liza's best-laid plans start to go awry. Liza likes to think of herself as an expert at almost everything, but when it comes to love, she's about to find herself lost at sea.
Inherit the Stars
Series: Inherit the Stars #1
Author: Tessa Elwood
December 8th 2015 by Running Press Kids
Three royal houses ruling three interplanetary systems are on the brink of collapse, and they must either ally together or tear each other apart in order for their people to survive.
Asa is the youngest daughter of the house of Fane, which has been fighting a devastating food and energy crisis for far too long. She thinks she can save her family's livelihood by posing as her oldest sister in an arranged marriage with Eagle, the heir to the throne of the house of Westlet. The appearance of her mother, a traitor who defected to the house of Galton, adds fuel to the fire, while Asa also tries to save her sister Wren's life . . . possibly from the hands of their own father.
But as Asa and Eagle forge a genuine bond, will secrets from the past and the urgent needs of their people in the present keep them divided?
Untamed
Series: Splintered #3.5
Author: A.G. Howard
December 15th 2015 by Amulet Books
A post-Ensnared collection of three stories—available in both print and e-versions.
Alyssa Gardner went down the rabbit hole and took control of her destiny. She survived the battle for Wonderland and the battle for her heart. In this collection of three novellas, join Alyssa and her family as they look back at their memories of Wonderland.
In Six Impossible Things, Alyssa recalls the most precious moments of her life after Ensnared, and the role magic plays in preserving the happiness of those she loves. Alyssa's mother reminisces about her own time in Wonderland and rescuing the man who would become her husband in The Boy in the Web. And Morpheus delves into Jeb's memories of the events of Splintered in The Moth in the Mirror, available in print for the first time.
This collection expands upon Ensnared's epilogue, and includes some deleted scenes to provide a "director's cut" glimpse into the past and futures of our favorite Splintered characters.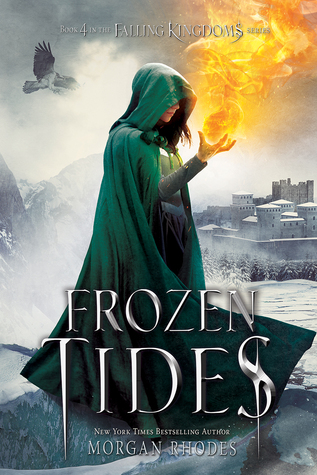 Frozen Tides
Series: Falling Kingdoms #4
Author: Morgan Rhodes
December 15th 2015 by Razorbill
Rebels, royals, and monsters wage war over the Mytican throne in the shocking fourth book of the Falling Kingdoms series, from New York Times bestselling author Morgan Rhodes.
CLEO: Reeling after a bloody showdown in Limeros ending with Amara's abduction of the water crystal, and a vacancy in the Mytican throne, Princess Cleo must cast aside her feelings and look toward her kingdom with the eyes of a Queen.
MAGNUS: With the kingdom in chaos, Princess Lucia still missing and quite possibly in danger, and a shocking realization about Cleo, the steely prince is once again torn between love and duty, leaving him wondering whether he's strong enough to rule his people.
LUCIA: The young sorcercess has had her vengeance after the cruel death of her first and only love. Heartbroken and unable to trust anyone, she allies with the awoken Fire god, who also seeks revenge.
JONAS: After escaping death by the skin of his teeth, the defeated rebel—along with a mysterious stranger–leader reunites with Princess Cleo, only to find himself a mere pawn in a dangerous hunt for the elusive Kindred.
KING GAIUS: Abandoned by Melenia and betrayed by his own children, Gaius flees Mytica and sails to Kraeshia, where he attempts to ally with the famously brutal emperor across the Silver Sea.
What has caught your eye for December? Have you read any of these? Let me know :)