November books on my radar
10:00
Manners and Mutiny
Series: Finishing School #4
Author: Gail Carriger
November 3rd 2015 by Atom
When a dastardly Pickleman plot comes to fruition, only Sophronia can save her friends, her school, and all of London...but at what cost? Our proper young heroine puts her training and skills to the test in this highly anticipated conclusion of the rousing, intriguing, and always polished New York Times bestselling Finishing School series!
Goodreads
All In
Series: The Naturals #3
Author: Jennifer Lynn Barnes
November 3rd 2015 by Disney-Hyperion
Three casinos. Three bodies. Three days.
After a string of brutal murders in Las Vegas, Cassie Hobbes and the Naturals are called in to investigate. But even with the team's unique profiling talents, these murders seem baffling: unlike many serial killers, this one uses different methods every time. All of the victims were killed in public, yet the killer does not show up on any tape. And each victim has a string of numbers tattooed on their wrist. Hidden in the numbers is a code—and the closer the Naturals come to unraveling the mystery, the more perilous the case becomes.
Meanwhile, Cassie is dealing with an equally dangerous and much more painful mystery. For the first time in years, there's been a break in her mother's case. As personal issues and tensions between the team mount, Cassie and the Naturals will be faced with impossible odds—and impossible choices.
Ten Thousand Skies Above You
Series: Firebird #2
Author: Claudia Gray
November 3rd 2015 by HarperTeen
Ever since she used the Firebird, her parents' invention, to cross into alternate dimensions, Marguerite has caught the attention of enemies who will do anything to force her into helping them dominate the multiverse—even hurting the people she loves. She resists until her boyfriend, Paul, is attacked and his consciousness scattered across multiple dimensions.
Marguerite has no choice but to search for each splinter of Paul's soul. The hunt sends her racing through a war-torn San Francisco, the criminal underworld of New York City, and a glittering Paris where another Marguerite hides a shocking secret. Each world brings Marguerite one step closer to rescuing Paul. But with each trial she faces, she begins to question the destiny she thought they shared.
The second book in the Firebird trilogy, Ten Thousand Skies Above You features Claudia Gray's lush, romantic language and smart, exciting action, and will have readers clamouring for the next book.
Truly, Madly, Famously
Series: Famous in Love #2
Author: Rebecca Serle
November 5th 2015 by Macmillan Children's Books
Lights, camera, love!
After being plucked from obscurity, Hollywood's newest It girl, Paige Townsen, has a blockbuster film to her name and Rainer Devon on her arm. But being half of the world's most famous couple comes with a price. No matter where Paige goes, someone is always watching. Soon she finds herself dodging photographers, hiding her feelings for her other co-star, Jordan Wilder, and weathering tabloid scandals that threaten to tear her and Rainer apart - and end her career as quickly as it began.
As she navigates her new LA life, Paige finds that she doesn't know who to trust: old friends could be betraying her secrets, and new friends are keeping secrets of their own.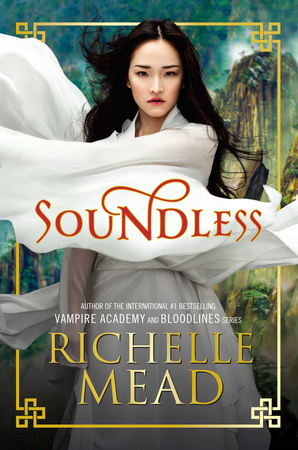 Soundless
Series: None
Author: Richelle Mead
November 12th 2015 by Puffin
For as long as Fei can remember, there has been no sound in her village. Her people are at the mercy of a mysterious faraway kingdom, which delivers food in return for precious metals mined from the treacherous cliffs surrounding them.
When villagers begin to lose their sight, their rations shrink and many go hungry. Fei's home, the boy she loves, and her entire existence is plunged into crisis, under threat of darkness and starvation.
Then Fei is awoken in the night by a searing noise, and sound becomes her weapon . . .
Perfect for readers of THE HUNGER GAMES, this epic fantasy from the international bestselling author of VAMPIRE ACADEMY will have you instantly hooked and on the edge of your seat.
Winter
Series: The Lunar Chronicles #4
Author: Marissa Meyer
November 12th 2015 by Puffin
Princess Winter is admired by the Lunar people for her grace and kindness, and despite the scars that mar her face, her beauty is said to be even more breathtaking than that of her stepmother, Queen Levana.
Winter despises her stepmother, and knows Levana won't approve of her feelings for her childhood friend–the handsome palace guard, Jacin. But Winter isn't as weak as Levana believes her to be and she's been undermining her stepmother's wishes for years. Together with the cyborg mechanic, Cinder, and her allies, Winter might even have the power to launch a revolution and win a war that's been raging for far too long.
Can Cinder, Scarlet, Cress, and Winter defeat Levana and find their happily ever afters?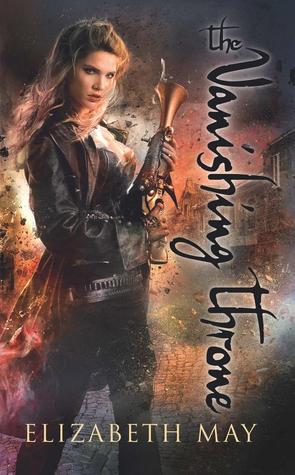 The Vanishing Throne
Series: The Falconer #2
Author: Elizabeth May
November 19th 2015 by Gollancz
My name is Lady Aileana Kameron.
First the fae murdered my mother. Then they destroyed my world.
Now I'm fighting for more than revenge.
Aileana took a stand against the Wild Hunt, and she lost everything: her home, her family and her friends. Held captive by her enemy, and tormenting herself over her failure, escape seems like only the faintest possibility. But when she gets her chance, she seizes it . . . to rejoin a world devastated by war.
The future is bleak. Hunted by the fae, running for her life, Aileana has only a few options left. Trying to become part of a society scarred by – and hiding from – the Wild Hunt; trusting that a fragile alliance with the fae will save her; or walking the most dangerous path at all: coming in to her own powers as the last of the Falconers...
Queen of Always
Series: Stolen Empire #3
Author: Sherry D. Ficklin
November 23rd 2015 by Clean Teen Publishing
LONG LIVE THE QUEEN
If her time at court has taught Catherine anything, it's that there is no room for weakness in Imperial Russia. With the Empress' health failing and rumors of a change in the line of succession, her place in the royal line is once more in jeopardy. Tormented by her sadistic husband and his venomous mistress, Catherine must once more walk the fine line between pleasure and politics—between scandal and survival.
When her young son becomes the target of those rebelling against Peter's reign, Catherine will have to rise up to protect herself, her child, and her nation from his unstable and potentially catastrophic rule. This means putting herself at odds with the most dangerous man she's ever known, trusting those who once proved to be her enemies, and turning a nation against its sovereign. In the ultimate battle for the crown, new alliances will be forged, loyalties will be tested, and blood will be shed..
Goodreads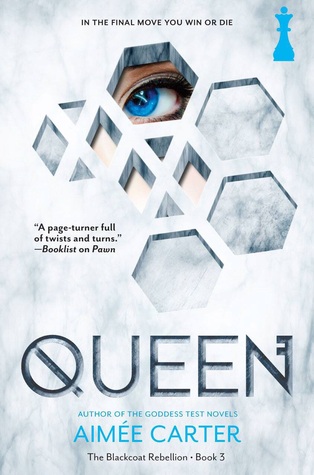 Queen
Series: The Blackcoat Rebellion #3
Author: Aimee Carter
November 24th 2015 by Harlequin TEEN
PAWN...CAPTIVE...QUEEN?
Kitty Doe is a Blackcoat rebel and a former captive with a deadly connection to the most powerful and dangerous man in the country, Prime Minister Daxton Hart. Forced to masquerade as Daxton's niece, Lila Hart, Kitty has helped the Blackcoats take back the prison known as Elsewhere. But Daxton has no intention of ceding his position of privilege—or letting Kitty expose his own masquerade. Not in these United States, where each person's rank means the difference between luxury and poverty, freedom and fear...and ultimately, between life and death.
To defeat the corrupt government, Kitty must expose Daxton's secret. Securing evidence will put others in jeopardy, including the boy she's loved forever and an ally she barely trusts. For months, Kitty's survival has hinged on playing a part. Now she must discover who she truly wants to be, and whether the new world she and the rebels are striving to create has a place in it for her after all.
What has caught your eye for November? Have you read any of these? Let me know :)