September books on my radar
10:00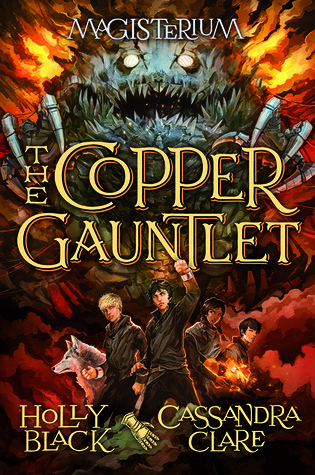 The Copper Gauntlet
Series: Magisterium #2
Author: Holly Black & Cassandra Clare
September 1st 2015 by Scholastic Press
Callum Hunt's summer break isn't like other kids'. His closest companion is a Chaos-ridden wolf, Havoc. His father suspects him of being secretly evil. And, of course, most kids aren't heading back to the magical world of the Magisterium in the fall.
It's not easy for Call . . . and it gets even harder after he checks out his basement and discovers that his dad might be trying to destroy both him and Havoc.
Call escapes to the Magisterium -- but things only intensify there. The Alkahest -- a copper gauntlet capable of separating certain magicians from their magic -- has been stolen. And in their search to discover the culprit, Call and his friends Aaron and Tamara awaken the attention of some very dangerous foes -- and get closer to an even more dangerous truth.
As the mysteries of the Magisterium deepen and widen, bestselling authors Holly Black and Cassandra Clare take readers on an extraordinary journey through one boy's conflict -- and a whole world's fate.
Goodreads
Anne & Henry
Series: None
Author: Dawn Ius
September 1st 2015 by Simon Pulse
Anne
Wild, brazen, mischievous, bewitching
Henry
Driven, haunted, charming, magnetic
Apart, they are bound to destroy themselves. Together, they are bound to destroy each other.
Henry Tudor's life has been mapped out since the day he was born: student president, valedictorian, Harvard Law School, and a stunning political career just like his father's. But ever since the death of Henry's brother—perfect, high-achieving Arthur—his family has been twice as demanding. And now Henry's trapped: forbidden from pursuing a life as an artist or dating any girl who's not Tudor approved.
Then Anne Boleyn crashes into his life.
Anne is wild, brash and outspoken. She is everything Henry is not allowed to be—or to want. But soon Anne is all he can think about. His mother, his friends, and even his girlfriend warn him away, yet his desire for Anne consumes him. Henry is willing to do anything to be with her. But once he has her, their romance could destroy them both.
Inspired by the true story of Anne Boleyn and King Henry VIII, Anne & Henry reimagines the intensity, love, and betrayal between one of the most infamous couples of all time.
Goodreads
A Whole New World
Series: Twisted Tales #1
Author: Liz Braswell
September 1st 2015 by Disney Press
Welcome to a new YA series that reimagines classic Disney stories in surprising new ways. Each book asks the question: What if one key moment from a familiar Disney film was changed? This dark and daring version of Aladdin twists the original story with the question: What if Jafar was the first one to summon the Genie?
When Jafar steals the Genie's lamp, he uses his first two wishes to become sultan and the most powerful sorcerer in the world. Agrabah lives in fear, waiting for his third and final wish.To stop the power-mad ruler, Aladdin and the deposed Princess Jasmine must unite the people of Agrabah in rebellion. But soon their fight for freedom threatens to tear the kingdom apart in a costly civil war.
What happens next? A Street Rat becomes a leader. A princess becomes a revolutionary. And readers will never look at the story of Aladdin in the same way again.
Goodreads
Everything, Everything
Series: None
Author: Nicola Yoon
September 3rd 2015 by Corgi Childrens
Madeline Whittier is allergic to the outside world. So allergic, in fact, that she has never left the house in all of her seventeen years. But when Olly moves in next door, and wants to talk to Maddie, tiny holes start to appear in the protective bubble her mother has built around her. Olly writes his IM address on a piece of paper, shows it at her window, and suddenly, a door opens. But does Maddie dare to step outside her comfort zone?
Everything, Everything is about the thrill and heartbreak that happens when we break out of our shell to do crazy, sometimes death-defying things for love.
Goodreads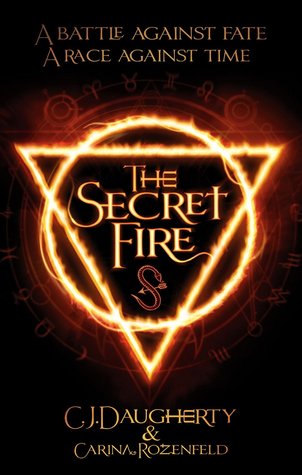 The Secret Fire
Series: The Alchemist Chronicles #1
Author: C.J. Daugherty & Carina Rozenfeld
September 10th 2015 by Atom
French teen Sacha Winters can't die. He can throw himself off a roof, be stabbed, even shot, and he will always survive. Until the day when history and ancient enmities dictate that he must die. Worse still, his death will trigger something awful. Something deadly. And that day is closing in.
Taylor Montclair is a normal English girl, hanging out with her friends and studying for exams, until she starts shorting out the lights with her brain. She's also the only person on earth who can save Sacha.
There's only one problem: the two of them have never met. They live hundreds of miles apart and powerful forces will stop at nothing to keep them apart.
They have eight weeks to find each other.
Will they survive long enough to save the world?
Goodreads
Fans of the Impossible Life
Series: None
Author: Kate Scelsa
September 10th 2015 by Macmillan Children's Books
This is the story of a girl, her gay best friend, and the boy in love with both of them.
Ten months after her recurring depression landed her in the hospital, Mira is starting over as a new student at Saint Francis Prep. She promised her parents she would at least try to act like a normal, functioning human this time around, not a girl who sometimes can't get out of bed for days on end, who only feels awake when she's with Sebby.
Jeremy is the painfully shy art nerd at Saint Francis who's been in self-imposed isolation after an incident that ruined his last year of school. When he sees Sebby for the first time across the school lawn it's as if he's been expecting this blond, lanky boy with a mischievous glint in his eye.
Sebby, Mira's gay best friend, is a boy who seems to carry sunlight around with him like a backlit halo. Even as life in his foster home starts to take its toll, Sebby and Mira together craft a world of magic rituals and secret road trips, designed to fix the broken parts of their lives.
As Jeremy finds himself drawn into Sebby and Mira's world, he begins to understand the secrets that they hide in order to protect themselves, to keep each other safe from those who don't understand their quest to live for the impossible.
Goodreads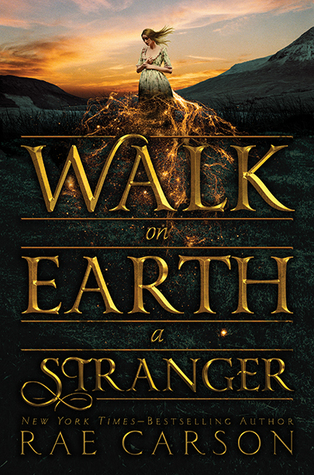 Walk on Earth a Stranger
Series: The Gold Seer Trilogy #1
Author: Rae Carson
September 22nd 2015 by Greenwillow Books
A young woman with the magical ability to sense the presence of gold must flee her home, taking her on a sweeping and dangerous journey across Gold Rush–era America.
Lee Westfall has a secret. She can sense the presence of gold in the world around her. Veins deep beneath the earth, pebbles in the river, nuggets dug up from the forest floor. The buzz of gold means warmth and life and home—until everything is ripped away by a man who wants to control her. Left with nothing, Lee disguises herself as a boy and takes to the trail across the country. Gold was discovered in California, and where else could such a magical girl find herself, find safety? Rae Carson, author of the acclaimed Girl of Fire and Thorns trilogy, dazzles with this new fantasy that subverts both our own history and familiar fantasy tropes.
Goodreads
Never Never
Series: None
Author: Brianna Shrum
Published September 22nd 2015 by Spencer Hill Press
James Hook is a child who only wants to grow up.
When he meets Peter Pan, a boy who loves to pretend and is intent on never becoming a man, James decides he could try being a child—at least briefly. James joins Peter Pan on a holiday to Neverland, a place of adventure created by children's dreams, but Neverland is not for the faint of heart. Soon James finds himself longing for home, determined that he is destined to be a man. But Peter refuses to take him back, leaving James trapped in a world just beyond the one he loves. A world where children are to never grow up.
But grow up he does.
And thus begins the epic adventure of a Lost Boy and a Pirate.
This story isn't about Peter Pan; it's about the boy whose life he stole. It's about a man in a world that hates men. It's about the feared Captain James Hook and his passionate quest to kill the Pan, an impossible feat in a magical land where everyone loves Peter Pan.
Except one.
Goodreads
Menagerie
Series: Menagerie #1
Author: Rachel Vincent
September 29th 2015 by MIRA
When Delilah Marlow visits a famous traveling carnival, Metzger's Menagerie, she is an ordinary woman in a not-quite-ordinary world. But under the macabre circus black-top, she discovers a fierce, sharp-clawed creature lurking just beneath her human veneer. Captured and put on exhibition, Delilah in her black swan burlesque costume is stripped of her worldly possessions, including her own name, as she's forced to "perform" in town after town.
But there is breathtaking beauty behind the seamy and grotesque reality of the carnival. Gallagher, her handler, is as kind as he is cryptic and strong. The other "attractions"—mermaids, minotaurs, gryphons and kelpies—are strange, yes, but they share a bond forged by the brutal realities of captivity. And as Delilah struggles for her freedom, and for her fellow menagerie, she'll discover a strength and a purpose she never knew existed.
Goodreads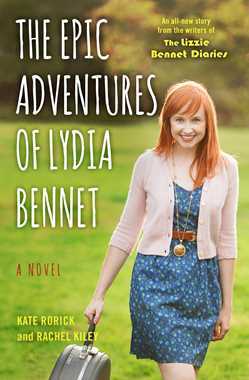 The Epic Adventures of Lydia Bennet
Series: The Lizzie Bennet Diaries Companion
Author: Kate Rorick & Rachel Kiley
September 29th 2015 by Touchstone
Based on the Emmy Award­-winning "genius" (The Guardian) web series, The Lizzie Bennet Diaries, this is a new novel starring Lizzie's spunky sister Lydia as she navigates the joys and pitfalls of becoming an adult in the digital age.
Before her older sister, Lizzie, started her wildly popular vlog, Lydia was just a normal twenty-year-old plotting the many ways she could get away with skipping her community college classes and finding the perfect fake ID. She may not have had much direction, but she loved her family and had plenty of fun. Then Lizzie's vlog turned the Bennet sisters into Internet sensations, and Lydia basked in the attention as people watched, debated, tweeted, tumblr'd, and blogged about her life. But not all attention is good…
After her ex-boyfriend, George Wickham took advantage of Lydia's newfound web-fame, betrayed her trust, and destroyed her online reputation, she's no longer a naïve, carefree girl. Now, Lydia must work to win back her family's trust and respect and find her place in a far more judgmental world.
Told in Lydia's distinctive, eccentric, and endearing voice, The Epic Adventures of Lydia Bennet picks up right where The Secret Diary of Lizzie Bennet left off and "offers a fresh take on Pride and Prejudice without ruining it" (The Washington Post, on The Secret Diary of Lizzie Bennet). Featuring fresh twists, wonderful new characters, and scores of hilarious texts, doodles, and tweets, The Epic Adventures of Lydia Bennet takes you behind the webcam and into the lives of your favorite sisters in a way that's sure to satisfy existing fans and delight new ones.
Goodreads
Six of Crows
Series: The Dregs #1
Author: Leigh Bardugo
September 29th 2015 by Indigo
Game of Thrones meets Ocean's Eleven in this brand-book in the world of the Grisha by New York Times-bestselling author Leigh Bardugo.
Ketterdam: a bustling hub of international trade where anything can be had for the right price—and no one knows that better than criminal prodigy Kaz Brekker. Kaz is offered a chance at a deadly heist that could make him rich beyond his wildest dreams. But he can't pull it off alone...
A convict with a thirst for revenge.
A sharpshooter who can't walk away from a wager.
A runaway with a privileged past.
A spy known as the Wraith.
A Heartrender using her magic to survive the slums.
A thief with a gift for unlikely escapes.
Six dangerous outcasts. One impossible heist. Kaz's crew is the only thing that might stand between the world and destruction—if they don't kill each other first.
Goodreads
What has caught your eye for September? Have you read any of these? Let me know :)