August books on my radar
10:00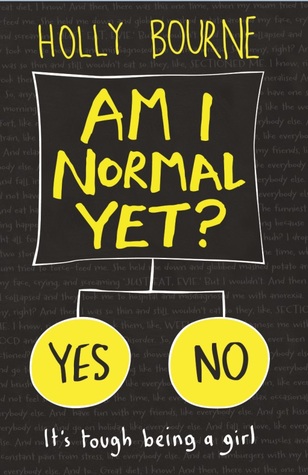 Am I Normal Yet?
Series: None
Author: Holly Bourne
August 1st 2015 by Usborne
All Evie wants is to be normal. She's almost off her meds and at a new college where no one knows her as the girl-who-went-crazy. She's even going to parties and making friends. There's only one thing left to tick off her list…
But relationships are messy – especially relationships with teenage guys. They can make any girl feel like they're going mad. And if Evie can't even tell her new friends Amber and Lottie the truth about herself, how will she cope when she falls in love?
Goodreads
It's About Love
Series: None
Author: Steven Camden
August 4th 2015 by HarperCollins Children's Books
Real life is messier than the movies. A bold, thought-provoking novel from the exceptionally talented, Steven Camden.
He's Luke. She's Leia.
Just like in Star Wars. Just like they're made for each other. Same film studies course, different backgrounds, different ends of town.
Only this isn't a film. This is real life. This is where monsters from the past come back to take revenge. This is where you are sometimes the monster.
But real life? Sometimes, only sometimes, it turns out just like in the movies…
… maybe.
Goodreads
Of Dreams and Rust
Series: Of Metal and Wishes #2
Author:
Sarah Fine
August 4th 2015 by Margaret K. McElderry Books
War erupts in this bittersweet sequel to Of Metal and Wishes, inspired by The Phantom of the Opera and called "relentlessly engrossing" by The Romantic Times.
In the year since the collapse of the slaughterhouse where Wen worked as her father's medical assistant, she's held all her secrets close. She works in the clinic at the weapons factory and sneaks away to nurse Bo, once the Ghost, now a boy determined to transform himself into a living machine. Their strange, fragile friendship soothes some of the ache of missing Melik, the strong-willed Noor who walked away from Wen all those months ago—but it can't quell her fears for him.
The Noor are waging a rebellion in the west. When she overhears plans to crush Melik's people with the powerful war machines created at the factory, Wen makes the painful decision to leave behind all she has known—including Bo—to warn them. But the farther she journeys into the warzone, the more confusing things become. A year of brutality seems to have changed Melik, and Wen has a decision to make about him and his people: How much is she willing to sacrifice to save them from complete annihilation?
Goodreads
The Heartbreakers
Series: The Heartbreaker Chronicles #1
Author: Ali Novak
August 4th 2015 by Sourcebooks
"When I met Oliver Perry, I had no clue he was the lead singer for The Heartbreakers. Unbeknownst to him, I was the only girl in the world who hated his music."
Stella will do anything for her sister—even stand in line for an autographed Heartbreakers CD... for three hours. At least she met a cute boy at the Starbucks beforehand. A blue-eyed boy who looks an awful lot like...
Oliver Perry. Of course Starbucks guy is the lead singer for her least favorite band. Thanks, universe. But there may be more to Oliver than his world-famous charm, because even after she insults his music—to his face—he still gives her his number. Seriously, what is her life?
But how can Stella even think about being with Oliver—dating and laughing and pulling pranks with the band—when her sister could be dying of cancer?
Goodreads
What You Left Behind
Series: None
Author: Jessica Verdi
August 4th 2015 by Sourcebooks Fire
It's all Ryden's fault. If he hadn't gotten Meg pregnant, she would have never stopped her chemo treatments and would still be alive. Instead, he's failing fatherhood one dirty diaper at a time. And it's not like he's had time to grieve while struggling to care for their infant daughter, start his senior year, and earn the soccer scholarship he needs to go to college.
The one person who makes Ryden feel like his old self is Joni. She's fun and energetic—and doesn't know he has a baby. But the more time they spend together, the harder it becomes to keep his two worlds separate. Finding one of Meg's journals only stirs up old emotions, and Ryden's convinced Meg left other notebooks for him to find, some message to help his new life make sense. But how is he going to have a future if he can't let go of the past?
Goodreads
Percy Jackson and the Greek Heroes
Series: Percy Jackson and the Olympians companion book
Author: Rick Riordan
August 6th 2015 by Puffin
IF YOU LIKE POISONINGS, BETRAYALS, MUTILATIONS, MURDERS AND FLESH-EATING FARMYARD ANIMALS, KEEP READING . . .
In this gripping follow-up to Percy Jackson and the Greek Gods, demigod Percy Jackson tells the stories of twelve of the original Greek heroes in all their gory, bloodthirsty glory.
Want to know who cut off Medusa's head? Which hero was raised by a she-bear? Who tamed Pegasus, the winged horse? Percy has all the answers . . .
Goodreads
Darkmere
Series: None
Author: Helen Maslin
August 6th 2015 by Chicken House
A castle. A curse. A dangerous summer. Leo has invited Kate and a few friends to spend the summer at his inheritance, Darkmere Castle: as wild and remote as it is beautiful. Kate thinks it will be the perfect place for her and Leo to get together - but instead, she's drawn into the dark story of a young nineteenth-century bride who haunts the tunnels and towers of the house. And whose curse now hangs over them all.
Goodreads
Sunkissed
Series: The Ladybirds #3
Author: Jenny McLachlan
August 13th 2015 by Bloomsbury Childrens
Following on from Flirty Dancing and Love Bomb, Jenny McLachlan's next book is perfect summer holiday reading for fans of Geek Girl and Louise Rennison.
Kat can't believe her family are sending her to Sweden for the summer. But without her friends, or even a phone signal, can Kat make it on her own?
In a land of saunas, nudity and summer sun, Kat soon realises she has nowhere to hide. It's time to embrace who she really is, underneath what she's been thinking people want her to be. Especially if she's going to win the heart of mega fit Swede Leo! Can Kat find her inner strength and prove she's got what it takes?
Kat soon finds that when you're surrounded by phosphorescence and wonder it's easy to sparkle. Or maybe that's what happens when you fall in love . Or maybe you only shine when you're true to yourself.
Goodreads
The Boy Most Likely To
Series: My Life Next Door Companion
Author: Huntley Fitzpatrick
August 18th 2015 by Dial Books
A surprising, utterly romantic companion to My Life Next Door—great for fans of Sarah Dessen and Jenny Han
Tim Mason was The Boy Most Likely To find the liquor cabinet blindfolded, need a liver transplant, and drive his car into a house
Alice Garrett was The Girl Most Likely To . . . well, not date her little brother's baggage-burdened best friend, for starters.
For Tim, it wouldn't be smart to fall for Alice. For Alice, nothing could be scarier than falling for Tim. But Tim has never been known for making the smart choice, and Alice is starting to wonder if the "smart" choice is always the right one. When these two crash into each other, they crash hard.
Then the unexpected consequences of Tim's wild days come back to shock him. He finds himself in a situation that isn't all it appears to be, that he never could have predicted . . . but maybe should have.
And Alice is caught in the middle.
Told in Tim's and Alice's distinctive, disarming, entirely compelling voices, this novel is for readers of The Spectacular Now, Nick and Norah's Infinite Playlist, and Paper Towns.
Goodreads
Legacy of Kings
Series: Blood of Gods and Royals #1
Author: Eleanor Herman
August 25th 2015 by Harlequin Teen
Imagine a time when the gods turn a blind eye to the agony of men, when the last of the hellions roam the plains and evil stirs beyond the edges of the map. A time when cities burn, and in their ashes, empires rise.
Alexander, Macedonia's sixteen-year-old heir, is on the brink of discovering his fated role in conquering the known world but finds himself drawn to newcomer Katerina, who must navigate the dark secrets of court life while hiding her own mission: kill the Queen. But Kat's first love, Jacob, will go to unthinkable lengths to win her, even if it means competing for her heart with Hephaestion, a murderer sheltered by the prince. And far across the sea, Zofia, a Persian princess and Alexander's unmet fiancée, wants to alter her destiny by seeking the famed and deadly Spirit Eaters.
Weaving fantasy with the salacious and fascinating details of real history, New York Times bestselling author Eleanor Herman reimagines the greatest emperor the world has ever known: Alexander the Great, in the first book of the Blood of Gods and Royals series.
Goodreads
One
Series: None
Author: Sarah Crossan
August 26th 2015 by Bloomsbury Children's Books
Grace and Tippi are twins – conjoined twins.
And their lives are about to change.
No longer able to afford homeschooling, they must venture into the world – a world of stares, sneers and cruelty. Will they find more than that at school? Can they find real friends? And what about love?
But what neither Grace or Tippi realises is that a heart-wrenching decision lies ahead. A decision that could tear them apart. One that will change their lives even more than they ever imagined…
From Carnegie Medal shortlisted author Sarah Crossan, this moving and beautifully crafted novel about identity, sisterhood and love ultimately asks one question: what does it mean to want and have a soulmate?
Goodreads
Firewalker
Series: The Worldwalker Trilogy #2
Author: Josephine Angelini
August 27th 2015 by Macmillan Children's Books
Lily Proctor has made it back to her own universe, and it's finally time for her and Rowan to be happy and relax. True, she almost died in the Pyre that fueled their escape, and they must hide her new magic for the safety of the world, but compared to fighting the monstrous Woven and leading armies in the alternate Salem, life is looking good.
'You think I'm a monster, but my choices, as ruthless as they seem, are justified.'
Unfortunately, Lillian, ruthless ruler of the 13 Cities, is not willing to let Lily go that easily. Lily is the closest version of herself she's ever seen in all her worldwalking, and Lillian's running out of time. If she can't persuade Lily and Rowan to return to her world, she'll have to find a way to make them come back.
Firewalker - the follow-up to Trial By Fire - is another sexy, fast-paced thrill ride from internationally bestselling author of the Starcrossed series, Josephine Angelini!
Goodreads
I've read a few of these, and they were really enjoyable. Hopefully you guys will think the same.
What has caught your eye for August? Have you read any of these? Let me know :)