June books on my radar
10:00
Hidden Huntress
Series: The Malediction Trilogy #2
Author: Danielle L. Jensen
June 2nd 2015 by Angry Robot
Sometimes, one must accomplish the impossible.
Beneath the mountain, the king's reign of tyranny is absolute; the one troll with the capacity to challenge him is imprisoned for treason. Cécile has escaped the darkness of Trollus, but she learns all too quickly that she is not beyond the reach of the king's power. Or his manipulation.
Recovered from her injuries, she now lives with her mother in Trianon and graces the opera stage every night. But by day she searches for the witch who has eluded the trolls for five hundred years. Whether she succeeds or fails, the costs to those she cares about will be high.
To find Anushka, she must delve into magic that is both dark and deadly. But the witch is a clever creature. And Cécile might not just be the hunter. She might also be the hunted…
Goodreads
Endgame
Series: Night School #5
Author: C.J. Daugherty
June 4th 2015 by Little Brown/Atom (UK)
Broken. Scattered. But not defeated.
The spy is gone but the cost has been high - the rebels at Cimmeria Academy have lost their leader and Carter West is missing. Nathaniel can taste victory. But Allie and the other survivors aren't done yet. First they have to get Carter back. Then they plan to make Nathaniel pay.
One way or another - the game must end.
Endgame is the thrilling fifth and final book in the internationally bestselling Night School series.
Goodreads
Nowhere But Here
Series: Thunder Road #1
Author: Katie McGarry
June 4th 2015 by MIRA Ink
Seventeen-year-old Emily likes her life the way it is: doting parents, good friends, good school in a safe neighbourhood. Sure, she's curious about her biological father—the one who chose life in a motorcycle club, the Reign of Terror, over being a parent—but that doesn't mean she wants to be a part of his world. But when a reluctant visit turns to an extended summer vacation among relatives she never knew she had, one thing becomes clear: nothing is what it seems. Not the club, not her secret-keeping father and not Oz, a guy with suck-me-in blue eyes who can help her understand them both.
Oz wants one thing: to join the Reign of Terror. They're the good guys. They protect people. They're…family. And while Emily—the gorgeous and sheltered daughter of the club's most respected member—is in town, he's gonna prove it to her. So when her father asks him to keep her safe from a rival club with a score to settle, Oz knows it's his shot at his dream. What he doesn't count on is that Emily just might turn that dream upside down.
No one wants them to be together. But sometimes the right person is the one you least expect, and the road you fear the most is the one that leads you home.
Goodreads
Remix
Series: None
Author: Non Pratt
June 4th 2015 by Simon & Schuster Books for Young Readers
From the author of Trouble comes a new novel about boys, bands and best mates.
Kaz is still reeling from being dumped by the love of her life... Ruby is bored of hearing about it. Time to change the record.
Three days. Two best mates. One music festival. Zero chance of everything working out.
Goodreads
Catwalk Criminal
Series: Jessica Cole: Model Spy #3
Author: Sarah Sky
June 4th 2015 by Scholastic Press
Models, spies and lipstick gadgets in this fast-paced teen series. Jessica Cole has been recruited to Westwood, MI6's secret division of supermodel spies. Her first official mission seems simple at first, until it turns into the biggest cyber-attack ever known, threatening the security of the whole country. Then it emerges there is a traitor in the midst at MI6 - and suddenly Jessica herself is being accused. With no one believing her innocence, and the country on the verge of chaos, Jessica has no choice but to take matters of national security into her own hands and catch the culprit - fresh from the catwalk.
Goodreads
Finding Audrey
Series: None
Author: Sophie Kinsella
June 4th 2015 by Doubleday Childrens
A laugh-out-loud romance from the bestselling author of the Shopaholic series.
Meet Audrey: an ordinary teenage girl with not so ordinary problems.
Aside from her completely crazy and chaotic family, she suffers from an anxiety disorder which makes talking to her brother's hot new best friend a bit of a challenge.
But Audrey has a plan to help her face her fears and take on the world again. First stop: Starbucks.
Goodreads
Extraordinary Means
Series: None
Author: Robyn Schneider
June 4th 2015 by Simon & Schuster Childrens Books
A bitter-sweet, coming-of-age novel that's perfect for fans of John Green and Stephen Chbosky.
When h
e's sent to Latham House, a boarding school for sick teens, Lane thinks his life may as well be over.
But when he meets Sadie and her friends - a group of eccentric troublemakers - he realises that maybe getting sick is just the beginning. That illness doesn't have to define you, and that falling in love is its own cure.
Extraordinary Means is a darkly funny story about true friendships, ill-fated love and the rare miracle of second chances
.
Goodreads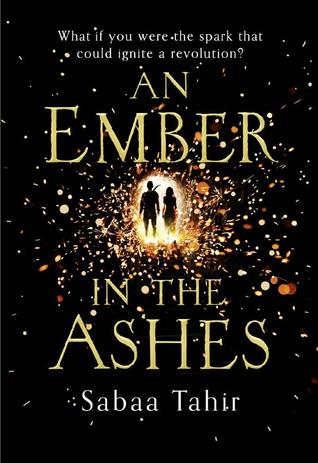 An Ember in the A

shes

Series: None
June 4th 2015 by HarperVoyager

Set in a terrifyingly brutal Rome-like world, An Ember in the Ashes is an epic fantasy debut about an orphan fighting for her family and a soldier fighting for his freedom. It's a story that's literally burning to be told. LAIA is a Scholar living under the iron-fisted rule of the Martial Empire. When her brother is arrested for treason, Laia goes undercover as a slave at the empire's greatest military academy in exchange for assistance from rebel Scholars who claim that they will help to save her brother from execution. ELIAS is the academy's finest soldier-- and secretly, its most unwilling. Elias is considering deserting the military, but before he can, he's ordered to participate in a ruthless contest to choose the next Martial emperor. When Laia and Elias's paths cross at the academy, they find that their destinies are more intertwined than either could have imagined and that their choices will change the future of the empire itself. Vow your blood and body to the empire. Keep your heart for yourself.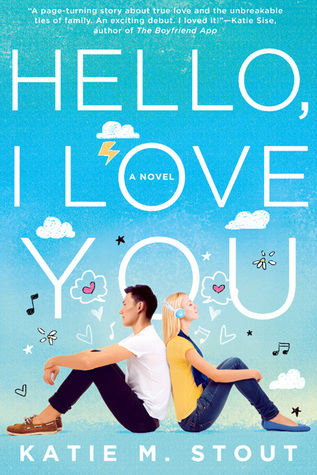 Hello, I Love You
Series: None
Author: Katie M. Stout
June 9th 2015 by St. Martin's Griffin
Grace Wilde is running—from the multi-million dollar mansion her record producer father bought, the famous older brother who's topped the country music charts five years in a row, and the mother who blames her for her brother's breakdown. Grace escapes to the farthest place from home she can think of, a boarding school in Korea, hoping for a fresh start.
She wants nothing to do with music, but when her roommate Sophie's twin brother Jason turns out to be the newest Korean pop music superstar, Grace is thrust back into the world of fame. She can't stand Jason, whose celebrity status is only outmatched by his oversized ego, but they form a tenuous alliance for the sake of her friendship with Sophie. As the months go by and Grace adjusts to her new life in Korea, even she can't deny the sparks flying between her and the KPOP idol.
Soon, Grace realizes that her feelings for Jason threaten her promise to herself that she'll leave behind the music industry that destroyed her family. But can Grace ignore her attraction to Jason and her undeniable pull of the music she was born to write? Sweet, fun, and romantic, this young adult novel explores what it means to experience first love and discover who you really are in the process.
Goodreads
The Stars Never Rise
Series: The Stars Never Rise #1
Author: Rachel Vincent
June 18th 2015 by MIRA Ink
Sixteen-year-old Nina Kane should be worrying about her immortal soul, but she's too busy trying to actually survive. Her town's population has been decimated by soul-consuming demons, and souls are in short supply. Watching over her younger sister, Mellie, and scraping together food and money are all that matters. The two of them are a family. They gave up on their deadbeat mom a long time ago.
When Nina discovers that Mellie is keeping a secret that threatens their very existence, she'll do anything to protect her. Because in New Temperance, sins are prosecuted as crimes by the brutal Church and its army of black-robed exorcists. And Mellie's sin has put her in serious trouble.
To keep them both alive, Nina will need to trust Finn, a fugitive with deep green eyes who has already saved her life once and who might just be an exorcist. But what kind of exorcist wears a hoodie?
Wanted by the Church and hunted by dark forces, Nina knows she can't survive on her own. She needs Finn and his group of rogue friends just as much as they need her.
Goodreads
I've actually already read ARCs of six of these, and loved and adored each one! I'm actually taking part in the blog tour for Catwalk Criminal, which you can find via this link - my post went live at 9am. Hopefully my other June picks are just as good.
What has caught your eye for June? Have you read any of these? Let me know :)