Waiting on Wednesday: A Court of Thorns and Roses by Sarah J. Maas
10:00

Waiting On Wednesday is a weekly event, hosted by
Breaking the Spine
that spotlights upcoming releases that we're eagerly anticipating.

This week's pick is: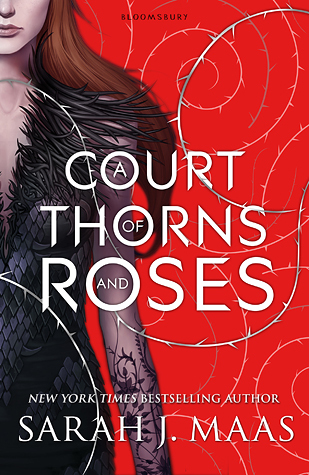 A Court of Thorns and Roses
Series:
A Court of Thorns and Roses #1
Author: Sarah J. Maas
Published May 7th 2015 by Bloomsbury Children's
Goodreads Summary
The breathtaking start to a seductive high-fantasy from New York Times bestselling author of Throne of Glass series.
Feyre's survival rests upon her ability to hunt and kill – the forest where she lives is a cold, bleak place in the long winter months. So when she spots a deer in the forest being pursued by a wolf, she cannot resist fighting it for the flesh. But to do so, she must kill the predator and killing something so precious comes at a price.
Dragged to a magical kingdom for the murder of a faerie, Feyre discovers that her captor, his face obscured by a jewelled mask, is hiding far more than his piercing green eyes would suggest. Feyre's presence at the court is closely guarded, and as she begins to learn why, her feelings for him turn from hostility to passion and the faerie lands become an even more dangerous place. Feyre must fight to break an ancient curse, or she will lose him forever.
Goodreads
Why I'm waiting:
Hello, it's by Sarah J. Maas. That woman is an evil genius and is automatically on my must buy list.

Every single ARC review I've seen so far has loved this, so I'm hoping I will too when my pre-order arrives.
Are you waiting for this book? Have you already read it? Let me know :)